Gold prices today are up more than 1% in morning trading as gold continues to remain resilient despite a number of data points that would normally send prices sliding.
Last Friday the Bureau of Labor Statistics released its July jobs numbers. The strong showing knocked gold prices down short term. Most observers thought that would lead the Fed to begin touting another rate hike for 2016.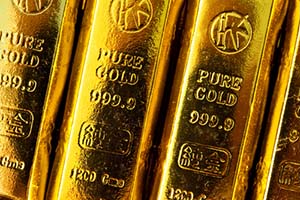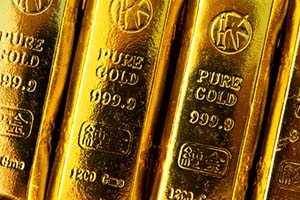 However, the Fed could still remain hesitant and even drop any rate hikes before the upcoming fall elections in the interest of avoiding possible signs of influencing the outcome.
Meanwhile, there are some interesting indicators regarding gold stocks, with one suggesting they remain on the cheap side.
Profit from Gold Now: Most investors don't know how to actually invest in gold. That's why we just released our 2016 guide to gold investing – free of charge. Read here…
Here's a look at the economic factors moving gold prices today and what to expect from gold prices in 2016…
Gold Prices Today Continue This Week's Rally
Friday, Aug. 5, was a rough day for gold following the jobs report. Gold started out rather strong at $1,361, but dropped precipitously to $1,338 by 10 a.m. before closing at $1,335.
Monday was pretty uneventful. Gold began trading at $1,333 then rose slightly, only to move sideways into the close at $1,335.
Gold prices climbed slightly on Tuesday as the U.S. Dollar Index (DXY) reversed from Monday's gains. Gold opened at $1,332 and quickly popped to $1,341 by 11 a.m. From there it was essentially flat into the 5 p.m. close.
On Tuesday evening into Wednesday morning, the gold price action picked up. After 8 p.m., gold began climbing. By Wednesday morning, the price of gold was trading at $1,356. Despite only a small rally in the DXY, gold quickly fell to $1,344 by 11 a.m. and only regained a bit of ground to close out at $1,346.
Editor's Note: Voters who don't like Trump and Clinton are seeking a third candidate. Most people don't realize it, but they already have one…
Here's how the DXY action looked over the past five days: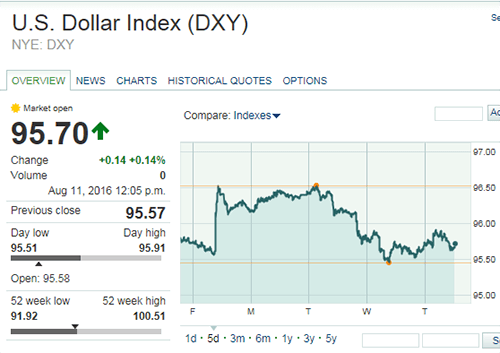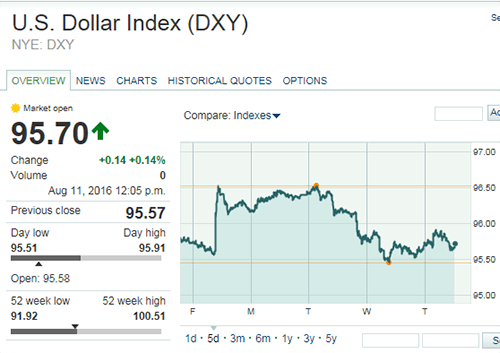 Gold then surged overnight Wednesday into Thursday morning, moving from $1,341 to $1,356 by 9 a.m. From there, U.S. dollar strength pushed gold lower again to $1,344 by 10 a.m. It closed Thursday at $1,346.
By Thursday afternoon, gold had retreated on dollar strength and closed for trading at $1,338.
Gold prices today (Friday) are rallying again. In early morning trading, gold prices were up more than 1% to $1,353.
After Gold Prices Today Climb, Here's What to Expect Next
The World Gold Council's recent Gold Demand Trends Report has some interesting highlights for gold investors.
Investment demand appears to have been the biggest driver of gold prices in the first half of 2016. ETF inflows more than doubled over the same period last year. The growth in those inflows was especially noticeable in the West, where Europeans and Americans sought protection in the face of growing uncertainties. Investment demand rang in at 1,064 tonnes.
On a price basis, U.S. dollar gold gains of 25% in the first half of 2016 made gold one of best-performing assets. And in some markets, gold prices did even better as local currencies lost ground against the U.S. dollar.
However, the gold price gains didn't escape the "double-edged sword" effect. Higher prices did bring out the "old gold," as consumers sold such items to cash in. At the same time, high gold prices weighed on consumer demand for jewelry, especially in India and China. Jewelry demand overall amounted to just 444.10 tonnes in Q2, versus the 513.7 tonnes consumed in Q2 2015.
Now let's look at a couple of more technical indicators for gold.
Although we've seen the gold price rise on balance for the past couple months, the MACD has been trending downwards lately, and the 12-day average just crossed below the 26-day average.  This divergence with the gold price suggests momentum may be slowing and may even reverse.
Looking at how gold stocks are priced relative to gold, we see that despite their dramatic rise this year, there are still probably more gains ahead.
The HUI/gold ratio has soared from below 0.10 to 0.21 since the start of 2016. But if we look all the way back to 1996, that ratio has averaged 0.35. Just to get back to average, gold stocks would still need to nearly double from here.
I still think we are due for a correction in gold and gold stocks, but that both are likely to finish the year higher. I think we could see gold about 10% higher and the HUI could gain another 25% to 30% by year's end.
Next Up: Our Newest Gold Price Prediction Indicates Triple-Digit Returns by 2020
Follow Money Morning on Twitter.
Join the conversation. Click here to jump to comments…
About the Author
Peter Krauth is the Resource Specialist for Money Map Press and has contributed some of the most popular and highly regarded investing articles on Money Morning. Peter is headquartered in resource-rich Canada, but he travels around the world to dig up the very best profit opportunity, whether it's in gold, silver, oil, coal, or even potash.