The U.S. government has dramatically picked up its prison spending rate over the past three decades...
In fact, Uncle Sam's incarceration spending rate is three times what it was 30 years ago.
And when compared to the average education spending rate, a disturbing priority shift has emerged.
Incarceration Spending Jumps 324% in 30 Years
A U.S. Department of Education analysis released on July 7 compared the changes in state spending on corrections versus on education between the years 1979-1980 and 2012-2013.  It revealed that right now, the state prison spending average is currently about 1/8th the size of the state pre-K through 12 spending average: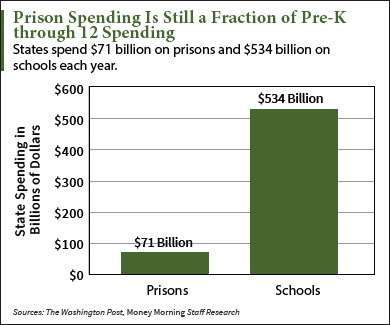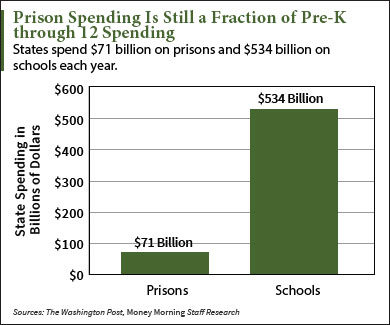 In other words, government spending on the education of America's youth still dwarves its spending on prison programs, $534 billion to $71 billion.
But what's alarming is the ratio between the two expenditures is closing at an astounding clip.
Don't Miss: The buried truth about President Obama's wage growth numbers...
You see, the combined state and local prison spending used to be 1/16th the amount of what the U.S. government spent just two decades ago, in 1990.
And if you go back three decades - to around 1980 - this expenditure gap becomes even more obvious.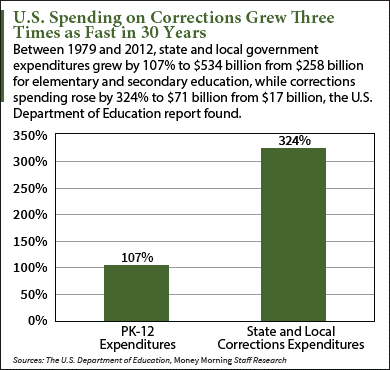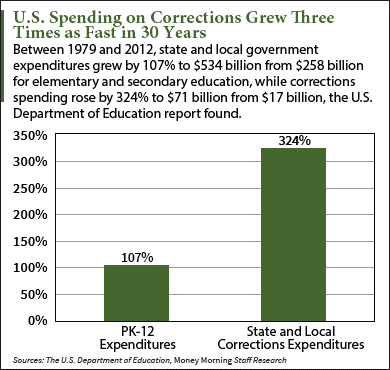 While the study found prison spending has risen three times as rapidly as school spending in the past three decades, the U.S. Department of Education also found that some states' rate disparities are far greater...
18 States Broke the "Threefold Spending Rate" Barrier
The Education Department's report revealed that in 18 states, the spending rate grew more than three times faster for prisons than it did for education.
Here are a few examples of those disturbing findings:
Texas' spending on prisons and jails is the highest in the nation. It has grown about eight times faster than the state's rate of spending growth on elementary and secondary education over the past three decades. In 1980, Texas spent $14 billion on education and almost $604 million on corrections. In 2013, it spent about $41 billion on schools and $5 billion on incarceration. That's 192% increase versus an 827% increase. According to a July 16 article in the Texas Star-Telegram, the wide disparity in the Lone Star State is caused by its harsh sentencing laws and the strict enforcement of non-violent offenses, which have quadrupled its incarceration rate during that same span of time.
Michigan has also ramped up its spending rate on prisons versus public schools K-12, at a rate that's five times as faster than its rate 30 years ago. From 1979 to 2013, Michigan increased spending on schools by 18%. During that same time period, the state increased spending on corrections by 219%, reported the Detroit Free Press on July 7.
In West Virginia, the poorest state in the United States, the increase in state and local corrections expenditures per capita was the highest in the nation. It spent 58% more on public education in the 2012-13 school year than it did in the 1979-80 school year. By contrast, West Virginia's spending on state and local prisons and jails increased by 483% over the same time, reported the Charleston Gazette-Mail on July 7.
The Education Department's report stated that though the United States has only 5% of the world's population, it has more than 20% of the world's incarcerated population.
And there's one reason behind that alarming gap...
Why Uncle Sam Is Quick to Spend on Prisoners
The overall prison population in the U.S. went from 490,000 in 1980 to over 2 million in 2014. This was due primarily to often lengthy mandatory minimum sentence laws. Many of the laws are slowly being repealed or revised - such as those pertaining to non-violent drug offenders.
[mmpazkzone name="in-story" network="9794" site="307044" id="137008" type="4"]
But the Education Department also noted that increasing the amount of money state and local governments spend on educating students could help decrease the jail population over time...
Up Next: Investing is on the verge of changing forever - and for everyone involved, from JPMorgan on down to individual investors. Here's what you need to know before the shifting starts...
Follow us Twitter @moneymorning or like us on Facebook.