The silver spot price per ounce is down roughly 5% over the last five sessions. The drop in silver prices comes ahead of Janet Yellen's highly anticipated speech.
Despite the pullback, Money Morning Resource Specialist Peter Krauth sees more gains ahead for the silver price in 2016. That's why we're going to show you our updated 2016 silver price prediction, which sees silver posting double-digit returns.
Don't Miss This: Gold prices are up more than 27% so far this year. That means you should start looking for gold stocks. We found one set to gain 49% in the next year...
First, here's why Yellen's speech is weighing down silver prices this week...
Why the Silver Spot Price Is Down This Week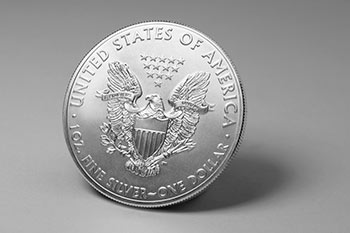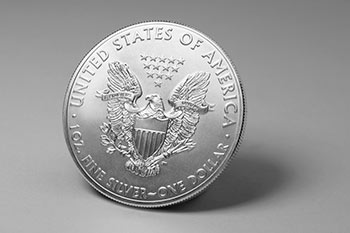 As of 10:25 a.m., the silver price today (Thursday, Aug. 25) fell 0.3% to $18.63. That puts the metal on track for an 8.9% decline this month.
Silver investors are awaiting the Federal Reserve symposium that starts today in Jackson Hole, Wyoming. Fed Chair Janet Yellen will speak at the event tomorrow (Friday, Aug. 25).
Markets are looking for Yellen to offer clues on the timing of the next interest rate hike. Markets have seen sharp swings in the past following Jackson Hole conferences.
Recent hawkish comments by the Fed has some investors convinced the bank will hike rates sooner rather than later. Many think Yellen will echo that sentiment when she speaks tomorrow.
According to CME Group's FedWatch tool, traders place a 21% chance the Fed will lift rates at the September FOMC meeting. A November hike is clearly off the table thanks to the upcoming presidential election. The odds of a rate increase in December are at 50%.
Editor's Note: Adding silver or gold to your portfolio is one of the best ways to save your money from a stock market crash. That's why we made this guide to buying gold and silver...
But those even odds may be too optimistic...
A string of recent data points to sluggish productivity and tame inflation. That could give the Fed reasons to pause for a while longer.
Although the Fed chatter has lowered the silver spot price, investors should see it as a buying opportunity.
That's because Krauth - a former portfolio adviser with 20 years of gold and silver experience - sees silver prices rising to this target in 2016...
The Silver Spot Price Will Hit This Target by the End of 2016
Krauth expects the price of silver to gain 18.1% to $22 by the end of the year.
You see, we expect silver prices to resume their huge rally from earlier this year. From the start of 2016 to July 11, the silver price rallied 46.2% from $14 to a peak of $20.47.
Silver prices moved sharply higher in the weeks after the Brexit vote on June 23 as investors piled into safe-haven assets. The grey metal continued higher even as global markets recovered and the S&P 500 hit record highs.
The silver spot price per ounce has also rallied from overseas banks. Central bankers in Europe and Japan have cut interest rates to record lows to revive their weak economies. Investors expect them to cut rates more.
The Bank of Japan will likely take additional stimulus steps at its next meeting on Sept. 21. Japan's economic growth remains subdued, and the central bank's target of 2% inflation looks out of reach.
Meanwhile, the European Central Bank could cut rates further into negative territory next month. ECB President Mario Draghi said officials are willing to do what is necessary to revive inflation and support the region's sluggish economy.
These central bank factors will continue to drive the silver spot price higher this year. It rises when interest rates are low, and they'll likely stay lower for longer.
Even if the Fed raises rates this year, they'll still be at rock-bottom levels, and the central bank has pledged to remain accommodative.
The Fed's low interest rates have also pressured the U.S. dollar, which lifts silver prices. Since silver is priced in the U.S. currency, it becomes more affordable to foreign currency users. The Wall Street Journal Dollar Index, which measures the dollar against 16 currencies, is down 4.79% this year.
All of these reasons are why silver is set for another 18.1% gain by the end of 2016.
Up Next: A small biotech firm has a monopoly on a unique resource valued at $58.9 million for a thimbleful. And it's preparing to go public on the Nasdaq – it could be any day now. Read more…
Follow us on Twitter @moneymorning 
Related Articles: