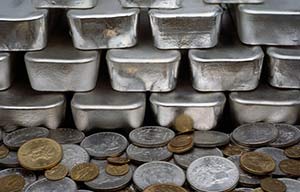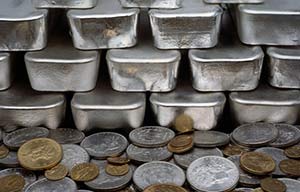 Despite a recent pullback, silver prices are still up more than 38% in 2016. That makes silver one of the best-performing assets of the year. And we see even more gains coming by the end of the year.
That's why we're giving Money Morning readers three of the best silver stocks to buy today before prices climb any higher.
Before we get into our three top silver stocks, here's why we're so bullish on silver prices and stocks as we head toward 2017…
Why Silver Stocks and Prices Will Continue Higher
One of the biggest influences on silver prices this year has been the ultra-loose monetary policies of global central banks. That's not likely to change this year or next.
Take a look at the last month. U.S. investors sent silver prices down 3.67% when the odds of an interest rate hike in 2016 climbed. But the odds of a rate hike in September and November have fallen again, and the odds are just moderately higher for December.
Even if there is a Fed interest rate hike, rates will still sit at rock-bottom levels. Plus, the Fed has pledged to remain extremely accommodative.
Meanwhile, other global central banks remain in interest-rate-cutting and monetary-easing mode. The Bank of Japan, the European Central Bank, and some other small European authorities have turned to negative interest rates.
Right now, roughly one-third of global government debt has a negative yield. As a result, investors around the world have taken to stashing their cash under mattresses and in home safes. Others are bulking up stores of precious metals like gold and silver.
Silver exchange-traded fund (ETF) inflows remain strong, and silver coin sales are on track to set a record this year.
With demand climbing, silver is up an impressive 38.84% year to date. Silver prices had climbed 50% at their 2016 high. In comparison, the Dow, S&P 500, and the Nasdaq are up 4%, 4.48%, and 3.78%, respectively.
Silver stocks have posted even bigger gains. Silver ETFs claimed all of the top 10 spots on the list of market best performers in the first half of 2016. Year to date, the Global X Silver Miners ETF (NYSE ARVA: SIL) is up a meteoric 142.6%.
Related Content: This Biotech Stock Is Set for Gains Over 100%…
At the same time, many of the stocks on the market today are highly valued without having the financials to back up their values. And that points to a potential downturn in the overall market.  That of course will be a catalyst for silver prices into the end of 2016. Investors' worries about the broader markers can be seen in the market's rising fear gauge. The VIX jumped 18% Tuesday to 17.85, its highest level since June 28.
That makes silver and silver stocks go-to safe havens right now.
Money Morning Resource Specialist Peter Krauth had been warning investors about a temporary pullback in the silver price. He now believes that investors should buy any dip.
"I think the price of silver per ounce could easily produce a further 12% gain from current levels to reach $22 by year's end," Krauth said.
With silver prices poised for more double-digit gains in 2016, here are the three best silver stocks Krauth likes now…
Three Top Silver Stocks to Buy Now Before Prices Again Climb
Top Silver Stocks to Buy No. 1: Tahoe Resources (NYSE: TAHO) is a silver mining company based in Nevada that operates throughout the Americas. The company also works with other metals, petroleum, and natural gas. In early August, TAHO posted quarterly EPS of $0.19. That beat the $0.14 analysts had expected. Revenue surged 70.6% from the previous year to more than $228 million. Based on its first-half results, TAHO projects to hit the high end of its yearly guidance for production of silver. Plus, a filing shows that the hedge fund Bridgewater Associates just announced that it purchased roughly 200,000 shares in the silver miner. At $13.52, shares of this silver stock are up 55.94% this year.
Top Silver Stocks to Buy No. 2: MAG Silver (NYSEMKT: MAG) operates in the Mexican Silver Belt but is based in Canada. In early September, the firm Desjardins raised its price target on MAG from C$19.00 to C$22.50. The investment firm BMO Capital Markets placed a price target of C$25.00 and a "Market Perform" rating on the stock. In June, Canaccord Genuity started covering this stock and called it a "Speculative Buy." In July, National Bank Financial increased its target price on MAG from C$19.00 to C$22.00. MAG shares have jumped 121.53% year to date.
Top Silver Stocks to Buy No. 3: Impact Silver (OTCMKTS: ISVLF) is a Vancouver-based mining company that works in Mexico and the Dominican Republic. On Aug. 23, Impact Silver reported Q2 2016 revenue of $4.4 million, an impressive 61% year-over-year increase. Higher silver prices and higher production were responsible for the significant revenue increase. Mine operating improved by to $1.3 million in Q2 2016. In the previous year, it has posted a loss of $0.2 million. At $0.60, shares are up a whopping 638.57% year to date. But with silver prices expected to head higher, Impact Silver shares likely have more upside. Yet since this is a low-priced penny stock, ISVLF is still a very speculative show.
Editor's Note: You can profit from gold prices no matter where they are moving. We have everything you need to know about gold in our new guide on gold investing…
Follow us on Twitter @moneymorning and like us on Facebook.
Related Articles: