For the last few days, oil prices have been trading in a very narrow range between $42 and $45 a barrel. They won't be staying there for long.
You see, there are two factors keeping prices locked in that range. One is short term, here in the United States.
And it was just resolved today…
The other is OPEC's long-term strategy to crowd out competing oil producers. Rumors would have you believe this will change before the end of the month, at the upcoming International Energy Forum (IEF) summit in Algiers.
That's not going to happen…
Yet.
Here's when OPEC will change its strategy… and what the Algiers meeting is really about…
Oil Stockpiles Drive Down Oil Prices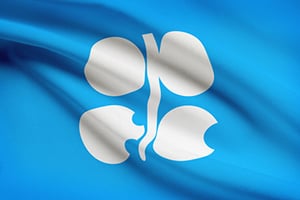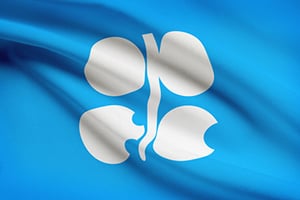 These days, anything prompting a larger oil stockpile, no matter how small, will tend to lower oil prices.
For example, the recent closure of the Colonial Pipeline (which transports gasoline from Houston to New York) after a leak was discovered has increased surplus oil sitting at refineries, which decreases its price. And the resulting limited gasoline supply in the Northeast has driven up prices at the pump there.
Trending: What Energy "Experts" Don't Want You to Know About Oil
This pipeline closure recently reached its end, as a new bypass started operation today.
And then there is the ongoing lack of balance between production and actual demand.
The "excess" production (both globally and in the United States) is something I've addressed on several occasions in Oil & Energy Investor. The issue here is not the surplus but the balance.
Market stockpiles are essential to temper extreme volatility in pricing. Availability of raw materials as basic as crude oil should never be administered using a "just in time" delivery schedule.
That may work in some industries, where lowering stocks on hand is important in improving bottom lines. But crude oil and oil products act quite differently.
With them, any perceived constriction in supply will spike prices.
This is why Northeast gasoline prices moved up significantly in the wake of the pipeline closure and are now declining following a solution to the problem.
Of course, in the context of the balance between supply and demand, "supply" doesn't mean what it used to…
Large Oil Reserves Make for Confused Pundits
For the past several years, the market has had to wrestle with this new element, one that a few pundits continue to misunderstand: We now have much more extractable reserves in the ground than ever.
The result of massive shale and tight oil finds in the United States, this new largess had little impact when oil prices were north of $100 a barrel. That's because it was widely believed that OPEC would cut production to maintain prices, if necessary.
That belief came crashing down in late 2014 when Saudi Arabia led OPEC to change its policy from defending prices to defending market share.
OPEC's goal was to marginalize non-cartel production by forcing others to fend for survival in a declining price environment. But for countries that depend on oil revenue to sustain their central budgets, the result ended up being quite different from Saudi Arabia's original intentions…
Join the conversation. Click here to jump to comments…
About the Author
Dr. Kent Moors is an internationally recognized expert in oil and natural gas policy, risk assessment, and emerging market economic development. He serves as an advisor to many U.S. governors and foreign governments. Kent details his latest global travels in his free Oil & Energy Investor e-letter. He makes specific investment recommendations in his newsletter, the Energy Advantage. For more active investors, he issues shorter-term trades in his Energy Inner Circle.