Controversial political pundit, author, and "off the books" Trump adviser Roger Stone warned ominously Saturday evening that Democratic presidential candidate Hillary Clinton's run for the White House will soon be "done." He even gave a specific day, Wednesday (Oct. 5):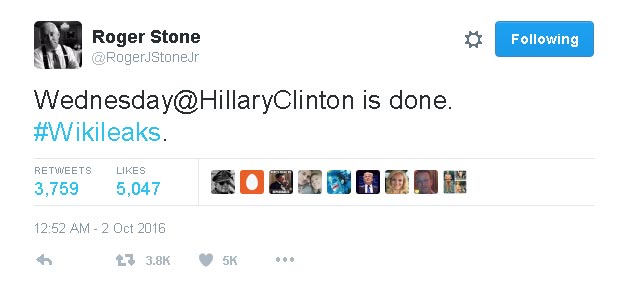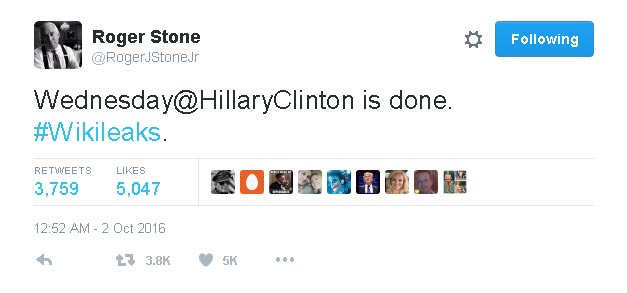 Stone's announcement falls in line with a statement he made on Aug. 21 that he had been in touch with exiled WikiLeaks founder Julian Assange, who'd assured him an "October Surprise" for the former secretary of state was indeed in store...
Assange had made the same guarantee to FOX News' Megyn Kelly on Aug. 24, after she'd asked what, specifically, would be revealed in WikiLeaks' "October Surprise."
"I don't want to give it away," Assange said. "But it's a variety of documents, from different types of institutions that are associated with the election campaign, some quite unexpected angles, some quite interesting, some even entertaining."
Don't Miss: This is your ticket to bigger and better returns... and it won't cost you a penny. What are you waiting for? Read more... 
Assange was actually due to make an announcement today on what his data-dump website still plans on releasing regarding the Hillary Clinton camp, as well as to celebrate WikiLeaks' 10th anniversary. However, the ousted whistleblower's appearance from the balcony of the Ecuadorian embassy in London was canceled, citing security concerns.
Roger Stone Discusses the Future Plans of WikiLeaks, The Blaze TV, Aug. 16, 2016.
Related Articles: