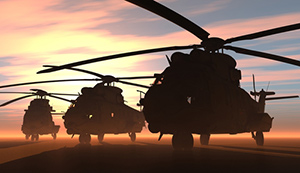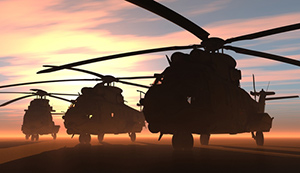 When looking for defense stocks, investors frequently just look for companies with the most advanced weapons, equipment, and vehicles.
While all that's important, it's only part of what makes a company one of the best defense stocks to buy now.
The best defense stocks are companies that also focus on logistics, according to Money Morning Director of Tech & Venture Capital Michael A. Robinson.
"Logistics are what make it possible to actually go somewhere and fight to achieve an objective," Robinson said on Oct. 6. "And it is hands down the most difficult, costly component of fighting. For every one soldier on the field, fighting, there must be dozens of support personnel in the rear, doing hundreds of tasks."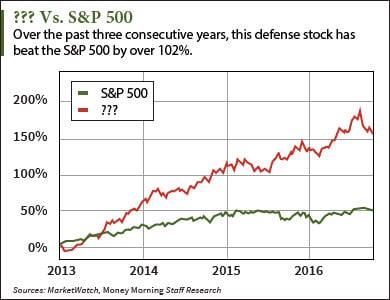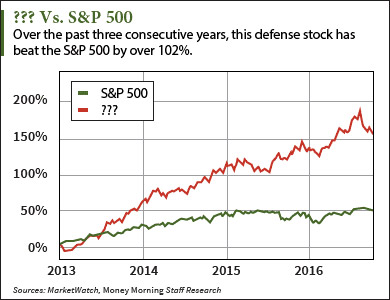 And this focus on logistics, in part, is what allowed one of Robinson's favorite defense stocks right now to beat the S&P 500 for almost the past three consecutive years. The same can't be said for many of its competitors who primarily concentrate on military vehicles and equipment.
Don't Miss: This is your ticket to bigger and better returns... and it won't cost you a penny. What are you waiting for? Read more...
And now, this company is working on a new "disruptive" logistics technology that will change the way the United States fights wars forever. What's more, this defense company is so confident in its future success that it just increased its 2016 outlook for sales, earnings per share, and operating profit.
Check out what this new logistics technology means for one of Robinson's favorite defense stocks to buy...
One of the Best Defense Stocks to Buy Will Soar from This New Tech Catalyst
Lockheed Martin Corp. (NYSE: LMT) is the largest pure defense contractor in the world by market cap. And to this day, it remains one of the most innovative and competitive companies in its sector, according to Robinson.
[mmpazkzone name="in-story" network="9794" site="307044" id="137008" type="4"]
Last year, Lockheed made the strategic move of purchasing Sikorsky Aircraft Corp. The acquisition came at a hefty price (nearly $9 billion), but it will help Lockheed stay at the forefront of its sector, especially in terms of helicopter production - Sikorsky's specialty.
"Now that Sikorsky is aboard," Robinson said, "Lockheed's helicopter projects are only going to get stronger and more profitable."
With Sikorsky, Lockheed now makes 22 of 37 major production helicopters across the globe, Robinson says.
But Lockheed's existing helicopter models aren't even our biggest tech catalyst. No, it's actually another aerial vehicle that that Sikorsky will produce.
You see, Sikorsky now has access to Lockheed's fabled secret lab, Skunk Works. And Skunk Works can now access Sikorsky...
Right now, the lab is making the next generation of vertical take-off and landing technology (VTOL), called Aerial Reconfigurable Embedded System (ARES). And for logistics, this is huge...
The ARES vehicle is completely unmanned and can carry massive payloads - including whole vehicles - and troops. It's similar to a drone and operates in less than half the space typical helicopters require to land, Robinson says. The vehicle, as its name suggests, is highly nimble and modular.
A short concept video of ARES, showing its military application and ability to navigate around difficult terrain.
Besides the ARES program (which is still in early development), Sikorsky is already helping Lockheed score new contracts. On Oct. 3, the company just received a $49 million U.S. Army contract to upgrade sensors in the Army's Apache helicopter fleet. It also just delivered a new batch of its next-gen S-92 Search and Rescue chopper to a military base in Alaska.
In its last earnings report, Sikorsky added $1.2 billion to Lockheed's net sales. The defense company also said its revenue was up 20% compared the second quarter of last year. Its total profit for the quarter was also up more than 10%.
Lockheed also has a great dividend payout for investors, with a 3.11% yield. Even if the stock remains flat, but its dividend increases by 10% annually, which it has averaged over the past five years, you'll have $14,231 in 10 years, according to Money Morning Chief Investment Strategist Keith Fitz-Gerald. That's almost guaranteed money in your pocket.
"Lockheed is a fundamentally solid company," said Fitz-Gerald. "And even if the Federal Reserve raises rates, that won't make its dividend any less appealing."
As of Oct. 13, 21 analysts have a mean, long-term price target of $262.31 per share for LMT. That's a 12.8% rise from its current Thursday intraday price of $232.20.
On Oct. 6, Robinson recommended that readers buy Lockheed at its current price of $234.68.
"If you already own it, load up," he said. "If the stock dips any lower, which it may do for the moment, grab even more to lower your cost."
The Bottom Line: Skunk Works' ARES program has huge profit-making potential for Lockheed. In addition, the lab's combination with Sikorsky will bring the latest technology to Lockheed's aircraft - ushering in a new era for military logistics technology. We recommend Lockheed as a buy at its current price as of Oct. 6. And if you already own LMT, consider buying additional shares.
Up Next: America Will Always Be Great - and This Tech Investment Proves It