After Donald Trump's shocking victory, our readers are now asking us, "What are the best stocks to buy when Trump is president?"
The answer is simple: Defense stocks are the best stocks to buy now, even before Trump enters the White House.
According to Money Morning Director of Tech & Venture Capital Research Michael A. Robinson, there's a huge new opportunity right now in the defense industry. While many of Trump's plans lacked specifics, Robinson says strong defense spending can be expected.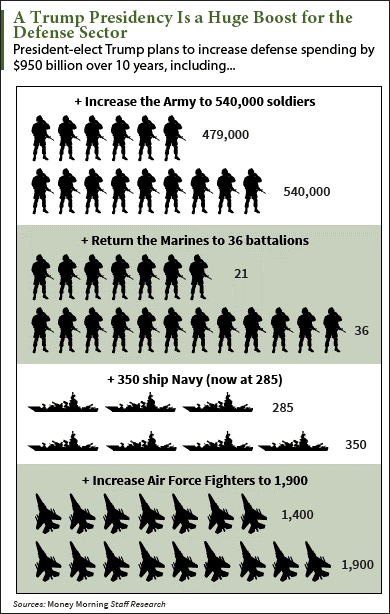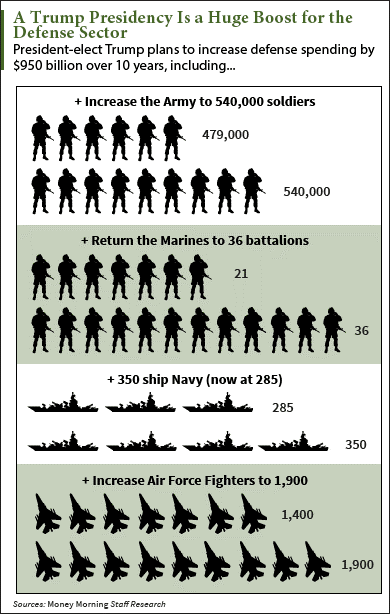 "There is little doubt that under a President Trump, the U.S. military will go on one of its biggest growth periods in decades," Robinson said on Nov. 10.
"Forget about the Bill Clinton peace dividend. Forget about wartime footing under George W. Bush. And certainly forget about our walking away from the role of world's policeman under Barack Obama," Robinson said.
The U.S. defense budget is already massive compared to the rest of the world.
The $600 billion defense budget for 2015 was more than the next seven highest-spending countries combined, according to Business Insider.
Trending Story: The First Thing Trump Should Do for the Economy
Defense stocks were a strong investment before the 2016 election.
But they are now some of the best stocks to buy when Trump becomes president…
In a speech in September in Philadelphia, Trump announced he wants to increase U.S. Navy ships from 285 to 350.
According to Congressional Research Service (CRS) compiled data, a 350-ship navy would cost $22 billion. With Trump's other plans to increase soldiers, Air Force fighters, and missile defense systems, Forbes estimates defense spending could climb by $500 billion to $1 trillion.
But with so many options, finding the best stocks to buy now in the defense industry isn't easy. That's why Robinson has picked out three of the best stocks to buy before the Trump presidency for Money Morning subscribers.
And one of them has already climbed nearly 7% since Election Day…
3 of the Best Defense Stocks to Buy When Trump Is President