When it comes to mining - of both precious and strategic metals - most of the "low-hanging fruit" has been both discovered and mined out.
That's even with the sophisticated power, equipment, and transportation technologies we discuss every week here.
And that leaves us with much lower grade deposits... at least on land.
One of the biggest tech advancements in recent years, however, has made those lower-grade deposits - i.e., lower metal concentration per ton of rock - economic to mine. I'm talking about the ability to move, crush, and process massive amounts of rock from open-pit deposits.
Because so many of those metals are critical for high-tech weapons systems and all the "smart" devices we all now depend on, that's one Singularity Era technology changing "How We Survive."
Now, that covers land.
However, as we all learned in school, oceans cover 71% of Earth's surface.
And most of that is very, very deep.
But we're closer than you might think to mining for metals - many of them absolutely necessary for the tech devices that are fueling the Singularity Era - from the ocean floor.
Let me show you what that will look like (illustration below)...
Under the Sea
Nautilus Minerals Inc. is the first company to commercially explore the ocean floor. That's where massive sulfide systems exist, which can be sources of high-grade gold, silver, copper, and zinc.
Don't Miss: The Essential Guide to Buying Gold & Silver
Right now, the Toronto-based company is developing a system adapted from the offshore oil and gas and dredging industries. It is building a custom system to extract high-grade seafloor massive sulfide (SMS) systems at a commercial level.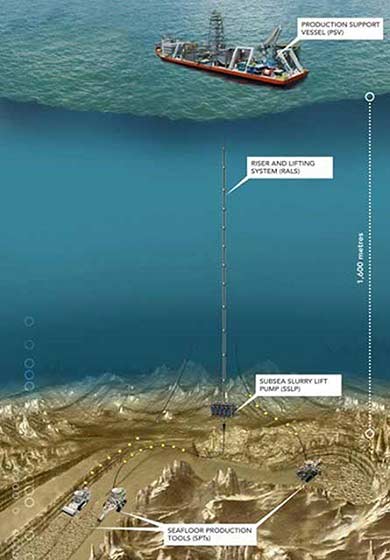 Essentially, robots on the seafloor grind away at mounds that contain high concentrations of valuable metals. A resulting slurry of material gets pumped up to a ship above, where it is dewatered. The solid material is then stored until it's later transported away for refining.
Nautilus already has a copper and gold project under development in the territorial waters of Papua New Guinea and plans on growing its holdings in the South Pacific.
Right now, Nautilus is still developing and testing this equipment.
But before too long, it could be the first company to be officially mining the ocean floor. If Nautilus is successful and profitable, that could open up vast new areas of the world that have yet to be explored.
This is exciting stuff.
But it's not the only Singularity Era technology metal miners are using.
After all, there are still plenty of precious and strategic metals under our feet - in those lower-grade deposits.
If we can get to them...
Enter the Dragon
Another company, Nippon Dragon Resources Inc., has developed equipment it calls the Dragon Extractor.
And it's likely to be as disruptive to mining as fracking has been to oil and gas production.
Here's how it works...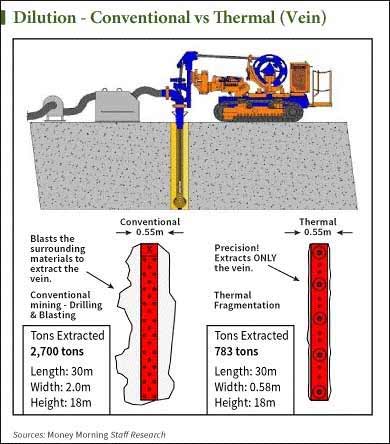 A pilot hole is drilled into metal-bearing rock, and then a thermal head is inserted and ignited. It generates heat while injecting air into the hole. The heat cushion generated causes the rock walls to "spall" and fall away in very small fragments.
This procedure - called "thermal fracking" - keeps expanding the size of the hole until the desired dimension is reached. It can generate a 1.2-square-meter hole in under 10 minutes.
The resulting fragments contain the valuable metal, like lithium and the other rare-earth metals we need for miniaturized electronics, advanced batteries, weapons systems, and solar panels. Because narrow veins can be targeted with surgeon-like precision, some 80% less ore needs to be removed.
There is little or no blasting involved, avoiding the wall damage typical of standard extraction techniques, while improving safety and lessening costs.
A fraction of the time is required, and the mined ore needs significantly less processing. So less transportation, fuel, water, electricity, and equipment are required.
Overall, production costs are reduced by 30% to 60%, and valuable metals that have been left underground in existing mines for structural reasons (in pillars) can safely be extracted.
As you can see, these two very different mining companies are both on the cusp of starting Singularity Era revolutions, each with its own technology.
Now, I spoke of lithium briefly as a metal necessary for batteries and other technologies. But tech companies also need precious metals like silver and gold.
Gold has long been central to electronics. Its unique properties, combined with "nanotechnology," are leading to innovations in medicine, engineering, and environmental management.
For example, biopharma companies are using gold to build highly targeted methods for delivering drugs. Chemists are using it to create conducting plastics and specialized pigments. And engineers are using the yellow metal to develop advanced catalysts that purify water and air.
But advances such as those aren't the only thing occurring in gold right now.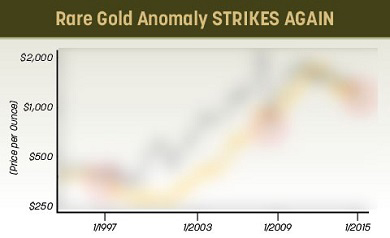 I'm talking about a strange anomaly that we've seen only twice in the past 20 years.
Both times this "anomaly" produced massive cash windfalls for those who knew where to put their money.
Yet because of all the news about Donald Trump and the elections... practically nobody is talking about it. It's completely off the radar.
That's why I wanted to bring this gold anomaly to your attention today. It's like Halley's Comet - very rare and fleeting.
But, right now, everything is lining up perfectly.
That means, if you hurry, one easy move could bring you some very sizable profits.
Follow Money Morning on Facebook and Twitter.
About the Author
Michael A. Robinson is a 36-year Silicon Valley veteran and one of the top tech and biotech financial analysts working today. That's because, as a consultant, senior adviser, and board member for Silicon Valley venture capital firms, Michael enjoys privileged access to pioneering CEOs, scientists, and high-profile players. And he brings this entire world of Silicon Valley "insiders" right to you...
He was one of five people involved in early meetings for the $160 billion "cloud" computing phenomenon.
He was there as Lee Iacocca and Roger Smith, the CEOs of Chrysler and GM, led the robotics revolution that saved the U.S. automotive industry.
As cyber-security was becoming a focus of national security, Michael was with Dave DeWalt, the CEO of McAfee, right before Intel acquired his company for $7.8 billion.
This all means the entire world is constantly seeking Michael's insight.
In addition to being a regular guest and panelist on CNBC and Fox Business, he is also a Pulitzer Prize-nominated writer and reporter. His first book Overdrawn: The Bailout of American Savings warned people about the coming financial collapse - years before the word "bailout" became a household word.
Silicon Valley defense publications vie for his analysis. He's worked for Defense Media Network and Signal Magazine, as well as The New York Times, American Enterprise, and The Wall Street Journal.
And even with decades of experience, Michael believes there has never been a moment in time quite like this.
Right now, medical breakthroughs that once took years to develop are moving at a record speed. And that means we are going to see highly lucrative biotech investment opportunities come in fast and furious.
To help you navigate the historic opportunity in biotech, Michael launched the Bio-Tech Profit Alliance.
His other publications include: Strategic Tech Investor, The Nova-X Report, Bio-Technology Profit Alliance and Nexus-9 Network.