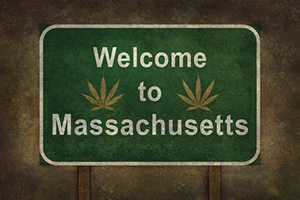 Recreational marijuana in Massachusetts is officially legal today, which will generate millions in tax revenue for state and local governments.
Tax revenue from marijuana sales could generate over $100 million for state and local governments annually across the United States, but they won't be the only ones who can profit…
It's true marijuana is still illegal under federal law. That's why some investors are uneasy about investing in marijuana stocks. It's also true a lot of marijuana stocks are penny stocks that don't meet the requirements to be listed on major indices.
And penny stocks are notoriously risky.
But with recreational marijuana in eight states and medical marijuana legalized in 28 states, the industry is set to skyrocket. According to USA Today, medical and recreational marijuana sales are expected to climb to $22.8 billion by 2020.
Marijuana sales in the United States reached $4.6 billion in 2004, which means sales could increase by 395% in just six years.
Because the marijuana industry is still growing and investors have a lot of questions, Money Morning Director of Tech & Venture Capital Research Michael A. Robinson has created a "bible of weed investing."
We'll tell you more about how you can get your copy in just a bit.
But first, we want to make sure our readers know all the details about recreational marijuana laws taking effect today in Massachusetts.
New Recreational Marijuana Laws in Massachusetts Effective Now
Under the new Massachusetts marijuana laws, adults aged 21 and older will be able to possess up to 10 ounces of marijuana. Adults will also be allowed to grow up to 12 plants in their residence.
Purchasing marijuana accessories such as pipes, bongs, and growing lamps will also be legal in Massachusetts as of Dec. 15.
However, landlords will have the right to forbid marijuana use and growing marijuana. Colleges in Massachusetts are also expected to ban marijuana use in dorm rooms and across campus.
According to The Boston Globe, spokespeople for Northeastern University and Simmons College have said marijuana will remain prohibited on university grounds.
And even though recreational marijuana is legal, Massachusetts residents will still have to wait to walk into a store and purchase cannabis. That's because under the law, retail pot shops can't open until 2018.
NEW: Plot your course to a 7-figure weed windfall with the top pot stocks from every ecosystem -growers, edibles, dispensaries, and more.
On Nov. 8, 53.57% of voters said "yes" to legalizing marijuana in Massachusetts. Here's why they voted "yes."
What Are the Benefits of Recreational Marijuana in Massachusetts?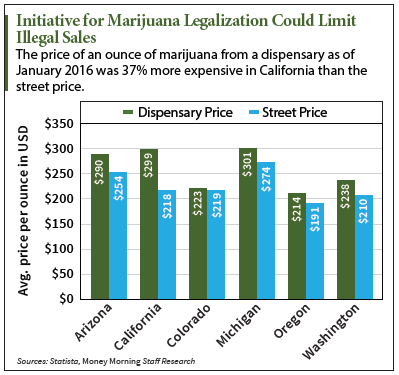 Recreational marijuana supporters in Massachusetts believe regulating marijuana will help curtail underground markets for drug sales.
As of January 2016, purchasing marijuana from legal dispensaries was actually more expensive than buying it on the street. But if more legal marijuana shops can open and adults can use marijuana recreationally, prices could start to become more competitive.
That means underground markets would lose a lot of their funding.
Supporters also said law enforcement officers will be able to spend more time and resources addressing serious crimes, according to Ballotpedia.org.
Supporters of marijuana legalization in Massachusetts included:
Sen. Will Brownsberger (D-MA)
Sen. Jamie Eldridge (D-MA)
Sen. Pat Jehlen (D-MA)
The National Lawyers Guild Massachusetts Chapter
The ACLU of Massachusetts
But not everyone was in favor of cannabis legalization in Massachusetts…
The Opposition to Recreational Marijuana Legalization in Massachusetts
Those opposed to recreational marijuana legalization believe it's a health hazard for young children. That's because children could confuse marijuana edibles that come in the form of cookies, candy, and gummy bears as regular snacks.
Also, those opposed to legalization are worried about individuals being able to grow marijuana in their home.
Even if neighbors object, homeowners could technically grow thousands of dollars' worth of marijuana.
Opponents are also worried about an increase of car accidents because of marijuana use.
Opponents of marijuana legalization in Massachusetts include:
Gov. Charlie Baker (R-MA)
Boston Mayor Marty Walsh
Sen. Jason Lewis (D-MA)
The Massachusetts Hospital Association
The Roman Catholic Bishops of Massachusetts
The Cape Cod Chamber of Commerce
Marijuana legalization may still be controversial, but the economic impacts can't be ignored.
States like Colorado are collecting millions in taxes from legal marijuana sales.
Marijuana sales for the first 10 months of 2016 in Colorado have reached $1 billion, according to The Cannabist. Economists project tax revenue from marijuana for Colorado in 2016 will be more than the 2014 ($76 million) and 2015 ($135 million) totals combined.
Initially, it may seem like the best marijuana stocks to buy are companies selling cannabis.
But there are three ways to invest in the marijuana industry without buying stocks of companies that sell marijuana…
How to Invest in Marijuana Stocks
As more states legalize marijuana, there will be a growing demand for marijuana real estate. Right now, there are several companies specializing in this emerging field.
For example, Mountain High Acquisitions Corp. (OTCMKTS: MYHI) purchases commercial facilities to lease to marijuana companies in Colorado. Zoned Properties Inc. (OTCMKTS: ZDPY), another marijuana real estate company, develops and leases specialized properties for emerging industries like cannabis.
Must Read: Former Google Exec Quits Dream Job to Launch Marijuana Empire
The second way to invest in the marijuana industry is through companies that provide payment and capital solutions.
Because marijuana is illegal under federal law, some banks are afraid to work with marijuana companies. That means marijuana companies deal mostly in cash, which limits payment options and can be dangerous.
Through Medical Cannabis Payment Solutions (OTCMKTS: REFG), the medical marijuana industry now has a new solution for payments. Medical Cannabis is the most technologically advanced seed-to-sale system available, according to its website.
Banks also don't want to loan marijuana companies money to expand their business. But Mentor Capital Inc. (OTCMKTS: MNTR) will provide liquidity for cannabis companies.
Finally, the third way to invest in the marijuana industry is through social media sites geared towards marijuana users.
MassRoots Inc. (OTCMKTS: MSRT) calls itself a "social platform for marijuana."
MassRoots may just be three years old, but it has over 900,000 users. CEO Isaac Dietrich told Money Morning Associate Editor Cameron Saucier at the end of October that MassRoots plans to be cash-flow positive on a monthly basis by the end of 2016.
Another marijuana social media site stock to watch is Social Life Network Inc. (OTCMKTS: WDLF). It owns and operates a site called WeedLife Network.
WeedLife functions like a search engine, but it focuses strictly on cannabis. Marijuana websites can use WeedLife to display deals and coupons and provide dispensary maps.
These are just a few ways to invest in marijuana stocks. But there are a lot more marijuana companies we are watching for 2017…
As a service to Money Morning readers, we're now making available a 90-page cannabis investing guide called The Roadmap to Marijuana Millions. This "bible of weed investing" reveals the world's top marijuana stocks every serious investor should consider right now. Normally valued at $499, it can be yours absolutely free. To learn how to get your free copy, click here. This offer is only available to the first 500 people who respond today. So please go here now to reserve your copy. 
Follow Money Morning on Facebook and Twitter.