Natural gas prices have been on the rise this year, and our natural gas price prediction for 2017 shows prices could surge by 36% in 2017.
Since hitting its 2016 low in March, the price of natural gas has rallied 121%.
The Henry Hub natural gas spot price today is $3.30 per million British thermal units (BTUs), compared to $1.90 in March.
The natural gas price chart below shows how much the market has rebounded in 2016: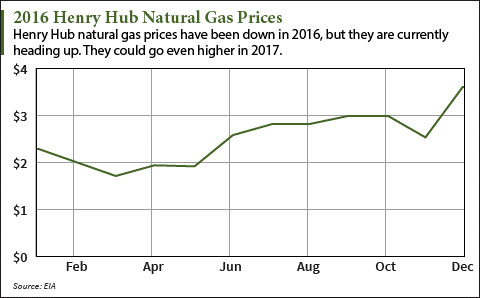 And the dramatic upswing you're seeing in natural gas prices is far from over.
That's why we're putting out our 2017 natural gas price prediction, to show you exactly what will be driving natural gas prices next year...
Why Are Natural Gas Prices So Volatile?
Like other commodities, supply and demand governs natural gas prices. But predicting demand can be complicated in the gas market.
That's because the weather, especially winter weather, can have a major impact on natural gas demand. Natural gas is most often used for heating. Colder temperatures mean homes and businesses need more heat, increasing demand for gas.
But the weather is hard to predict. An unexpectedly warm winter could sink demand and lower prices. Similarly, a long period of freezing temperatures can force natural gas prices higher as households turn up their heat.
Because natural gas prices can be so volatile, investors often trade futures contracts to hedge against price swings.
Don't Miss: My (Bold) 2017 Oil Price Forecast - and today's Most Profitable Energy Play
Spot prices are determined based on current market value at the Henry Hub in Louisiana, where nine natural gas pipelines connect. Futures contracts allow investors to lock in a price months in advance.
If, for instance, an investor purchases a futures contract for March and March spot prices end up being higher, the investor can sell the contract for a profit. Or the investor can purchase the gas for the contracted price, below market value.
This is why long-range weather forecasts have a big impact on natural gas futures. Futures traders try to lock in a price based on what they think energy demand will be. And this year's weather forecast is affecting futures already.
The "Old Farmer's Almanac" is a famed source for predicting long-term weather trends. The "Almanac" is calling for a colder winter than last year. Accordingly, futures contracts for February are currently trading at $3.32, a 67% increase over last February's prices.
However, natural gas is now used for a number of energy needs outside of heating. Natural gas is in the middle of replacing coal and oil as a cheap, reliable, and less-polluting energy source.
And new developments in the natural gas market mean demand could be pushed higher even without a frigid winter. That's why we're predicting higher natural gas prices in 2017.
Here's our full outlook for natural gas prices in 2017, including our price target...
Our 2017 Natural Gas Price Prediction
[mmpazkzone name="in-story" network="9794" site="307044" id="137008" type="4"]
Demand for natural gas has grown globally, and it has already begun replacing legacy fuel sources, like coal, in the United States.
Money Morning Global Energy Strategist Dr. Kent Moors says natural gas is in the early stages of "major expansion." Therefore, its use is only going to grow.
Moors says natural gas prices could hit $4.50 per million BTUs by the middle of 2017. That's a 36% increase from today's price. Higher prices could even help iron out some of the volatility in the market.
Winter weather will continue to be an important driver of price. But natural gas is increasingly used for more than just heating. This drives up prices, even if the winter is unseasonably warm.
Industrial vehicles, like city buses and large trucks, are switching to natural gas for fuel instead of traditional gasoline or diesel fuels. As smaller cars begin to adopt natural gas, demand will rise further.
Investopedia reports natural gas vehicle sales will surge 65% by 2023.
While we are expecting demand to pick up, that's only half of the equation. The supply of natural gas is just as important for prices.
And the supply of natural gas in the United States is stable. There is currently a surplus of around 4 trillion cubic feet, but it has been consistent. Consistent supply means prices will gradually rise, too, as long as demand continues higher like we expect.
"While [the surplus is] high, it's been stable and is now only slightly above the five-year average," Moors said. "This should be enough to provide a floor supporting a slowly strengthening price."
Moors expects $4.50 to be roughly the price where supply and demand stabilize in 2017.
Energy demand will also be driven by a new player in 2017. Moors says a region you might not expect is going to have a big impact on demand. And that means lots of money can be made by those ahead of the curve. Read on to see Moors' secret source of energy profits...