Should I sell my Bitcoin now that the price has doubled in just one year?
A lot of Bitcoin owners no doubt have been asking themselves that question of late, given the rapid rise in the Bitcoin price since early December.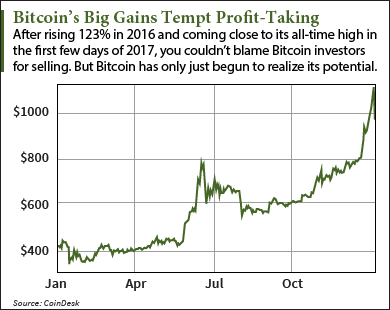 In the past four weeks the price of Bitcoin rocketed 48%, from $775 to $1,150, until pulling back yesterday (Thursday) into the $950 range. Today (Friday) the digital currency has slipped further to about $900. But the Bitcoin price is still 16% higher than it was Dec. 1, and more than double the price on Jan. 1, 2016.
Returns like that typically have investors thinking it may be time for some profit-taking. After all, how often does an investment double in one year?
Those who bought at much lower prices – the digital currency traded below $300 through most of 2015 and below $500 through the first five months of 2016 – may also be tempted to sell their Bitcoin now.
Related: How to Buy Bitcoins – The Money Morning Guide
It's hard to argue with profits of between 100% and 200%.
And anyone remotely familiar with Bitcoin remembers what happened the last time Bitcoin traded over $1,000, in the fall of 2013. The Bitcoin bubble burst, causing huge losses for those that bought at the top as the price skidded to below $200 over the next year.
Fears that will happen again make a compelling case that it's time to sell Bitcoin.
But another major collapse isn't likely…
Don't Sell Bitcoin Out of Bubble Fears
Much has changed in the past three years. The 2013 episode was brought about by a combination of media hype, wild speculation, a lack of oversight, and thinly traded markets.
For one thing, most Bitcoin trading back then was done on the troubled Mt. Gox exchange, which imploded in early 2014. Today's Bitcoin exchanges are much better run. The Winklevoss twins' Gemini exchange, for example, is fully compliant with government regulations.
On the Chinese Bitcoin exchanges, where most Bitcoin is traded, the volume is 37 times higher now than it was then, creating a more stable market better able to determine prices.
Finally, Bitcoin has become more mainstream. In 2013 the digital currency was still dominated by technophiles, libertarians, and those who used the anonymous transactions in criminal pursuits. Since then a much larger and more diverse array of users have joined the Bitcoin community, including venture capitalists, the big banks, and rank-and-file citizens from around the world.
Trending: The Global War on Cash Is Here – This Is How to Fight Back
In addition, it's worth noting that since bottoming in early 2015, the Bitcoin price trend has moved higher. Although there have been pullbacks after other spikes, each time the price of Bitcoin has consolidated at a significantly higher level.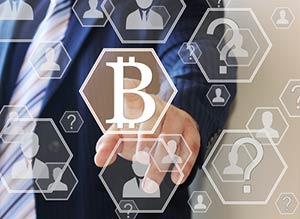 For example, in late May-early June, the Bitcoin price jumped from $450 to more than $750. In the weeks that followed, the price of Bitcoin remained volatile but never fell below $550. Eventually it consolidated around $600.
The current sharp pullback is most likely the beginning of a similar process, with the Bitcoin price consolidating at a significantly higher level than where this rally started.
Still, the impulse to sell Bitcoin is strong when you've doubled or tripled your money.
Here's why investors should consider hanging onto Bitcoin despite their big gains…
Why Selling Bitcoin Now Could Be a Mistake