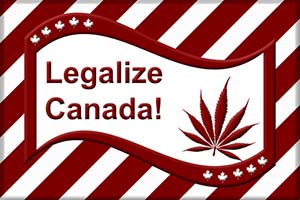 Canada marijuana legalization is the next big growth catalyst for marijuana stocks. That's because only 13% of the $6.7 billion in marijuana sales in North America in 2016 were from Canada.
But that will change in 2017…
As part of his 2015 campaign, Prime Minister Justin Trudeau promised marijuana reform in Canada. That's because the majority of Canadians want recreational marijuana use legalized.
In a poll conducted during the summer of 2016, 69% of participants either supported or somewhat supported legalized recreational marijuana.
Only 26% were opposed or somewhat opposed.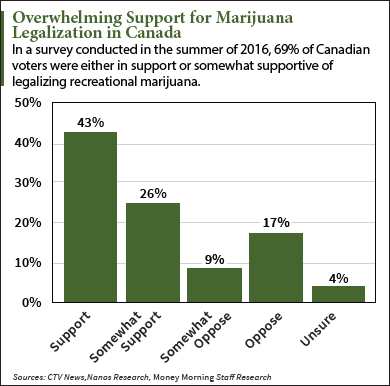 To keep his promise to reform marijuana laws, Trudeau created a marijuana task force in June 2016.
The task force submitted a report to the Canadian government on Dec. 13, 2016. In the report, it recommended marijuana laws be in-line with the legal drinking age in Canada (18-19). The task force also urged the creation of more reliable marijuana impairment testing methods of drivers.
Trudeau is expected to introduce legalization based on the recommendations of the task force this spring.
But what does this mean for current investments in marijuana stocks?
Special Report: Cannabis Is the Gold Rush of the 21st Century. 30 Stocks to Invest in Now.
For forward-thinking investors, this could create a seven-figure weed windfall by owning the top pot stocks in every ecosystem – growers, edibles, dispensaries, and more.
Here's why…
Canada Marijuana Sales Could Climb 400% by 2021
When Canada passes recreational marijuana legalization, Canadian cannabis companies won't have to worry about the same legal hurdles they face now.
That means they can be more profitable and focus on growing sales instead of fighting legal battles.
According to CBC, the Royal Bank of Canada and Scotiabank were no longer providing accounts for marijuana companies as of September 2016.
Without access to banks, marijuana companies have a difficult time acquiring money to grow and expand.
Also, marijuana companies can have a hard time purchasing and leasing buildings. Landlords and building owners have to worry now that marijuana tenants could have their businesses shutdown.
So without these hurdles, the marijuana industry will boom in Canada…
According to The Cannabist, legal marijuana sales in Canada could reach $4.5 billion in 2021. That's an increase of 400% from the roughly $900 million in sales from 2016.
But it won't just be marijuana companies that get rich when Canada legalizes marijuana.
That's why we have two Canadian marijuana companies on our watch list for 2017…
Canadian Marijuana Companies to Watch in 2017
One of the most well-known Canadian marijuana stocks is Canopy Growth Corp. (OTCMKTS: TWMJF).
With over 350,000 square feet of licensed production space, Canopy Growth owns the largest marijuana-producing greenhouses in the world.
For its fiscal year in 2016, Canopy Growth increased its patient list from 2,894 in 2015 to 11,630 in 2016.
That's an increase of 301% in just one year.
Canopy also increased its grams and gram equivalents sold from 323,891 in 2015 to more than 1.6 million in 2016. That's an increase of 423% in just one year.
In the last 12 months, the TWMJF stock price climbed over 265%.
The second Canadian marijuana stock to watch is Mettrum Health Corp. (CVE: MT).
Mettrum Health researches, develops, produces, and distributes marijuana products in Canada. The company has a diverse portfolio of products and services, which will only grow when marijuana is legalized.
The company's Mettrum Spectrum product categorizes marijuana according to CBD levels and THC potency. This allows medical professionals to recommend marijuana strains to their patients.
Mettrum also offers a line of hemp-based foods and non-food products.
MT has a market cap of $318.06 million, and the MT stock price has climbed 291% over the last 12 months.
As a service to Money Morning readers, we're now making available a 90-page cannabis investing guide called "The Roadmap to Marijuana Millions."
This "bible of weed investing" reveals the world's top marijuana stocks every serious investor should consider right now.
Normally valued at $499, it can be yours absolutely free. To learn how to get your free copy, click here.
This offer is only available to the first 500 people who respond today. So please go here now to reserve your copy.
Follow Money Morning on Facebook and Twitter.