Are gold prices up or down this week? And how will they perform in the rest of 2017?
The answer is they've been all over the place in the last two months. But we see them soaring much higher this year thanks to a couple important factors…
You see, the gold market has lit up since the start of 2017. After a big correction from November to December 2016, the price of gold appears to have turned around, and pretty much on cue.
Did the December interest rate hike mark a bottom just like it did exactly one year before? With each day that goes by, it looks increasingly like that's the case.
It's been a nearly uninterrupted climb for gold prices since bottoming around Dec. 15. The metal sailed through the $1,180 resistance level, reaching well over $1,200 on Jan. 12.
Don't Miss: Here's How You Can Profit from Gold This Year
And as I'll show you, I think there are important drivers that will keep pushing the gold price higher over the next several weeks.
First, here's how the gold price performed from Jan. 9 to today (Jan. 13)…
Are Gold Prices Up or Down This Week?
On Monday, Jan. 9, gold prices opened at $1,178 and climbed throughout the day. After peaking at $1,184 around 3 p.m., the price of gold backed off to settle at $1,180 for a 0.2% gain on the day.
Gold opened Tuesday with another 0.2% gain to $1,182. Prices bounced around a little before closing the day 0.4% higher at $1,187.
Thanks mainly to the U.S. dollar and the Trump press conference, Wednesday's gold price action got pretty wonky…
Around the time of the 11 a.m. press conference, the dollar surged toward 103 basis points then sharply dropped toward 101.3. Gold was nearly unchanged at the open from the previous close, changing hands at $1,188 before market open. It proceeded to quickly drop to $1,180 by 11 a.m., but as the Trump press conference progressed, gold strongly rebounded to $1,195 by 2 p.m. It settled back to close at $1,191 for a 0.3% rise on the day.
By Thursday, Jan. 12, the gold price had reached a six-week high of $1,200 during the day.  That's an important psychological milestone, as the market tends to watch nice, round numbers.  Despite not being able to hold that price level, gold's action was nonetheless pretty bullish, ending at $1,195 for a 0.3% gain.
Don't Miss: 5 Marijuana Stocks to Watch in 2017
This chart shows the U.S. Dollar Index's (DXY) performance since Monday, helping to explain gold's wild ride on Wednesday and weakness on Thursday…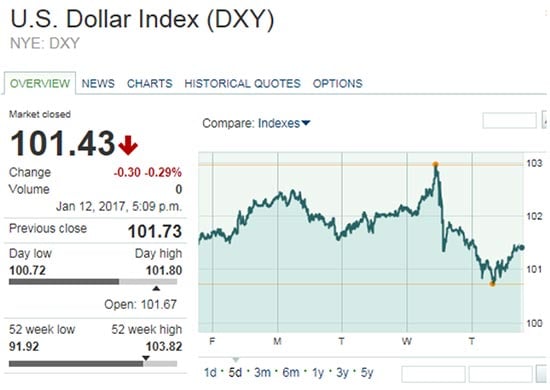 Now, are gold prices up or down today (Friday, Jan. 13)? As of 10:30 a.m., they're down 0.2% to $1,193. Despite that slight loss, the gold price is on track for a weekly gain of 1%.
I believe it will remain bullish in the weeks ahead, and there are two factors that indicate more gains in 2017…
Will Gold Prices Go Up This Year? These Two Signs Point to "Yes"
The two drivers of the gold price rally this year will be gold stocks and the U.S. dollar.
If we compare gold stocks and gold prices over the past year, the results are amazing.
From Jan. 1 to Aug. 4, gold stocks soared 148%, while gold itself rose a respectable 25%. That was a truly impressive outperformance, despite their lag when bottoming about five weeks after gold prices did in mid-December 2015.
Gold stocks ended the year up 59%, while gold was up about 7%. That was still a tremendous leverage over the metal during the calendar year.
Since gold bottomed about a month ago, gold prices are up 6%, while gold stocks have jumped 21% for a better than 3-for-1 leverage. The massive rally in gold stocks indicates sentiment in the overall gold market is rapidly improving. This sentiment will inevitably lift gold prices in 2017.
The other driver is the U.S. dollar. The six-month DXY chart shows us a topping action that started right when the Fed confirmed its rate hike. The DXY has been weakening on balance since then. It has major support at 100, but it's approaching that level quickly…
If gold stocks keep leading gold prices higher this year – and the dollar continues to struggle – they could be pointing at markedly higher gold. I'm still calling for gold price targets of $1,250 to $1,280 gold in Q1 and $1,400 later in 2017.
Urgent: A completely unique gold play is forming in the markets. And it's so rare that it's only the third time in 20 years that it's happened. If you get in now, you could see a share of upwards of $13 billion in cash windfalls. Read more.
Follow us on Twitter and like us on Facebook.
Join the conversation. Click here to jump to comments…
About the Author
Peter Krauth is the Resource Specialist for Money Map Press and has contributed some of the most popular and highly regarded investing articles on Money Morning. Peter is headquartered in resource-rich Canada, but he travels around the world to dig up the very best profit opportunity, whether it's in gold, silver, oil, coal, or even potash.