To help investors profit from rising oil and natural gas prices, we're showing you the best energy stocks to buy in 2017.
WTI crude oil prices hit a 10-year low of $35.73 in January 2016. Since then, crude oil prices have soared 47% to $52.53 a barrel.
Natural gas prices have surged, too. Natural gas prices rose 57% from the beginning of 2016 to the start of 2017.
And Money Morning Global Energy Strategist Dr. Kent Moors expects both oil and natural gas prices to continue rising by at least 20% in 2017.
To help investors take advantage of these rising prices, we've put together our list of the best energy stocks to buy in 2017. These stocks have already gained up to 259% as energy prices climbed in 2016. Now analysts are projecting 31% earnings growth this year. Before we get to our picks, here's how investing in energy stocks helps investors profit from rising energy prices...
Why You Should Invest in Energy Stocks in 2017
Investors can see explosive gains by playing the best energy stocks when energy prices rise. And oil and gas prices are headed up in 2017.
Oil prices have soared 15% since OPEC agreed to cut oil production on Nov. 30.
The OPEC deal called for a drop in production of 32.5 million barrels a day. Simple supply and demand tells us that if demand remains the same and supply is restrained, prices will go up.
The agreement officially began on Jan. 1, so there's still plenty of room for oil prices to continue to rise.
If the OPEC members abide by the agreement, Moors predicts oil prices could rise another 20% in 2017.
The agreement is off to a strong start. Saudi Arabia, the largest oil producer in OPEC, has already confirmed it cut oil production 486,000 barrels a day since the agreement was struck.
And at yesterday's World Economic Forum (Jan. 19), the Associated Press reports Saudi Arabian oil minister Khalid al-Filah said he "would not exclude" another oil production cut in 2017 if prices don't rise quickly enough.
Trending: Forecast: There Are Big Changes and Big Profits Coming to the Oil Sector in 2017
And just as oil prices are rising, natural gas prices are heading higher, too.
Moors predicts natural gas prices could surge 32% in 2017.
Demand for natural gas is growing since it's cleaner than other fossil fuels, especially coal.
Natural gas produces half the carbon emissions as coal. And Pew Research says 64% of Americans favor more regulations on carbon emissions.
As Americans are searching for cleaner energy like natural gas and as OPEC is cutting oil production, the demand for energy is still increasing. This means the top energy stocks are poised to benefit as energy prices rise.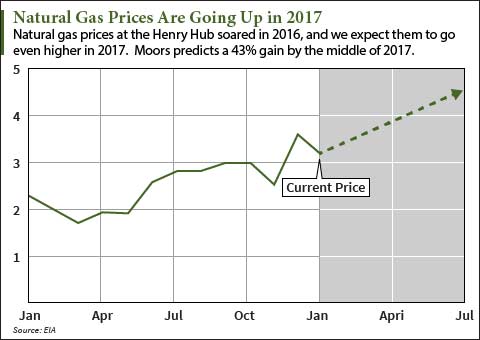 Editor's Note: Read Our 2017 Natural Gas Price Prediction
The U.S. Energy Information Administration (EIA) forecasts that the demand for energy worldwide will increase 25% by 2040.
The final reasons to consider investing in energy stocks are the proposed policies of the Trump administration.
President Trump promised voters the United States would achieve "energy independence." His plan is to make it easier for American energy companies to produce oil and natural gas.
Trump has already picked an EPA head, Oklahoma Attorney General Scott Pruitt. Pruitt is most known for suing the EPA over policies restricting the oil and gas companies in his home state.
With energy prices rising and restrictions on oil and gas companies set to weaken, these are the best energy stocks to buy this year...
Energy Stocks to Buy in 2017 No. 3: Magellan Midstream Partners LP
Magellan Midstream Partners LP (NYSE: MMP) is a Tulsa-based company focused on the storage, distribution, and transportation of crude oil and refined petroleum products.
As those drilling restrictions begin to loosen in the United States and demand rises, the need for oil transportation and storage services will skyrocket. This is Magellan's core business.
The company has access to a 9,500-mile refined products pipeline system, a 1,100-mile ammonia pipeline system, and 1,700 miles of crude oil pipelines and storage facilities.
Magellan began a project in December 2016 to expand its capacity to store oil by as much as 1.7 million barrels. On Jan. 11, the company announced additional plans for pipeline expansion from the Gulf Coast into the Dallas/Fort Worth and Central Texas markets.
Magellan is a well-run company with significant room for growth in the coming year.
The company's operating margin is 39.69%, meaning nearly 40% of every sales dollar goes to its bottom line.
The 19 analysts surveyed by Yahoo Finance expect 2017 earnings per share (EPS) to grow 8% over earnings from 2016.
MMP is trading at $74.59, with shares up 31% over the last 12 months. The company also has a generous 4.49% dividend yield.
And our two top energy stocks are even better plays, including a 259% gain as energy prices rose since last January. Those gains are primed to continue as energy prices continue to rise...
Energy Stocks to Buy in 2017 No. 2: Plains All American Pipeline LP