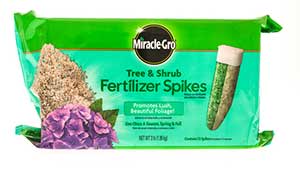 SMG Stock Outlook: Scotts Miracle-Gro Co. (NYSE: SMG) will release its Q1 2017 earnings report before the opening bell on Tuesday, Jan. 31, 2017.
This will be an important earnings report from Scotts, as the SMG stock price is currently underperforming compared to the broader market.
The SMG stock is down 1.62% so far in 2017. In comparison, the Dow Jones Industrial Average is up 1.64%.
So what will move the stock price after earnings?
These are the five things shareholders will want to pay attention to in the Scotts Miracle-Gro Q1 earnings report…
SMG Stock Catalyst No. 5: Revenue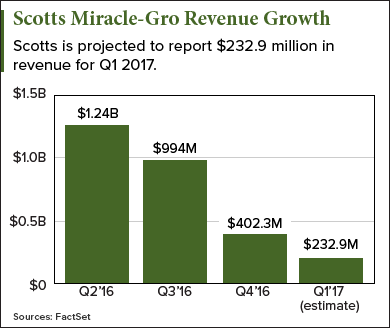 Scotts is a seasonal business, and most of its revenue is generated in Q2 and Q3.
For example, Scotts reported $246 million in revenue for Q1 2016. But in Q2 2016 and Q3 2016, Scotts respectively reported $1.24 billion and $994 million in revenue.
For Q1 2017, the company is expected to report $232.9 million in revenue. That would be a year-over-year (YOY) drop of 5.2%.
But because of Scotts' seasonality, shareholders should remember to focus on the long-term results…
According to FactSet, analysts expect Scotts to report YOY sales growth of 5.8% for the full-year 2017.
In comparison, sales growth only climbed 2.9% for 2015, and it actually fell 2.9% in 2016.
SMG Stock Catalyst No. 4: Earnings per Share
The company is projected to report an earnings per share (EPS) loss of $1.25.
The negative EPS is also because of Scotts' seasonal business. For example, EPS was -$1.13 in Q1 2016, but climbed to $3 per share in Q2 2016.
Analysts expect the lawn care company to report an EPS figure of $3.21 in Q2 2017.
That would be an increase of 7% from Q2 2016.
The Roadmap to Marijuana Millions: This exclusive 90-page "Pot Investing Bible" is now being offered to Money Morning readers. Click here to learn how to get a copy absolutely free (supplies limited).
For its 2017 calendar year, Scotts is projected to record an EPS figure of $4.36. That would be an increase of 12.66% from the $3.87 figure reported for 2016.
SMG Stock Catalyst No. 3: Dividend Updates
Currently, Scotts pays its shareholders a dividend of $0.50, which is a yield of 2.13%.
The company generally raises its dividend each August.
Here's a breakdown of the total dividend payouts since 2013:
August 2013: $0.438 per share
August 2014: $0.45 per share
August 2015: $0.47 per share
August 2016: $0.50 per share
While Scotts is not expected to increase its dividend this quarter, shareholders should still pay attention to the earnings call on Jan. 31 for any news on dividend hikes for the future.
SMG Stock Catalyst No. 2: Acquisitions
Since 2014, Scotts has been acquiring companies to diversify and increase its revenue sources.
Its acquisitions since July 2014 include the following companies in the table below.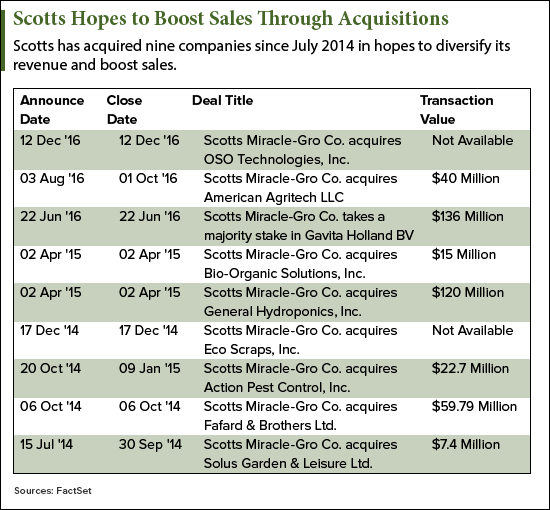 Shareholders will want to pay attention to updates on how these acquisitions are performing.
Also, shareholders will want to watch for news on any new acquisition plans.
SMG Stock Catalyst No. 1: Marijuana Investments
Scotts is known for being a leader in lawn care and gardening since 1868.
When the economy seemed to be flourishing in the early 2000s, mega retailers like Home Depot Inc. (NYSE: HD) and Wal-Mart Stores Inc. (NYSE: WMT) were expanding their locations.
And because each store carries Scotts' products, Scotts' revenue climbed 80% between 2001 and 2009.
But after the financial crisis of 2008 and 2009, Wal-Mart and Home Depot stopped expanding and shut down stores.
That left Scotts' revenue stagnant.
So in order to boost sales, CEO Jim Hagedorn made what some consider a controversial decision: He invested in the marijuana industry.
In 2015, Hagedorn purchased two companies that specialize in soil and fertilizer for cannabis growers. In July 2016, he also invested a 75% stake in Gavita International, a hydroponics equipment company.
And it appears Hagedorn's forward-thinking decision is paying off…
As of December 2016, Scotts' hydroponics business generated roughly $250 million annually, according to Bloomberg.
And that number will continue to climb as more states legalize medical and recreational marijuana…
According to Money Morning Director of Tech & Venture Capital Research Michael A. Robinson, the value of the hydroponically grown plants market is skyrocketing.
The global crop value of hydroponically grown plants is expected to climb from $17 billion in 2013 to $24 billion by 2018.
That's a 41% increase in just five years.
For Q1 2017, SMG shareholders will want to watch for any updates to Scotts' marijuana holdings, such as General Hydroponics and Gavita.
Because of Scotts' diversified revenue sources, Robinson is bullish on SMG stock.
In fact, he believes the SMG stock price could climb double digits in less than a year…
SMG Stock Long-Term Outlook