Fortune ranks Southern Co. as one of the "World's Most Admired Companies in 2017," but Southern Company stock is losing its luster after a $7.1 billion coal plant flop.
Over seven years ago, Southern Co. (NYSE: SO) took a gamble on "clean coal" by building a state-of-the-art clean coal power plant in Kemper County, Miss. Clean coal plants were supposed to be a revolutionary way to burn coal with less pollution.
The project was originally set to cost $1.8 billion and would be ready to burn clean coal by 2013. Instead, the project's cost ballooned to $7.1 billion and it still isn't ready to open.
And that's not even the biggest problem with the clean coal project.
Here's how the clean coal gamble could hurt SO's stock price in 2017...
How the Clean Coal Backfire Hurts Southern Company Stock
SO stock is up on the year, but its Kemper coal plant could drain revenue and profits in 2017.
In its latest earnings report, Southern Co. reported its revenue was 45% higher than in Q4 2015. The big gain in revenue led to the stock jumping 5% after the earnings report came out on Feb. 22.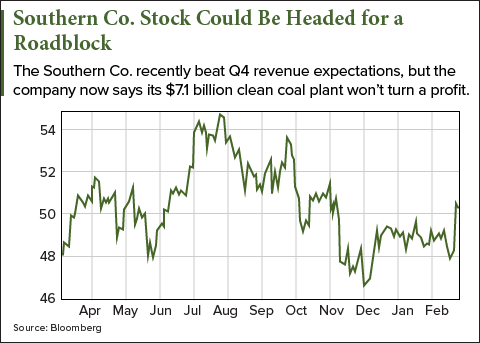 But its Q4 earnings per share (EPS) came in 23% under expectations. The clean coal power plant in Kemper County drained $206 million out of Southern Co.'s Q4 profits. That loss led to net profits of only $197 million, down 27% from the previous year.
And the plant won't be profitable anytime soon.
New Report: Start Collecting a "Second Salary" with These Powerful Income Generators
On a call with investors, Southern Co. now says the clean coal plant won't turn a profit without natural gas prices nearly doubling to over $5 per million Btu. That could put a damper on the Southern Co. stock price.
While Money Morning Global Energy Strategist Dr. Kent Moors predicts natural gas prices will test $4.5 per million Btu, that won't be nearly enough to make this clean coal plant profitable.