The Winklevoss Bitcoin ETF (BATS: COIN) is a proposed exchange-traded fund that will buy and hold Bitcoin to back the shares investors have purchased.
If approved by the U.S. Securities and Exchange Commission, the Winklevoss Bitcoin ETF – officially known as the Winklevoss Bitcoin Trust – will provide retail investors with an easy way to add Bitcoin to their portfolios.
Although unusual, in that it is based on a digital currency and not a physical commodity like gold or oil, the Winklevoss Bitcoin ETF will nevertheless be structured in very much the same way.
The Winklevoss twins, Cameron and Tyler, have said on multiple occasions that their fund is modeled on the SPDR Gold Trust ETF (NYSE Arca: GLD). With the SPDR Gold Trust, the fund buys and holds physical gold to back the shares investors have purchased.
Each share will represent approximately 1/100 of a bitcoin. According to the most recent amended S-1 filing, the Winklevoss Bitcoin Trust plans to sell 10,000,000 shares at $10 each.
The offer price will probably need to rise to match the rising Bitcoin price, though. If Bitcoin is trading at $1,200, the offer price will rise to $12. But if the SEC approval news touches off a fierce rally, as most expect, the price of Bitcoin could double prior to the IPO.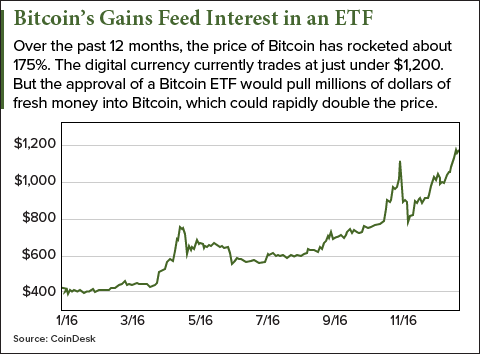 That means we could see a Winklevoss Bitcoin ETF offer price as high as $20 or $25.
Of course, many investors are most interested in when they'll be able to actually buy shares of the Winklevoss ETF.
It could be sooner than you think…
When to Expect the Winklevoss Bitcoin ETF
The SEC has until March 11 to approve or deny a rule change that would allow the Winklevoss Bitcoin ETF to have an initial public offering (IPO) on the BATS BZX Exchange.
The rule change is required because Bitcoin is a cryptocurrency. Until now, no one has ever tried to launch an ETF based on a digital commodity.
SEC approval would end a journey that started in July 2013, when the Winklevoss twins filed the first version of their S-1 form.
Special Report: Cannabis Is The Gold Rush of the 21st Century – 30 Stocks to Invest in Now
Should the Winklevoss ETF win SEC approval, the IPO process will start. Still, it will take several months before the actual IPO occurs. But unless unexpected complications should arise, SEC approval will result in a Winklevoss Bitcoin ETF IPO by summer or fall.
The actual IPO is likely to cause another spike in the price of Bitcoin. That's because the Winklevoss Bitcoin ETF is expected to attract as much as $300 million in its first week, according to an estimate by Needham & Co. analyst Spencer Bogart.
Bogart is pessimistic about SEC approval, however, putting the odds at less than 25%.
But several factors suggest the odds of the Winklevoss Bitcoin Trust getting SEC approval could well be much higher…
Why the SEC Would Approve the Winklevoss Bitcoin Trust