Although prices have dipped 2.8% to $1,232 this month, investing in gold is still one of the best profit strategies this year. That's because we expect gold prices to rise 13.6% to $1,400 by the end of 2017.
You could buy some physical gold to take advantage of these gains, but there is a much better way to invest in gold and reap much larger returns. We're talking about gold mining stocks, and we found two that could surge 50.1% and 81.2% by next March.
Here's why Money Morning Resource Specialist Peter Krauth says you should start investing in gold stocks in 2017...
Why Investing in Gold Stocks Will Hand You Profits in 2017
Sign up for SMS so you never miss special events, exclusive offers, and weekly bonus trades.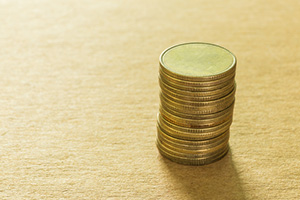 Krauth believes gold prices and gold stocks will rise this year thanks to one factor: rising inflation.
Right now, the year-over-year inflation rate is at a five-year high of 2.5% as of January. This rate is going to continue upward as the stock market keeps hitting record-breaking highs and as yields on 10-year Treasury bonds increase.
Inflation generally has an inverse relationship with a strong stock market. This means that a stock market rally causes the purchasing power of the U.S. dollar to plummet, which isn't good for the overall economy.
We're also seeing higher 10-year Treasury bond yields right now, which is another sign of inflation. Since Jan. 1, the yield has climbed from 2.45% to 2.62% - the highest since September 2014.
The U.S. Federal Reserve is tasked with monitoring inflation levels by adjusting interest rates as necessary. The first such rate hike took place on Dec. 14, 2016, and the Fed just raised rates again yesterday (Wednesday, March 15). That puts the federal funds rate at a range of 0.75% to 1%.
Gold is a popular choice as a safe-haven investment in uncertain economic times. When investors hear the word "inflation," they equate it with danger and seek out the safer investments like gold. This is going to boost demand, which will send the gold price and gold stocks surging.
That's why Krauth predicts the price of gold will hit $1,400 by the end of the year. Many analysts from banks like Credit Suisse Group AG (NYSE ADR: CS) even see gold going as high as $1,500.
Since gold companies, particularly gold miners, rely on high gold prices to make money, these gains will hit their bottom line and be great news for stockholders.
Here are the two best gold stocks to buy in 2017...
Buy These Gold Mining Stocks for 50.1% and 81.2% Returns This Year