Once again, gold prices in 2017 have proven resilient.
The gold price is up 1.3% in the last week, marking the second weekly gain in a row as the metal benefits from market uncertainty.
Since the Fed hiked rates on March 15, the S&P 500 is down 1.1%, oil prices are down 3%, and even the U.S. Dollar Index (DXY) is down nearly 0.8%.
The dollar's decline is particularly interesting, given that higher short-term rates should be a boost to the dollar. And yet, the opposite happened.
Don't Miss: An incredibly rare gold anomaly is shaping up in the markets as we speak -- one that has occurred ONLY twice in the past 20 years. And it's about to happen again. Details here...
Are investors looking ahead and seeing less rate hikes on the back of a dovish Fed? If so, then the Fed's hands really are tied, and the dollar could continue to weaken.
As we already know, that fits well with Trump's statements that the dollar is too strong, making America less competitive on the world stage.
I believe gold investors can look forward to even higher prices. That's why I'm going to discuss the reasons why I think they have a minimum of 12.1% upside potential in 2017.
First, here's a recap of the day-to-day price of gold movements...
How the Gold Price Gained 1.3% This Week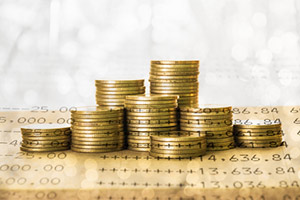 After closing Friday, March 17 at $1,229, gold prices opened higher at $1,231. Despite some minor strength in the dollar, the metal managed to pull off a 0.4% gain and end the day at $1,234.
In fact, the U.S. dollar has been on an overall downward trend for the past week. This appears to be helping the price of gold.
On Tuesday, March 21, gold climbed higher as the DXY dropped below 100 for the first time since Feb. 6. This pushed gold prices 0.8% higher to settle at $1,244 on the day.
The DXY caved to more selling pressure on Wednesday, causing gold to rally further. It opened higher at $1,247 and closed slightly higher at $1,248 for a 0.3% gain.
Are investors looking ahead and seeing less rate hikes on the back of a dovish Fed? If so, then the Fed's hands really are tied, and the dollar could continue to weaken.
Thursday was marked by wild swings in the price of gold. Early that morning, gold was above $1,250 for the first time since March 1. But sellers eventually started locking in profits, which eventually dragged prices down to $1,245 for a 0.2% loss.
As of this morning, the gold price today (Friday, March 24) is up a modest 0.3% to $1,249. That puts the metal on track for a weekly gain of 1.6% from the March 17 close of $1,229.
When predicting where gold prices will go in 2017, it's important to look at their performance compared to gold stocks. And we have three charts showing how the dollar and gold stocks both point to a 12.1% rise in the gold price.
Here's our gold price forecast for 2017...
Why Gold Prices in 2017 Will Climb 12.1% to Our Current Target
[mmpazkzone name="end-story-hostage" network="9794" site="307044" id="138536" type="4"]
Wednesday had marked seven consecutive days of a falling dollar against the yen. In fact, the DXY fell to its lowest level in four months.
As this chart shows, the DXY looks like it may be running out of steam...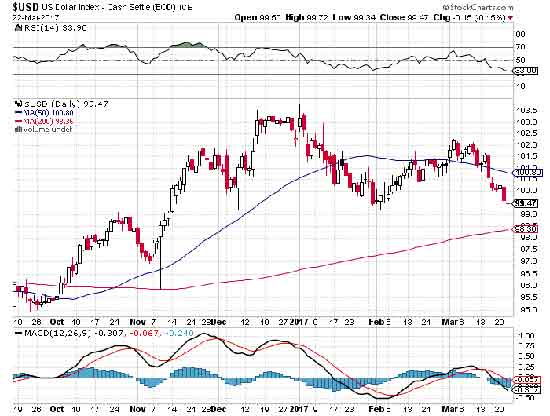 But will gold's recent advance stall out? Gold stocks often lead the metal. And what we've seen in the past week is gold stocks powering higher after the rate hike before stalling out as the gold price climbed higher.
This chart below shows how gold stocks - represented by the Gold Miners ETF (NYSE Arca: GDX) on the blue line - have started to decline against gold prices - represented by the Gold Trust ETF (NYSE Arca: GLD)...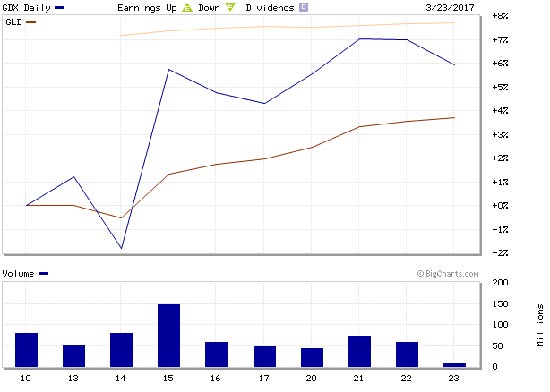 Granted, it's still too early to say if this will continue, which could indicate a retreat in the gold price.
But you can see in the chart below how gold stocks have reached their 50-day moving average, which indicates some resistance...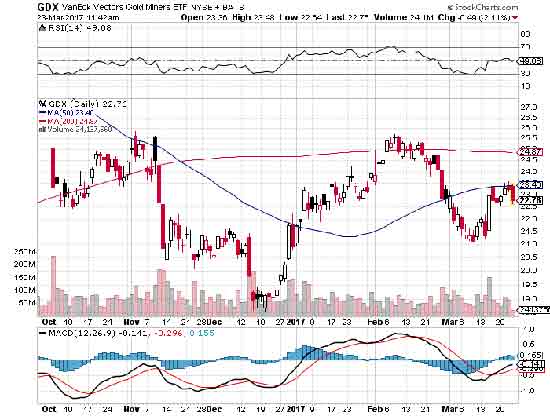 And as gold approaches its 200-day moving average around $1,262, we'll have to watch closely to see if it can break above it.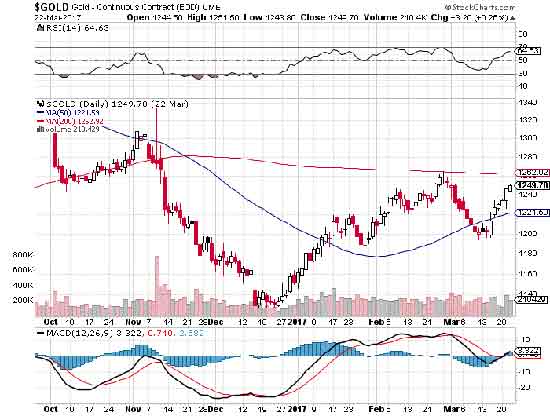 Keep in mind, though, both gold and gold stocks are in a traditionally strong seasonal period that could trend upward well into June. In Q1 2016, both gold prices and gold stocks gained 15.9% and 45.5%, respectively. From there, they surged another 10.7% and 66.2% through June 2016.
So I think the price of gold will lean to the upside for the next several months.
If that happens, the next stop might be near the $1,262 200-day moving average, and perhaps gold will lead the stocks higher this time around.
And by the end of the year, the gold price should reach as high as $1,400. That would be a 12.1% rise from today's gold price.
Urgent: A completely unique gold play is forming in the markets. And it's so rare that it's only the third time in 20 years that it's happened. If you get in now, you could see a share of upwards of $13 billion in cash windfalls. Read more.