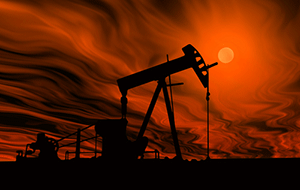 What is Permania? Permania is the new term being used to describe the oil boom in the Permian Basin, which spans parts of Texas and New Mexico.
This November 2016 discovery of 20 billion barrels of recoverable oil, coupled with the resurgence of American shale oil production, has oil companies flooding the region.
And the explosion of Permian Basin oil means a huge profit potential for you...
In fact, with WTI crude oil trading at $50.32, the 20 billion barrel discovery is worth over $1 trillion. That's why Exxon Mobil Corp. (NYSE: XOM) and Chevron Corp. (NYSE: CVX) are swarming into the Permian Basin, adding a combined $10 billion in assets there since 2016.
But while these Big Oil titans are pouring money into that region, you can profit from the smaller oil companies that are already raking in money there. And after this massive oil discovery, Permian Basin stocks will soar.
Money Morning Global Energy Strategist Dr. Kent Moors says the "flurry of activity" and low production costs in the Permian Basin mean investors have "some nice opportunities" to make money here.
That's why we're going to show you exactly how to play Permania for double-digit profits this year and why it's such an earth-shaking event...
Permania Is More Than Just a Massive Oil Discovery
Daniel Yergin, vice chairman of IHS Markit, used the term "Permania" at the CERAWeek conference in early March to describe the "realization that with the new shale technologies the Permian giant in West Texas and New Mexico could be one of the world's largest sources oil in the future."
Yergin is right, and Permania can potentially transform the oil industry for three reasons...
First, the sheer size of the oil discovery instantly made the Permian Basin the largest oil reserve in North America.
In late 2016, the U.S. Geological Survey (USGS) announced it had discovered a potential 20 billion barrels of oil in the Wolfcamp region of the Permian Basin in West Texas.
On Nov. 15, 2016, the USGS announced it made "the largest assessment of continuous oil we have ever done." That new assessment led to the discovery of an estimated 20 billion barrels of recoverable oil in the Wolfcamp region of the Permian Basin.
Here's a look at the dramatic shift in the size of North America's oil reserves following the big Permian discovery.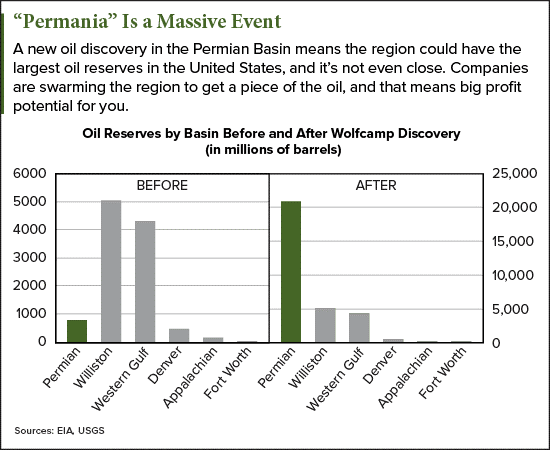 Second, just as the USGS announced the massive oil supply in Wolfcamp, OPEC's oil price deal started making American shale oil competitive again.
That's because shale oil costs more to produce than oil pumped from traditional oil reservoirs. So oil prices need to be higher for shale production to be profitable.
On Nov. 30, OPEC reached an agreement with 11 other countries to cut oil production by 1.8 million barrels a day. The OPEC deal, its first production cut since 2008, sent oil prices rising.
Between the deal's announcement on Nov. 30 and the first day of production cuts on Jan. 1, 2017, WTI crude prices jumped 16% from $45.29 a barrel to $53.36.
Must See: Our Bold 2017 Oil Price Forecast...
That deal was huge for shale oil. Oil prices had hit a 10-year low of $26.19 in early 2016, which caused many shale producers shut down. In fact, Saudi Arabia had hoped to put shale oil out of business by letting prices fall. Starting in 2014, the Saudis flooded the oil market with their oil to crash prices and make shale unprofitable.
But by 2016, Saudi Arabia and the rest of OPEC couldn't tolerate bottom-barrel prices any longer. Because their governments rely on oil sales to fund their budgets, they had to act to push up oil prices again.
That agreement has reinvigorated American oil producers. Since the OPEC deal started on Jan. 1, American oil production is up 412,000 barrels a day, and more than half of that is from shale oil.
But rising American production numbers in early March spooked oil traders into bidding down the price of oil below $50 a barrel for the first time in 2017. Traders fear significantly higher American production could offset the cuts made by OPEC and send oil prices tumbling again.
Permian oil investors shouldn't worry.
U.S. producers have added 412,000 barrels of oil a day, less than a quarter of the 1.8 million barrels OPEC is currently cutting. And because OPEC countries need higher oil prices to survive, they're very likely going to extend their production cut agreement in June. In fact, Khalid Al-Falih, Saudi Arabia's oil minister, says there's a "strong willingness" within OPEC to extend their cut until oil inventories fall.
That's great news for our Permian oil stocks we're about to show you, especially as oil companies are getting even more efficient...
Third, American oil companies have slashed the production costs of shale oil in the Permian Basin. That means oil companies are able to turn a profit on shale oil even with oil trading at half its 2014 price.
They've been able to cut production costs through technological breakthroughs and streamlining operations.
In the Permian Basin, the average breakeven price for oil fell from over $85 a barrel in 2014 to just under $38 a barrel in 2016, according to data from Rystad Energy.
Forbes reported in September 2016 that the Permian Basin breakeven price fell below its Eagle Ford shale neighbors in South Texas. And that was before the giant Wolfcamp oil discovery.
Trending Now: There Are Big Changes and Big Profits Coming to the Oil Sector in 2017
Permian Basin oil companies were finding ways to profit from shale oil even though oil prices were historically low, and it's a big reason the Saudis gave up on their attempt to put shale oil producers out of business.
That means "Permania" is here to stay. And by making the right plays, you can rake in the profits, too.
That's why we're giving you our best Permian Basin stock picks, including picks Wall Street analysts are projecting will see 30% growth in 2017 alone...
How to Turn Permania into Double-Digit Profits
The easiest way to profit from the massive Permania oil discovery is to own stocks in the companies who transport the oil.
[mmpazkzone name="in-story" network="9794" site="307044" id="137008" type="4"]
These midstream oil companies have low expenses, transparent business models, and even benefit from a special tax rate that lets them pass on their revenue to shareholders.
Magellan Midstream Partners LP (NYSE: MMP) has 10,000 miles of pipelines running all across North America, and it's currently extending its reach into the Permian Basin.
MMP is adding 1.7 million barrels of capacity to its pipelines between the Permian Basin and its Gulf Coast storage facilities.
That means as oil production rises in the Permian Basin, MMP will be doing a lot more business transporting oil from wells to hubs and storage facilities.
And because Magellan is such a well-run company, it's turning that oil production into bigger profits. MMP has a whopping 36.4% profit margin, meaning 36.4% of the company's revenue is straight profit.
That's why MMP pays a generous dividend yield of 4.47%.
MMP shares trade at $76.51. But Wall Street analysts have set a price target for MMP of up to $90 this year. That's a 15% bump, but Permania could make that even bigger.
Plains All American Pipeline LP (NYSE: PAA) is another midstream oil company set to prosper from Permania.
PAA's pipelines already run from the Permian Basin to major oil hubs in Cushing, Okla., and the Gulf Coast. But PAA is scaling up there, too. It just inked a deal that will add 400,000 barrels of oil capacity to the Permian Basin this year. On top of that, PAA just bought another $1.2 billion pipeline in the Permian Basin to expand its BridgeTex pipeline there.
By expanding pipelines to take advantage of Permania, Wall Street analysts are projecting up to 35% revenue growth for Plains All American in 2017. That sort of revenue growth can translate into a projected 30% growth in PAA's share price this year too.
PAA trades at $31.08 and pays a big-time dividend yield of 7.08%.
Saudi Arabia's $100 Billion Plan to End Big Oil: Billionaires have been dumping oil stocks at a frantic pace. Warren Buffett sold $3.7 billion worth of oil holdings, Bill Gates unloaded nearly $1 billion, and George Soros closed out multiple positions. A former intelligence operative believes it's connected with the new fuel Saudi Arabia is pouring $100 billion into. Click here to find out more...