Marijuana stocks with dividends are a rarity because most cannabis companies aren't profitable. There hasn't been enough time for these companies to make a profit, with medical marijuana first legalized in California less than 20 years ago in 1999.
Cannabis businesses can't pay a portion of profits to shareholders when there are no profits.
But when pot stocks do pay dividends, it's an incredible opportunity for long-term gains. Dividends can be used to purchase more shares, or shareholders can just keep them as quarterly income.
And we found two "cannabis stocks" with dividends expected to make double-digit gains this year...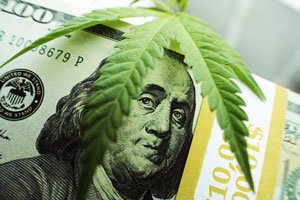 Now, some investors might not consider these pure pot stock investments. The companies don't produce or sell cannabis. But each company offers services and products used within the legal marijuana industry.
That allows investors to profit from the pot industry without the risk of owning stock in a company selling a product that's still illegal under federal law. And because these stocks pay dividends, investors can use dividend reinvestment programs (DRIPs) to maximize their future returns.
Editor's Note: This helpful video will explain everything you need to know about DRIPs.
Check out how reinvesting dividends into these two stocks brought triple-digit returns over the last 20 years and how you can start a dividend reinvestment strategy with them right now...
These Marijuana Stocks with Dividends Have Climbed Over 300%
By reinvesting dividends into buying more of the same stock, you can amplify your gains over time. Take a look at how dividends boosted the return on these two "pot stocks" we're going to show you...
If you invested $10,000 and reinvested the dividends in the first pot stock we're about to mention on Dec. 31, 1997, your shares today would be worth $64,515.70. Without reinvesting the dividends, the shares would be worth $51,663.43. A dividend reinvestment strategy added 25% more profit for shareholders than they would've gotten on a similar stock that didn't pay dividends.
That's an extra $12,852.27 in your pocket just from letting the dividends do the work for you.
In comparison, a $10,000 investment in the Dow Jones Industrial Average would now be worth just $40,525.61. That means with the help of dividends, this stock performed 59% better than the Dow.
In December 1997, this stock traded for $16.16 per share. The stock price has now climbed 328% in the last 20 years, opening today at $69.25 per share. On top of the skyrocketing stock price, the dividend payout has increased for 13 years straight.
And the profits from the second marijuana stock with dividends we are about to show you are even more staggering.
A $10,000 investment in this stock on Dec. 31, 1997, with the dividends reinvested would now be worth $85,572.14. In comparison, the shares would only be worth $70,585.55 if the dividends weren't reinvested. That means reinvesting dividends would've boosted your return by 21%.
This stock has climbed 451% since it traded for $15.13 per share on Dec. 31, 1997. On top of that, this company has increased its dividend payout for the last seven years.
BREAKING: New Legislation Could Turn Tiny Pot Stocks into Millions. Click Here...
But if you missed out on these massive gains, it's okay. Each company still pays a dividend yield of over 2%, and their stock prices are both expected to climb an average of 21.5% in the next 12 months.
However, you need to own these two pot stocks with dividends today to maximize your profit potential, especially since they are going to pay their quarterly dividend this summer...
The Best Marijuana Stocks with Dividends to Own Now