The defense sector has been very profitable for investors this year and will continue to be lucrative as annual defense spending is expected to grow 2.6% to $834.2 billion this year.
That's why today our Money Morning gurus are giving you three of the best dividend stocks in the defense sector that will offer high quarterly dividend payments in addition to market-beating returns.
You see, the Dow Jones U.S. Defense Index - which tracks 39 U.S. defense companies - is up 12.6% this year. Those gains beat the Dow Jones' 7.9% return over the same period. Most of the defense sector's gains have come on the back of Trump's promise to boost military spending by $54 billion.
Since these defense companies are rallying based on just a promise, we expect them to rally even higher this year as Trump gets closer to making that promise a reality.
And several of these top-performing defense stocks boast very generous dividend policies. For example, shares of Israeli defense manufacturer T.A.T. Technologies Ltd. (Nasdaq: TATT) are up 24% this year and also provide a $0.34 quarterly dividend (3.13% yield). United Technologies Corp. (NYSE: UTX) has also climbed 10.3% and boasts a quarterly payout of $0.66 per share (2.18% yield).
But we're not recommending these defense stocks today. Instead, our experts have handpicked three better defense companies that are must-haves in your portfolio...
These Are the 3 Best Dividend Stocks to Buy in the Defense Sector
Dividend Stock to Buy No. 3: Boeing Co. (NYSE: BA)
Boeing is one of Money Morning Executive Editor Bill Patalon's favorite defense investments since 2011 thanks in part to its strong dividend policy.
Right now, the company boasts a dividend yield of 2.91%. It pays $1.42 per share each quarter and has raised its dividend every year since 2012, when it was $0.44 per quarter.
"This is a company that has a proven record of taking that cash flow and giving it back to shareholders in the form of dividends, stock buybacks, and other kings of financial engineering," Bill said in February.
As the second-largest defense contractor in the world, Boeing has seen huge profit growth in recent years. From 2013 to 2016, the firm's earnings have soared 27.7% from $5.96 per share to $7.61 per share. Revenue has also climbed 9.2% from $86.6 billion to $94.6 billion over the same period. Much of this came from the firm's large military orders, which included delivering 23,052 weapons systems and 178 military aircraft to clients last year.
The Best Pot Stocks: After months of research, we've found the most lucrative and fastest-growing legal pot stocks in America. And for a limited time, you can get all the details for free. Learn more...
But Boeing is also a dominant force in the airline industry. In 2016, it won $76 billion in net orders for commercial airplanes around the world. This included its order with Norwegian Airlines, which turned out to be the largest order for a commercial airliner company in Boeing's history.
In addition to Boeing's $1.42 dividend, Thomson Reuters analysts expect BA stock to reach as high as $220 by 2018. That would be a solid 12.8% return from today's price of $195.07.
Dividend Stock to Buy No. 2: Raytheon Co. (NYSE: RTN)
Money Morning Chief Investment Strategist Keith Fitz-Gerald likes RTN stock because it ties into one of his six "Unstoppable Trends."
Keith defines these six trends as medicine, technology, demographics, scarcity/allocation, energy, and war, terrorism, and ugliness (also known as defense). The Unstoppable Trends are backed by trillions of dollars that Washington cannot derail, the Fed cannot meddle with, and Wall Street cannot hijack.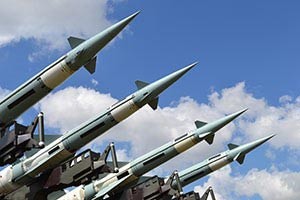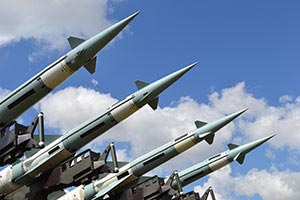 Raytheon is a great pick to play the defense trend because it supplies weapons used in some of the biggest global conflicts right now. The 59 Tomahawk missiles used in April's Shayrat missile strike, which involved the United States striking a Syrian air base in response to Assad's chemical attack on civilians.
The company is also a huge player in the cybersecurity sector. Its web security subsidiary Forcepoint is ranked in the top five of Cybersecurity Ventures' Cybersecurity 500, a ranking of the best cybersecurity companies to watch in 2017.
Raytheon currently boasts a 1.96% yield and a quarterly dividend of $0.80 per share. Thomson Reuters analysts also think RTN stock could hit $187 within one year. That would be a 15% return from the current share price of $162.75.
Finally, the last pick on our "best dividend stocks" list is one of Money Morning Director of Technology & Venture Capital Research Michael Robinson's favorite companies. This firm has hiked its dividend every year since 2004 - growing 335% since then - and has been a pioneer in the defense industry for over 80 years.
And it's about to pioneer one of the most disruptive and revolutionary weapons technologies of the 21st century - lasers.
According to researcher MarketsandMarkets, the market for military laser systems is expected to grow at a compound annual growth rate of 8.86% through 2020. By that year, total defense contracting sales involving laser weapons could reach $4.6 billion. That doesn't even account for Trump's proposed $54 billion boost to the defense spending budget.
"It sounds like science fiction, but it's a fact," Michael told Money Morning readers on June 14. "Laser weapons are here now, and perhaps as soon as next year they'll change the way the U.S. military fights conflicts all over the world. You'll have reaped the financial rewards long before that, though."
Thomson Reuters analysts predict this stock could gain 19.6% by June 2018. However, if the company has a breakthrough in its newest laser project sooner than expected, that projected return will look very conservative.