On June 13, the U.S. Missile Defense Agency (MDA) made a massive, public "weapons upgrade" request to counter threats from North Korea. This upgrade could revolutionize our defenses against the Hermit Kingdom.
Via the United States' FedBizOpps web page, the organization asked for proposals to achieve its goal to build "high-altitude long-endurance unmanned aircraft capable of flying higher than 63,000 feet."
Big drones that go really high, basically.
But there was one more specification the agency added to its request that really raised some eyebrows...
The MDA wants the drones to have lasers on top.
Specifically, the agency asked for help designing aircraft that would carry "a high-energy laser system payload to high altitudes to mature boost-phase intercept (BPI)."
In plain English, that means the MDA wants a laser-topped drone that can shoot down enemy ballistic missiles as they arc upwards toward the atmosphere in what is known as a projectile's "boost phase."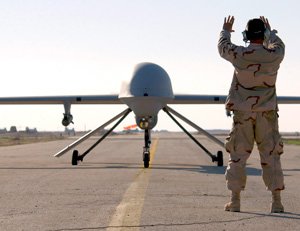 The "boost phase" is one of - if not the most - crucial phases of a missile's flight course to aim for. That's because blasting a missile in the earliest phase of execution limits its impact on the intended target.
If, however, the missile completes its arc phase and then travels on to "atmospheric reentry," the task of targeting and stopping its course becomes much, much harder...
You see, ballistic missiles break apart amid this "reentry" phase - shooting off various smaller elements such as pieces of metal, decoys, and even myriad miniature weapons in the process. Each and every one of these detached projectiles then becomes a new target that must be destroyed.
Here again, laser-equipped drones are uniquely useful. Because they would have the ability to maneuver and follow these many projectiles around mid-air, shooting them down as they go, laser-armed drones could neutralize a missile even after the boost phase.
Which brings us to a much larger but lesser-known dilemma drones could mitigate - one that the Pentagon isn't keen on making known to the public...
When the THAAD System Fails, Sky Laser Drones Will Succeed
The United States' Terminal High Altitude Area Defense system, or THAAD, was designed to shoot down North Korean missiles that might pose a threat to South Korea, the United States, or to other allies in the region. Installation of the system in South Korea began on April 27, 2017.
Investing in Drones Will Be Like Investing in Smartphones in 2009: If you've thought of drones in military terms or just as toys, this is a wake-up call. Find out more.  
But, despite THAAD's status as the "best of the best" insofar as global defense systems are concerned, it would fail miserably against one specific threat posed by North Korea...
Missile salvos.
These mathematically calculated, strategized multi-missile launches are designed to be both offensive and defensive attacks at the same time. While certain projectiles used in missile salvos target the enemy itself, other projectiles target the enemy's mid-air weapons for destruction.
Unfortunately, missile salvos gum up the THAAD system's operations...
"The use of multiple shots, timed ever-more-closely together, appears destined to rehearse saturating a defensive system by presenting it with an overwhelmingly complex radar picture," Joshua Pollack, editor of the U.S.-based Nonproliferation Review, told Reuters on March 9.
Essentially, a barrage of North Korean missiles could potentially rout THAAD's ability to function because, well, there are just too many missiles.
Pollack's warning was a well-timed one - it came a day after North Korea proved it now has the ability to launch such a barrage.
Laser-wielding drones, on the other hand, would provide "a great opportunity to eliminate all those advancing technologies before all that gets dispersed," Ricky Ellison, engineer at the Missile Defense Advocacy Alliance, told Business Insider today.
Indeed, by following targets mid-air, laser-equipped drones could destroy an enemy missile in a matter of seconds, before moving on to destroy the next one, and the next one, and the next one...
Of course, in order to perform any such tactical defense maneuvers whatsoever, drones need to have brains - microchips, to be precise.
And there's one microchip company at the forefront of the "drone boom" right now...
How to Pick Drones' Brains
IXYS Corp. (Nasdaq: IXYS) is one of Money Morning Executive Editor Bill Patalon's favorite ways to play the "drone boom."
IXYS is a firm that makes controller chips (a.k.a. "drone brains") for unmanned aerial vehicles (a.k.a. drones). And the company's share price just keeps climbing...
In fact, IXYS zoomed more than 8% in afternoon trading on June 2 - from $14.75 to $15.97 - after the company reported strong sales and earnings, projected solid results to come, and revealed that it bought back shares in March.
And since that day, IXYS has ticked up another 3% to $16.38.
IXYS is just one of Bill's four drone profit plays about which he writes regularly in his subscription service Private Briefing.
Check out more of Bill's about-to-boom "drone sector" recommendations right here...
Follow Money Morning on Twitter @moneymorning, Facebook, and LinkedIn.
Related Articles: