This list ranks the top silver dividend stocks trading in the United States by biggest dividend yield right now. And this list includes one of our newest silver stock recommendations…
| | | | | |
| --- | --- | --- | --- | --- |
| Silver Dividend Stock | Current Price | 2017 Performance | Quarterly Dividend | Dividend Yield (as of June 21) |
| BHP Billiton Plc. (NYSE ADR: BBL) | $29.16 | -7.5% | $0.80 | 4.81% |
| BHP Billiton Ltd. (NYSE ADR: BHP) | $33.88 | -5.4% | $0.80 | 4.14% |
| Tahoe Resources Inc. (NYSE: TAHO) | $8.21 | -12.8% | $0.02 | 2.91% |
| Wheaton Precious Metals Corp. (NYSE: WPM) | $19.25 | -0.4% | $0.07 | 1.45% |
| Franco Nevada Corp. (NYSE: FNV) | $71.90 | +20.4% | $0.31 | 1.28% |
| Materion Corp. (NYSE: MTRN) | $37.20 | -6.4% | $0.10 | 1.08% |
| Pan American Silver Corp. (Nasdaq: PAAS) | $16.30 | +8.2% | $0.03 | 0.61% |
| Hecla Mining Co. (NYSE: HL) | $5.17 | -1% | $0.25 | 0.19% |
As you can see, six of the eight silver stocks listed above are down so far this year. Their weak performances are largely due to extreme volatility in silver prices in 2017, which have seen three sharp corrections so far this year…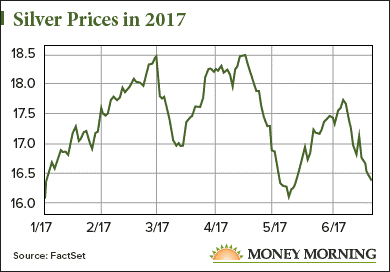 After surging 15.6% from $15.99 on Dec. 30, 2016, to a peak of $18.49 on March 1, the price of silver fell 8.5% to $16.92 by March 15. The next correction occurred between April 17 and May 9, when the metal plunged 13.2% from $18.51 to $16.07. And we're in the third silver price slump right now, which has seen it fall 7.5% from a June 6 peak of $17.1 to today's price of $16.38.
The huge swing in silver prices is due to a strengthening U.S. economy, which makes investors less interested in safe-haven investments like silver and silver stocks. The U.S. Department of Labor reported that the country's unemployment rate sank to a 16-year low of 4.3% in May. There were also 138,000 jobs added last month, marking a 1.6% jump in year-over-year jobs growth. That strength in the labor market was more than enough to persuade the U.S. Federal Reserve to raise interest rates three times so far this year.
But silver dividend stocks can still be great income investments in this volatile price environment. Many of the companies listed above haven't cut their dividends so far this year. In fact, the silver dividend stock with the highest yield on the list – BHP Billiton Plc. – nearly tripled its quarterly dividend, from $0.28 per share to $0.80 in March. That indicates many of these stocks are dedicated to paying their shareholders even if their stock prices fall.
Urgent: An incredibly rare gold anomaly is shaping up in the markets as we speak — one that has occurred ONLY twice in the past 20 years. And it's about to happen again. Details here…
While we don't recommend investing in just any silver stock with a big dividend, one of the firms listed above is on Money Morning Chief Investment Strategist Keith Fitz-Gerald's radar. This company has a dominant position in the silver market, and Thomson Reuters analysts think it could give investors a 42.6% profit over the next year.
Here's why you should consider this silver stock today…
This Could Be One of the Best Silver Dividend Stocks to Buy in 2017