Our stocks to watch now list includes a retail dinosaur on a short-term spike, a biotech on a long-term rise, and a solar giant riding the renewable energy wave.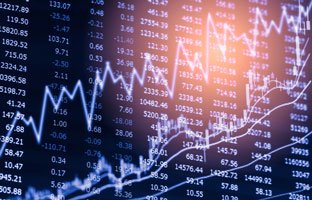 Stocks to Watch No. 1: Don't Be Fooled by Sears' Signs of Life
Sears Holdings Corp. (Nasdaq: SHLD) is up more than 13.5% over the last week, rising to $7.72 after being as low as $6.21 on June 20.
But don't rush to hop on the Sears bandwagon. There is little reason to get excited about this dying company.
On Sunday, Sears announced it would be closing 20 stores. That brings 2017's total to 236, about 17% of all Sears and Kmart stores. In May, the company reported a $2.15 earnings per share loss, a number that is projected to get significantly worse over the next two years. Sears has not turned a profit since the fourth quarter of 2012.
In spite of this past week's rally, shares are still down 16.5% on the year and nearly 40% in the last 12 months. That certainly wasn't helped in March when Sears announced that there was "substantial doubt" that the company could continue its existence.
Money Morning Chief Investment Strategist Keith Fitz-Gerald identified Sears as a loser back in 2012. Since then it's down 73.9%. Keith doubled down on his short recommendation in January 2015, when the stock was 342% higher than it is today. In spite of this short-term spike, there's still every reason to believe that bankruptcy is imminent.
Stocks to Watch No. 2: Things Are Looking Up for This Young Biotech
One stock that may have more staying power is Omeros Corp. (Nasdaq: OMER). Shares are down a little more than 9% over the last week, but Omeros has been red hot over the last six months, rising 120% in that time. That its revenue jumped 7,621% between 2014 and 2016 might have something to do with it.
Omeros is a biotech company still in pre-profit stage, but projections are looking better and better for the near future. Between 2014 and 2016, revenue jumped an astounding 7,621%.
The company announced in mid-June that the FDA has granted breakthrough therapy designation to one of its products for the treatment of immunoglobulin A (IgA) nephropathy. The designation was based on phase 2 clinical trial data and expedites the development and review process going forward. There is currently no approved treatment for IgA nephropathy, which affects between 120,000 and 180,000 people in the United States.
Must See: Get $45,000 Worth of Our Best Stock Research for Just Pennies a Day. Read more...
When Money Morning Biotech Investing Specialist Ernie Tremblay highlighted Omeros in 2014, the stock had risen 126.4% in the previous 12 months. Thanks to its strong pipeline and cash flow, Ernie wrote, "I expect that trend to continue." It did. The share price is up 101.7% since then. And in that time its pipeline has grown from an already impressive six drugs to 10.
Stocks to Watch No. 3: While the U.S. Kisses Paris Goodbye, This Clean Energy Company Is Soaring
Since Money Morning Global Energy Strategist Dr. Kent Moors told readers about JinkoSolar Holding Co. Ltd. (NYSE: JKS) on June 8, the stock has risen 12.6%, standing at $20.49 on Tuesday.
In the first quarter, Jinko became the first company ever to ship 2 GW in solar modules in a single quarter. The company is on pace to reach its 2015 shipment total in just the first six months of 2017.
Jinko has already penetrated much of the Chinese market, and it's making moves to boost its presence in Japan. On June 22, it was announced that Jinko will supply 38.4 MW of PV modules for use in a solar plant on the Japanese island of Hokkaido. And a financing agreement announced on Monday is expected to ramp up shipments from Jinko's Japanese subsidiary.
After President Trump's decision to pull out of the Paris Climate Agreement, leadership on renewable energy is going to come primarily from Europe and Asia. In 2016, China projected that it would triple its solar usage in each of the following five years.
That puts Jinko in an ideal position going forward. As Kent says, "Jinko is perfectly positioned to continue growing and rewarding shareholders savvy enough to spot that fact."
For those following along on our top stocks list - the Money Morning recommendations from our experts that have gained the most - take a look: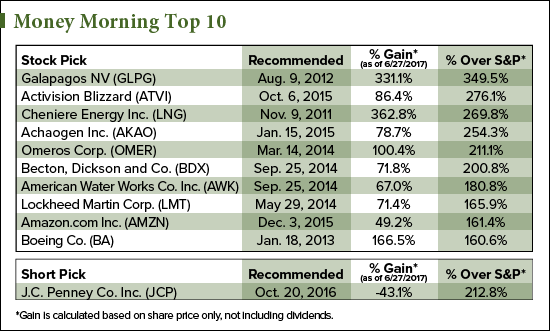 Up Next: One gallon of this new "crystal fuel" could get you from New York to L.A. and back... seven times! Being hailed by many experts as energy's "Holy Grail," it's 1,693 times more powerful than the gasoline that runs your car. The mainstream investment media isn't even talking about it yet. Read more...
Follow Money Morning on Facebook and Twitter.
[mmpazkzone name="end-story-hostage" network="9794" site="307044" id="138536" type="4"]
About the Author
Stephen Mack has been writing about economics and finance since 2011. He contributed material for the best-selling books Aftershock and The Aftershock Investor. He lives in Baltimore, Maryland.