Over the last week and a half, we've seen the U.S. dollar fall from 97.42 to 95.99 and the 10-Year Treasury yield rise from 2.14% to 2.37%. With those numbers, it's little surprise that the silver price has been volatile.
In fact, the price of silver is down 3.7% since Monday, June 26, to $15.96 today (Thursday, June 6). That means prices were still hovering at the year-to-date lows when they closed 1.3% lower at $15.84 yesterday.
The gradual decline started when silver prices saw a 1.3% flash crash in tandem with gold's quick 1% drop, then climbed into mid-week, only to give it all back at the close of the month.
With this short-term perspective in mind, it would be easy to think the price of silver isn't making progress.
But to a trained eye, silver's short- and medium-term price action is looking constructive.
Despite silver being down 6.9% since the June 14 U.S. Federal Reserve rate hike, it could be putting in a final capitulation sell-off, a big indicator that everyone who plans to sell their silver has already done so. In my view, silver's experiencing a bullish consolidation as it builds momentum for a move higher.
With that in mind, I expect silver prices to climb as much as 37.8% through the rest of 2017.
Before I show you why, here's a closer look at silver's price movement since June 26…
Silver Price Falls 3.7% Over the Last Nine Sessions (June 26 – July 6)
Following very closely in gold's footsteps, silver experienced the same flash crash as gold did on Monday, June 26. Between 3 a.m. and 5 a.m., the price of silver plunged 1.3% from $16.68 to $16.46. It managed to climb back a bit to close the day at $16.58 for a 0.4% loss from the previous session (Friday, June 23).
On Tuesday, June 27, the U.S. Dollar Index (DXY) tumbled over 80 basis points from 97.35 to 96.50. That helped lift silver to a $16.62 open. Despite reaching an intraday high of $16.72, silver prices settled at $16.63 for a 0.3% gain.
Trending: The Ultimate Guide for Silver Investors in 2017 – Free
On Wednesday, June 28, silver opened at $16.81, then dropped to $16.71 as the DXY experienced a minor spike. Silver prices ultimately settled 0.9% higher at $16.78 by the end of the session.
If you look at this chart here, you'll see how volatile the DXY was that Wednesday…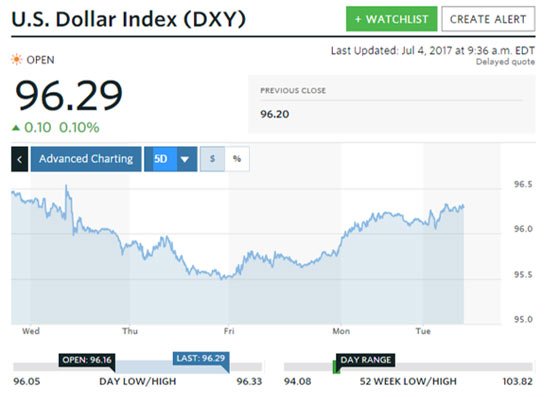 But the price of silver saw volatility again on Thursday, June 29, despite a continued sell-off of the dollar. Other than a small rally to bump up against resistance at 96, the DXY spent the day trending downwards. Meanwhile, silver saw a 1.1% sell-off from the previous $16.78 close to $16.59 by the end of the day.
On Friday, June 30, a relief rally in the DXY from 95.50 to 95.70 didn't stop silver from edging higher throughout the day. Silver closed at $16.61 for a 0.1% gain on the day, a 0.2% loss on the week and 4.8% loss for the month of June.
The metal kicked off the month of July with a big plunge. On Monday, July 3, the price of silver tumbled a huge 3% on the day to close at $16.11. This came as the DXY pushed higher, from around 95.75 to 96.20 – a 45-basis point gain in just one day.
While the U.S. stock market was closed for the Fourth of July on Tuesday, silver was trading and continued its trend lower. It declined 0.4% to close the session at $16.05.
The biggest silver price movement happened yesterday (Wednesday, July 5) as the metal fell through the psychologically important $16 level for the first time this year. It dropped 1.3% to close at $15.84 – the lowest since silver's $15.99 close on Dec. 30, 2016.
And despite a slight rebound in the silver price today (Thursday, July 6), it's still hovering at its lowest levels of the year. The metal is up 0.8% today to $15.96.
So, with all of this volatility over the last week and a half, what is it about silver's recent action that justifies my bold 37.8% predicted price gain?
Here are the technical factors that I see pushing silver prices higher in 2017…
This Is Why Silver Prices Could Rally 37.8% to $22 This Year
Join the conversation. Click here to jump to comments…
About the Author
Peter Krauth is the Resource Specialist for Money Map Press and has contributed some of the most popular and highly regarded investing articles on Money Morning. Peter is headquartered in resource-rich Canada, but he travels around the world to dig up the very best profit opportunity, whether it's in gold, silver, oil, coal, or even potash.