This Ethereum price drop was fast and dramatic – 31% in just three days.
There is a silver lining here, though at first glance it's not easy to see.
The news that sparked the falling price of Ethereum this past weekend was grim. Both China and South Korea announced crackdowns on initial coin offerings (ICOs) Sunday and Monday.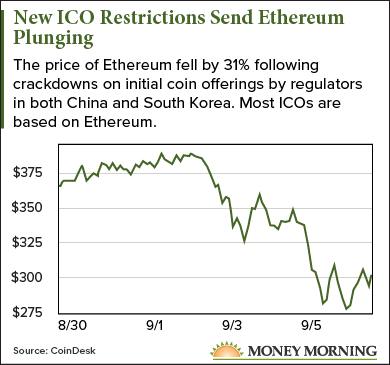 That's bad for cryptocurrencies in general, as many were created through ICOs. But it's especially bad for Ethereum. Most ICOs are based on Ethereum. And investors can typically only buy the newly created tokens by using either Bitcoin or Ethereum.
Cryptocurrency prices were a sea of red over the weekend. The fall actually started Saturday as prices began pulling back following a steep rise. The price of Bitcoin, for instance, hit an all-time high of $5,013.91 late Friday.
The plunge accelerated Sunday when South Korean regulators met to discuss plans on tightening oversight of ICOs and cryptocurrency trading. South Korea has an outsized impact on the cryptocurrency markets, as it accounts for about a quarter of global Ethereum trading volume.
Then on Monday (yesterday), Chinese regulators went even further. China declared ICOs an illegal fundraising mechanism. It even ordered existing China-based ICOs to return all funds to investors.
BRILLIANT: Average Americans Are Becoming Marijuana Millionaires
China, too, plays a big role in global cryptocurrency trading. Not only does it account for about a sixth of the world's Bitcoin trading, the majority of Bitcoin mining is done in China.
The losses were ugly. Bitcoin fell as much as 19.5%, the Ethereum price by almost a third.
The total market cap of all cryptocurrencies combined fell 25%, from $180 billion to $135 billion – a loss of $45 billion in three days.
And yet despite all this, the events of this past weekend will prove positive for cryptocurrencies in the long run…
Why the Ethereum Price Drop Is Temporary
Any concern that this weekend's price drop was the beginning of the end for cryptocurrencies already has begun to dissipate. The Ethereum price is off its lows and has stabilized at about $300. The Bitcoin price is back into the $4,400 range.
Most other cryptocurrencies are up today (Tuesday) anywhere from a few percentage points to 15% to 20%.
Related: What's the Best Cryptocurrency to Invest in Today?
That's because what's happening in China and South Korea was inevitable. With ICOs capable of raising millions of dollars in minutes, it was only a matter of time before regulators started to step in.
U.S. regulators have expressed concern as well, although no one has suggested an outright ban on ICOs. But the U.S. Securities and Exchange Commission (SEC) did put out a bulletin in July warning that some ICOs may meet the definition of a security, which would require SEC oversight.
While China's move to ban ICOs is excessive by comparison, regulators there may simply be buying time.
"China, in many ways, is no different than the U.S. or Singapore in saying, OK, we need to push back on these for now until we figure out how to deal with them," Zennon Kapron, director of the Shanghai-based financial technology consultancy Kapronasia, told Reuters. "I think it will be slightly a temporary measure."
The truth is, cryptocurrencies, and ICOs in particular, will benefit from regulations. Here's why…
How Regulations Will Save ICOs and Boost Cryptocurrency Prices