First-time investors in marijuana penny stocks usually think they have to buy shares of companies that grow or sell cannabis, but that's not true. A major "backdoor" investing strategy in pot stocks is in the emerging real estate sector.
Right now, 29 states and the District of Columbia have legalized medical marijuana. Looking ahead to 2018, there are already 11 more states that could put marijuana initiatives on their ballots. The issues could range from decriminalization to recreational legalization.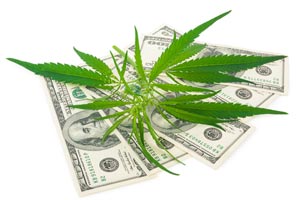 As marijuana legalization spreads across the country, more cannabis businesses will need to buy and lease space to operate.
That's why we're giving readers more details about two marijuana real estate stocks on our radar.
These aren't firm recommendations since cannabis is still illegal under federal law, which makes them speculative investments.
Rather, these are pot stocks to watch as more states legalize cannabis. More than half the country has legalized medical marijuana, and full legalization isn't far behind with recreational cannabis use legal in eight states.
To see just how hot the cannabis real estate market is right now, we turned to two experts...
What the Experts Are Saying About the Marijuana Real Estate Industry
Residents of California voted to legalize recreational cannabis use in November 2016, and sales and leasing prices are rising in Southern California, according to Jimmy Moore.
Special Report: Cannabis Is the Gold Rush of the 21st Century - 30 Stocks to Invest in Now. Details here...
Moore is the real estate operations manager for mCig Inc. (OTCMKTS: MCIG), a publicly traded provider of grower services and premium branded cannabis products.
"As a real estate agent in the Southern California market place, I'm seeing properties in the green zone rising in both sale and leasing price," said Moore.
The "green zone" is where cannabis companies are allowed to operate legally.
"Property owners are now feeling more comfortable leasing to growers and dispensaries so long as the city or counties are on board with it.
"I'm also seeing a rise in the amount of interest from average clients for REIT's in the green zone. In my opinion, the market for green properties is only going to grow in demand as we move forward," Moore said.
For risk-averse investors, owning a marijuana real estate stock is a "safer" way to play the booming $6.7 billion legal North American industry.
But real estate is still an overlooked market for marijuana investors despite the growing demand for leasing space for cannabis companies to operate, according to Jamie Schau.
Schau is the senior analyst for Brightfield Group, a cannabis-focused market research firm providing accurate and comprehensive consumer, brand, and market insights in the industry, offering a critical edge in a quickly emerging and competitive market.
"Many looking to dive into the cannabis market turn to opportunities in cultivation and sales, investments that can face several barriers to their success, such as fierce competition and supply chain challenges," said Schau.
"For those looking to profit off marijuana's tremendous growth while avoiding these hurdles and risks, however, there are excellent (often overlooked) prospects in cannabis-related secondary services, particularly in real estate.
Video
Marijuana Businesses Are Teaming Up with This Billion-Dollar Industry
"As the cannabis industry continues to expand around the U.S., canna-businesses will inevitably need more property for their operations, and real estate entities prepared to offer them space and venues - especially those who can adapt to these businesses' unique needs (zoning issues, cash-only operations, etc.) - are primed for rapid growth," Schau said.
And because of this rapid growth, we had to make sure our readers knew about the potential profit opportunity forming right now.
Here are the two cannabis real estate stocks on our radar in the booming $6.7 billion industry...
The Two Marijuana Penny Stocks in Real Estate to Watch Right Now
[mmpazkzone name="in-story" network="9794" site="307044" id="137008" type="4"]
The two marijuana real estate penny stocks on our radar are Zoned Properties Inc. (OTCMKTS: ZDPY) and Grow Condos Inc. (OTCMKTS: GRWC).
Zoned Properties is a real estate development firm that was founded in 2003 in Arizona. Within the United States, it operates, leases, and manages commercial properties. It also provides development, landscaping, facilities management, and security system services to medical marijuana businesses.
According to its website, Zoned owns or contracts three cultivation properties and has signed tenants for two dispensary properties in Arizona.
And thanks to the increasing demand for cannabis-leasing companies, it increased revenue and cash on hand and decreased operating expenses in Q2 2017.
For Q2, Zoned reported revenue of $505,000, which was an increase of 23% from the $410,000 reported in Q2 2016. The company also decreased operating expenses by 32% during the same time. On top of all that, Zoned Properties had $935,000 cash on hand as of June 30, 2017, an increase of 159% from the $360,000 it had as of Dec. 31, 2016.
While these revenue totals won't blow anyone away, these increases are just the start of what to expect if recreational cannabis is legalized throughout the country.
The ZDPY stock price has been volatile over the last 52 weeks, trading at a low of $0.50 and a high of $3.88. It opened today at $0.80 per share, but as the cannabis industry becomes less taboo, this is a stock that could provide quick profit opportunities as Zoned increases its list of clientele.
The second cannabis real estate stock to watch is Grow Condos. It was incorporated in 1999 and provides turnkey real estate, financing/leasing solutions, and consulting services for cannabis companies.
The company owns a 15,000-square-foot, 10-unit warehouse facility in Oregon that is fully leased. Grow Condos is also working on a second facility in Oregon that will have five buildings and 37 total units.
The company estimates each unit will be sold for $150,000 to $175,000. And that price could climb to $400,000 per unit if a company needs lights, shelving, and engineers. Again, those revenue numbers may seem small now, but the growth potential can't be ignored.
In May 2016, the company also announced it was launching a new division called "Smoke on the Water."
Smoke on the Water will be a chain of marijuana-friendly campgrounds and resorts. In addition, Grow Condos will launch the Smoke on the Water Club, which will serve as a social platform for traveling marijuana enthusiasts.
However, the company is still growing its business. And because it's still growing, the GRWC stock price has been volatile.
Over the last 52 weeks, the stock price has traded as high as $2.00 and as low as $0.03.
Again, these penny stocks are speculative investments and should only be bought with money you can afford to lose. That said, the growth potential is still undeniable.
The Best Pot Stocks: After nine months of exhaustive research, we've found the best, most lucrative, and fastest-growing legal pot stocks in America. They're all in our 89-page "bible of weed investing," The Roadmap to Marijuana Millions. And for a limited time you can get all the details for free. Go here to find out how to reserve your copy today...