Renewable energy isn't just a way to limit pollution, it's also the catalyst behind the best energy stocks in 2018...
You see, renewable energy production in the United States will double by 2025, according to the Energy Information Administration (EIA). And while renewable energy includes a lot of sources, like nuclear and hydropower, the biggest sources of growth are coming from wind and solar.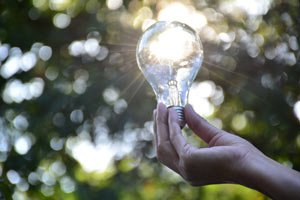 Wind energy is now the cheapest source of electrical power in the United States, and the EIA forecasts solar power production will skyrocket 500% by 2040.
Here's what's spurring the staggering growth of renewable energy, plus the two best energy stocks to buy right now...
Demand for Renewable Energy Is Rising Across the Globe
Renewable energy isn't just growing in the United States - it's growing across the world.
In China, solar production is expected to rise a whopping 700% by 2035.
The Chinese government is pushing for solar energy to grow, and China is already beating its own targets. Initially, China planned to reach 105 gigawatts of solar power capacity by 2020. But earlier in 2017, it not only surpassed that target, but it hit 112 gigawatts of capacity.
Energy Breakthrough: One gallon of this new "crystal fuel" could get you from New York to L.A. and back... seven times! Read more...
In fact, China added twice as much solar capacity in one year than any other country.
And in Europe, the EU is currently considering a mandate to make 35% of the energy of its member nations into clean energy as soon as 2035.
You see, countries across the world actually need to use alternative energy to meet their energy needs.
The IEA forecasts the demand for energy across the world will rise 25% by 2040.
And renewable energy sources have two advantages over their fossil fuel rivals, and those advantages are fueling renewable energy stocks...
Why Clean Energy Has Even Bigger Potential
First, renewable energy is limitless and clean.
That means energy from the sun or wind will never run out, unlike oil, coal, and gas. As supplies of fossil fuels drop, their prices will rise. Similarly, as supplies fall, it will be harder and harder to extract oil, gas, and coal, since the easiest to reach deposits will disappear first.
Alternative energy sources don't have this problem. And as the technology needed to capture solar and wind power improves, they will be even cheaper than fossil fuels.
Second, the cost of renewable energy is falling.
For example, solar energy costs are only 1/150th of the costs for solar power during the 1970s. Wind-powered energy is even less expensive. The EIA notes that wind is the least expensive energy source driving new power plants.
The falling cost of renewable energy is one reason Money Morning Global Energy Strategist Dr. Kent Moors says solar and wind power are achieving grid parity.
"Grid parity" means it costs the same to produce energy with solar and wind as it does with traditional power sources like coal and gas. Right now, at least 20 states - including California and New York - have achieved grid parity between wind, solar, and fossil fuels.
Grid parity, coupled with renewable energy's advantages, means clean energy investments are poised to soar. In fact, the EIA forecasts that solar energy production will rise 376% by 2040, and wind energy production will increase 118% in the same time frame.
That makes the right renewable energy stocks an exciting opportunity right now, as they will ride this triple-digit industry growth. And we've made it easy for investors to find the best energy stocks to buy with our top two clean energy stock picks...
Our Top 2 Energy Stocks to Buy in 2018