Investing in China has been popular for investors who want exposure to the world's largest economy in purchasing power. The country also has more than a billion consumers.
Now, it's the most lucrative area for the solar industry, as the solar energy market is expected to soar by 700% in the next two decades. Today, we're bringing you the best China stock to buy to profit from China's massive solar growth...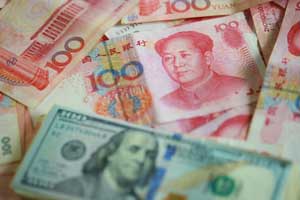 You see, China is now the global leader in solar energy. Over 60% of the world's solar cells are produced in China, according to the IEA. But it's not just solar photovoltaics (PV) production that makes China the solar industry's leader.
The World's First "Universal Fuel": Physicists have known about an unlimited source of free fuel for over 100 years. And the cost of this fuel is zero. It's free. Click here to read more...
China built the world's biggest solar power farm on earth, a farm that takes up a roughly 12-square-mile region. That's on top of its record-breaking floating solar farm, which is also the largest floating solar farm in the world.
But China's solar ambitions are still growing, and that can expose China investors to a potential 700% industry growth rate...
China Is Dominating the Global Solar Industry
Just last year, China committed to the production of 105 gigawatts of solar energy by 2020. This production goal required China to triple its solar production each year for five years.
But China just shattered its 2020 goal already in 2017. China's solar production hit 112 gigawatts in 2017, which was a 45% gain in just one year. That also means China added double the amount of solar production of any other country in the world.
And China isn't stopping there...
The next China solar energy goal is to invest another $360 billion in renewable energy within the next three years.
But solar energy isn't relying on China's promises. The reality is China needs solar energy to fulfill its needs.
China consumes 5.9 trillion kWh of electricity each year. That's the most energy consumption in the world and 50% more than the United States consumes. That level of energy consumption means China has to find a way to produce that staggering amount of energy.
So far, China has been relying on coal to meet its demand. Coal makes up nearly 59% of China's energy mix. But burning coal to fuel electrical power plants is polluting the country. China emitted nearly 30% of the entire world's carbon output in 2015.
That has China eager to move away from coal, especially as the cost of solar energy continues to fall...
The Ultimate Retirement Action Plan: This Could Mean the Difference Between "Adequate" Savings and the Retirement of Your Dreams. Click Here Now...
Coal made up 66% of China's energy mix in 2012. Since then it's fallen to 59%. At the same time, solar power now makes up 5% compared to less than 1% in 2012. And as solar energy continues to fall in price, solar energy will make up an even bigger share of China's energy production.
That's why Wood Mackenzie says solar power generation in China will grow by over 700% by 2035. China will easily hit that metric if solar power makes up even half of the energy production that coal does.
Investors who are looking to get in early on an explosive sector are in luck. The solar industry is sitting on a $48 trillion windfall right now, and we have the one China solar stock to buy right now to profit from as this energy sector explodes...
The Top China Stock to Buy Today