Rick Perry ordered the Federal Energy Regulatory Commission (FERC) to change its rules on power plants last week, in a bid to save the coal industry.
Despite Perry's best efforts, it's not going to work. In fact, nothing can save the coal industry.
And it turns out we've found a massive profit opportunity as America transitions away from coal...
On Sept. 28, Secretary of Energy Rick Perry sent a letter to FERC asking them to change their rules on power plants. His letter cited his authority under "section 403 of the Department of Energy Organization Act," a law passed in 1977 allowing him to propose new rules.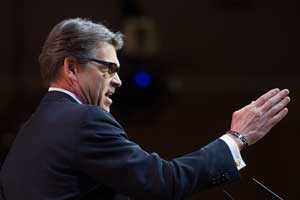 The rule he's proposing would give power plants capable of keeping at least 90-days of fuel on site extra money. The rule is being called the "Grid Resiliency Pricing Rule."
Here's the thing: Only coal and nuclear plants store their source of fuel on-site. Natural gas and renewable energy plants, the cheapest and most popular source of new plants, receive their fuel on demand. Natural gas is piped to the plants, and solar and wind energy are generated off-site.
In other words, the Secretary of Energy is trying to prop up the coal industry. And it's doomed from the start...
The New Rule Is Nothing More Than a Coal Subsidy
Coal-fired power plants are now the most expensive source of electricity in the United States, and that's causing old coal power plants to close up.
The United States is using 37% less coal than it did in 2000, and it's using 33% more natural gas, according to the EIA.
And renewable energy is making even more inroads into coal's former territory.
Utility Companies Spent $400 Million to Kill This Fuel: It can power your car, heat your home, and even run entire factories. Click here to find out more...
The base cost of building a new clean coal plant in 2017 is $5,072 per kilowatt-hour. The cost of gas-fired plants is $923 per kilowatt-hour, while wind- and solar-powered plants cost $1,576 and $2,169 per kilowatt-hour, respectively.
That's why new power plants are almost exclusively fueled by renewable energy or natural gas. In 2016, 61.5% of all new power capacity came from renewable sources, while 33.2% came from natural gas. Coal only accounted for 0.17% of new capacity.
Just to show you how bleak the prospects are for coal-fired plants, Southern Co. (NYSE: SO) recently tried to build a new, state-of-the-art clean coal plant in Mississippi. But it had to convert the plant to run on natural gas earlier this year - before it ever opened - just to make it viable.
Perry claims his proposed regulation is meant to ensure storms and other natural disasters don't wipe out chunks of the electric grid. By keeping fuel on-site, disruptions won't stop the plants from generating power.
But it's more likely Perry is trying to fulfill President Donald Trump's promise to "save the coal industry."
But a life-support subsidy for the coal industry won't be enough to save it...
Rick Perry Can't Save the Coal Industry
Perry's letter doesn't say how much the coal subsidy will be. It just says the rule will "accurately price generation resources necessary to maintain the reliability" of the electric grid. But it's unlikely to be enough to make coal competitive again.
The levelized cost of a coal-fired plant is $123 per megawatt-hour, while natural gas costs just $56.5 per megawatt-hour. Solar comes in at $66.8/MWh, and wind is the cheapest source at $52.2 per megawatt-hour.
That means the government will have to give new coal-fired power plants more than twice the amount per megawatt-hour that natural gas costs on its own, just to make it competitive.
That's a lot of money for the government to promise power generators, and there's no guarantee the FERC will approve the rule considering its costs.
And even if they did, coal is still less attractive than natural gas and renewables...
Besides costs, there's another major reason coal plants aren't able to compete.
First, using coal as a fuel source in electric power plants is extremely dirty.
Coal-powered plants emit about twice the amount of carbon that natural gas plants do. Wind and solar produce no carbon byproducts.
Video
The Farms of the Future Are a Boon to Solar Energy
Even as the Trump administration pulled the United States out of the Paris Climate Accord and opposes environmental regulations, companies aren't willing to invest in an uncertain future.
More than 70% of Americans support stricter limits to carbon emissions from power plants. And the EPA already established rules back in 2015 requiring power plants to reduce carbon emission by 30%.
In short, even if the Trump administration is more lax on regulations, energy companies know it won't last and that it's not worth a long-term investment. Even America's leading car manufacturer, General Motors Co. (NYSE: GM), announced this week they are planning an "all-electric future."
But even as coal becomes less competitive, demand for energy is growing. Exxon Mobil Corp. (NYSE: XOM) predicts demand for electricity will grow around 40% by 2040.
That means energy investors need to turn away from the dying coal sector.
Just as the government is desperately trying to subsidize coal, this source of energy is already growing to meet growing demand.
And we have the best stock to own now, with some analysts projecting its share price will soar nearly 50% over the coming year...
You Can Profit from America's Rising Energy Demand with This Stock
Here Are 10 "One-Click" Ways to Earn 10% or Better on Your Money Every Quarter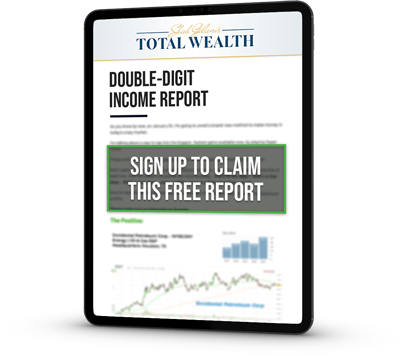 Appreciation is great, but it's possible to get even more out of the shares you own. A lot more: you can easily beat inflation and collect regular income to spare. There are no complicated trades to put on, no high-level options clearances necessary. In fact, you can do this with a couple of mouse clicks – passive income redefined. Click here for the report…