South Korean banks are looking to shield themselves from the threat of a North Korean "e-bomb," or EMP attack (electromagnetic pulse attack).
U.S. banks need to do so too - now.
That's because once an EMP bomb is detonated high up in the earth's atmosphere, over its intended target, it would instantly wreak havoc on electrical grids below, shutting off a population's communication access to myriad vital institutions. These include hospitals, water companies, transportation hubs, air control; the list goes on.
This kind of damage in the United States would be beyond anything we've ever seen before.
In fact, in 2008, the EMP Commission estimated that within 12 months of a nationwide blackout, up to 90% of the U.S. population could possibly perish from starvation, disease, and societal breakdown, The Wall Street Journal reported in August 2014.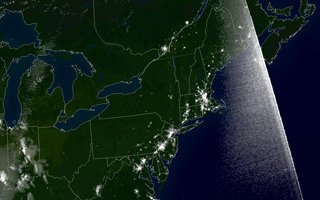 This won't be a concern of yours, of course. We'll show you how to prepare.
But first, you should understand why it is so important to make sure American banks in particular are prepped for survival.
It's what's inside that counts...
U.S. Banks Hold Two Things Crucial to Your Post-Attack Survival
Consider what is kept within our banking institutions' walls...
For starters, consumer banking data.
Virtually all of a developed nation's records of financial transactions are stored electronically.
An EMP attack that destroys a country's electrical grid would, essentially, stop the operation of its active economy in its tracks.
Never miss a single North Korea update again. Get real-time alerts sent to your inbox, completely free, here.
And that impact on individual investors like you and I would be disastrous...
"Loans for corporate capitalization and for private purposes, such as buying homes and automobiles could not be made. Wealth, recorded electronically in bank databases, could become inaccessible overnight. Credit, debit, and ATM cards would be useless," wrote Michael Maloof, financial historian and author of "A Nation Forsaken," in WND.com on Jan. 1, 2013.
Second, an EMP pulse would likewise render American banks' electronic security systems inoperable.
There are mass stockpiles of tangible assets tucked away in vaults across the country. A systemic security shutdown would render those assets - such as metal commodities and alternative investments like rare coins - immediately vulnerable to looters. Those individuals who keep their commodities in banks would lose access to the rare goods that might be invaluable in an attack's aftermath.
It's this kind of fast-paced mass effect the financial world would suffer that got South Korea worried enough to be proactive this week.
But unfortunately, even Seoul's EMP attack preparations this week were far more theoretical than they were functional...
South Korea Considers Bank Protection from a North Korea EMP Attack
Yes, even the nation that's most immediately vulnerable to a North Korean EMP attack - South Korea - is just now starting to come up with ideas about how it should protect its financial industry.
There's already one hurdle standing in Seoul's way - a national mandate making it illegal for banks to store consumer data in centers overseas.
"We are discussing ways to revise those rules so we can set up data backup centers abroad," a South Korean finance officer told The Korean Herald Monday morning (Oct. 9) on the condition of anonymity.
Should this law eventually be lifted, South Korea's financial institutions would still need to be physically shielded in order to keep their doors locked and their assets secure.
Must See: The Defense Industry Is a Gold Mine - You Can't Afford to Miss This $6 Company...
One such shield - arguably the most popular when it comes to protecting large physical entities from electromagnetic pulses - is called a "Faraday Cage." Faraday Cages are invisible enclosures that block most electromagnetic fields from reaching digital databases within physical targets.
And while the cost for building these cages in South Korea isn't yet known (at least not publicly), what is known is the cost of building Faraday Cages for institutions in the United States.
And that cost explains America's complete vulnerability to such an attack...
Why the United States Has Left Its Banks So Exposed
"Financial operations [in the United States] could not tolerate the kind of disruptions or mass systemic destruction likely to follow an EMP attack," the Washington-based EMP Commission reported in 2009.
Indeed, the commission found that the widespread impact of an EMP event on the financial services industry stateside would, in just one day, involve some $1.4 trillion lost in bank-to-bank transactions alone - roughly $182 billion every hour, reported Popular Mechanics on Oct. 4, 2016.
But U.S. politicians and major utilities have continued to ignore the danger an EMP attack poses...
Why?
The cost of protection...
You see, also in 2009, the EMP Commission admitted that Uncle Sam would have to cough up roughly $2 billion to shield its banks with Faraday Cages, as reported by the Edison Electric Institute (EEI), an industry trade association, in February 2015. Equipment to protect large power transformers, for example, would cost about $350,000 per circuit. There are roughly 2,000 circuits nationwide.
Safeguarding the entire grid, however, reported EEI, would not cost $2 billion as the Commission had stated in 2009, but, by its own estimates in 2015, $20 billion.
The EEI, in the end, offered up some advice on protecting U.S. institutions from EMP attacks...
"The best strategy to protect against such EMP events is to prevent them from occurring in the first place."
Gee, thanks.
How to Protect Yourself from Tragedy
The nightmare scenario of an EMP attack shows the importance of knowing where your most valuable possessions are at all times. Indeed, Money Morning Executive Editor Bill Patalon showed readers how to prepare for a tragedy just last month.
In the meantime, however, you shouldn't be stuffing all of your money in your mattress. There are always ways to protect and grow your wealth even in the direst of circumstances.
In fact, an anomaly in the commodities world is about to reappear - one that, when it first surfaced, created $1.25 billion in new wealth virtually overnight.
Now the opportunity is set to return - and this time with a potential cash windfall capable of reaching a $13 billion - more than ten times its worth when it first appeared.
So, now is the time for investors to position themselves for profits. Click here to find out how to do just that...
Follow Money Morning on Twitter @moneymorning, Facebook, and LinkedIn.
Related Articles:
[mmpazkzone name="end-story-hostage" network="9794" site="307044" id="138536" type="4"]