Banks aren't lending money to the marijuana industry because cannabis is still illegal under federal law, but some entrepreneurs have found a creative workaround through digital currencies.
Digital currencies, like Bitcoin and Ethereum, are digital coins created as a store of value (like gold) or used as a specific payment method for a designated industry.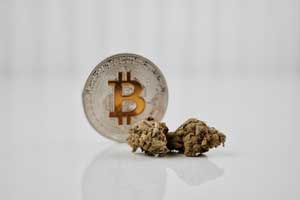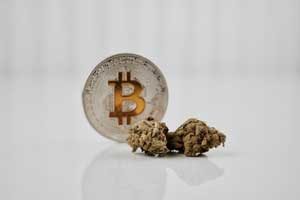 In the cannabis industry, cryptocurrencies could allow cannabis businesses to raise funds and accept online payments, transactions that are difficult without access to banks.
Because banks aren't able to accept money from marijuana businesses thanks to federal law, cannabis dispensaries are an all-cash business for now. That can be a dangerous operation.
Back in July, four men attempted to rob a marijuana dispensary in Nevada. The incident led to an officer firing a gun as the suspects fled the scene, but all the suspects were caught and no injuries were reported.
That's why there's a growing movement to make cryptocurrency in the pot industry mainstream, and we've got the insight of four industry insiders on how that movement is going…
The Pros and Cons of Digital Payments in the Marijuana Industry
Some entrepreneurs are trying to make their digital coins the go-to resource for cannabis payments.
PotCoin was created in 2014 and is the first digital currency designed for the marijuana industry. PotCoin.com touts that its transactions are settled in a matter of seconds, whereas credit card payments can take days.
Credit card fees can also range from 6% to 10%, whereas PotCoin fees are less than 1%.
But despite all the benefits, businesses are slow to adopt marijuana digital currencies.
The first reason is digital currency prices are volatile. Bitcoin opened at $4,073.79 on Sept. 19, but opened at $3,628.02 on Sept. 22. That means, in a matter of three days, Bitcoin prices fell 10.94%.
Video
These Four Events Will Make Marijuana Investors Rich
A company would have to adjust prices constantly because of the dramatic price swings, and some people may hold on to the coin instead of spending it in hopes it rises in value.
Also, instead of hiring security guards, a cannabis company accepting cryptocurrency payments would have to invest heavily in online security.
Hackers can infiltrate websites and hold valuable data "hostage" until they receive ransoms. In January, a group of hackers held Los Angeles Valley College's data hostage and received $28,000 in Bitcoin to let it "free," according to The New York Post.
If a company accepts digital currencies, hackers would know the business should have them on hand.
It's easy to see there's still a lot to work out when it comes to digital payments in the cannabis industry. But because it could eventually become the norm, we wanted Money Morning readers to get ahead of the curve.
You see, new technology like this creates new profit opportunities.
NEW: Plot your course to a seven-figure weed windfall with the top pot stocks from every ecosystem – growers, edibles, dispensaries, and more. Read more…
I went directly to marijuana industry experts so I could relay their insight on digital payments right to you.
Here's what they had to say…
Shauntel Ludwig, Vice President of Operations for DaVinci Vapes
"Cryptocurrencies address a problem faced by legal cannabis businesses: a lack of banking options due to federal restrictions. For an 'unbankable' industry, these currencies seem like a perfect fit. However, given that these cryptocurrencies are merely code and the cannabis industry is expected to reach $20 billion USD by 2020, it also seems like an opportunity that is ripe for cybercriminals to capitalize on. In addition, there may be additional complications created, as each state has its rules on how cryptocurrency is regulated, as well as taxation issues that will arise from not accepting actual money. In the end, it would benefit all to solve this on a federal level instead of merely finding workarounds."
Jason Santos, CEO of Burn TV
"The cryptocurrency industry is a rapidly growing space and naturally a potential solution for the banking issues around the cannabis industry. The biggest advantage outside being a potential solution for banking is the fact that it would provide additional safety for businesses in the industry if they can reduce the amount of hard cash that is on hand all the time. There are going to be several challenges, though, that could make this a slow-to-use solution, such as most people don't understand it, its shifting values, and cybersecurity issues making people apprehensive to use it. It's definitely something I see as an exciting development for the industry that makes sense, but I am skeptical it will be something that gets widely implemented before banking laws inevitably change to allow traditional banking in this space."
How to Buy Bitcoins: Your Guide to Digital Profits
Krista Whitley, CEO of Altitude Products
"It's a sad circumstance that legal, regulated cannabis providers are unable to use traditional banking due to our antiquated federal government. Cryptocurrencies are an appealing solution, but they are not without risk. I look forward to seeing cybersecurity concerns addressed to help cryptocurrencies become a more mainstream solution. Frankly, I'd prefer the federal government begin common sense regulations to treat legal, regulated cannabis businesses like any other legal, regulated industry."
Jeffrey Zucker, Co-Founder and President of Green Lion Partners
"There are several digital currency solutions for the cannabis industry, although I haven't seen a lot of traction from any of them. Given the banking issues the cannabis industry is forced to deal with, cryptocurrencies seem like a great match in theory. In practice, however, it's hard to get companies in this space to make significant changes to their businesses, and in this instance, many know the banking issues are some level of temporary. When you add in the risks involved with cryptocurrencies, including their fluctuating values, cannabis licensees seem to prefer to deal with the security issues that come with excessive cash on hand."
As breaking news happens and profit opportunities present themselves in the digital currency and cannabis spaces, we will send our readers free updates through our Profit Alerts service.
Right now, we wanted to let our readers know about a bonus profit opportunity happening right this minute…
After nine months of exhaustive research, we've found the best, most lucrative, and fastest-growing legal pot stocks in America.
They're all in our 89-page "bible of weed investing," The Roadmap to Marijuana Millions.
And for a limited time, you can get all the details for free…
How to Stake Your Claim in the Growing $6.7 Billion Marijuana Industry