President Donald Trump's expected "de-certification" of the 2015 Iran Nuclear Deal today is rooted in the belief that sanctions on Iran are the only cure to halting the Middle Eastern nation's weapons program.
A White House statement released yesterday supports this sentiment as well:
"We will work to deny the Iranian regime - and especially the Islamic Revolutionary Guard Corps (IRGC) - funding for its malign activities, and oppose IRGC activities that extort the wealth of the Iranian people. We will counter threats to the United States and our allies from ballistic missiles and other asymmetric weapons."
But here's the problem:
North Korea is proof that sanctions on Tehran won't work to curb the country's weapons advancements.
It's important to note that, while the president will refuse to acknowledge that Iran has complied with the landmark nuclear agreement today, he will not ask Congress to re-impose sanctions.
Not yet.
Instead, Trump is expected to announce this afternoon that Congress will have the power to re-impose sanctions against Iran from now on, which it can choose to do after reviewing the country's adherence to the treaty every 90 days.
And should Congress decide, three months from now, that Iran has not complied with the treaty's term, then legislators could sweepingly opt for punitive sanctions on the country once again, thus nullifying the 2015 accord altogether.
But doing so in order to, as the White House statement suggests, "counter threats to the United States and our allies from ballistic missiles and other asymmetric weapons" won't work.
The threat of Iranian missiles could wreak havoc on the markets, but we'll show you how to protect yourself from all of that. But first, see what the North Korea situation means for sanctions on Iran...
This One Major Fallacy Proves New Sanctions on Iran Won't Work
On Oct. 9, President Trump admitted that sanctions-based policy against Pyongyang hasn't worked.
"Our country has been unsuccessfully dealing with North Korea for 25 years, giving billions of dollars & getting nothing. Policy didn't work!" POTUS tweeted.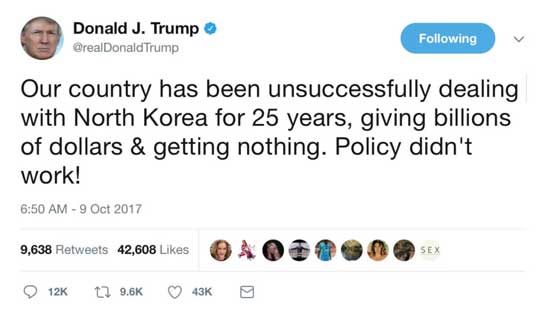 If punitive funding measures haven't effectively stopped Pyongyang, there's little reason to expect they would do so for a far-richer Iran.
After all, Iran's GDP is 30 times that of North Korea's, yet the latter has made astounding strides in weapons advancements over the past year alone and under the strictest sanctions in world history.
Urgent: Executive Editor Bill Patalon just saw something on his precious metals charts he's only seen twice in 20 years. He calls it the "Halley's Comet of investing" - and it could lead to windfall profits. Read more...
The problem lies in the misguided belief in a "supply-side cure."
And America's mistake here lies in its assumptions that Iran's current weapons supply - the supply on its side - is subpar and that sanctions would keep the country from making necessary upgrades to its cache.
But Iran's supply of nuclear technology isn't the deciding factor in its nuclear proliferation. Its demand for that proliferation is.
"Most of the tools and techniques needed to create a nuclear force have existed for 40 to 50 years," reasoned Jeffrey Lewis, director of the East Asia Nonproliferation Program at the Middlebury Institute of International Studies, to The Atlantic on Oct. 12.
Essentially, Lewis' argument is that sanctions won't curb Iran's weapons manufacturing and improvements because it's already got a stockpile to work with - one that's had nuclear capabilities since the 1970s.
Editor's Note: Stay updated on emerging global threats. Select the "Politics" Profit Alert and get real-time notifications sent to your inbox completely free, here.
And, if need be, Tehran could find the means to advance these weapons further on its own - without funding from outside sources - much the same way North Korea has advanced its own weapons.
Therefore, Lewis said, the United States should consider a different approach - the "demand-side approach" - because Washington's current sanctions-based methodology is "not going to permanently keep Iran at 1952."

Lewis also pointed out on Twitter this past summer what we could expect to see happen if Congress so chooses to re-impose sanctions against Tehran in the near future:
"To be clear, our research suggests abandoning the JCPOA [Joint Comprehensive Plan of Action, or the "Iran Deal"] is the best way to ensure Iran follows North Korea into the nuclear-armed ICBM club."

This means the United States would have not one, but two well-armed nations openly hostile toward us for attempting to curb their weapons advancements.
Which means the time has never been better for you to prepare for the likelihood of a U.S. war with someone one day soon.
Here's how...
How to Protect Yourself from Tragedy
Personal safety is most important when preparing for the nightmare scenario of war. Indeed, Money Morning Executive Editor Bill Patalon showed readers how to prepare for a tragedy just last month.
In the meantime, however, you shouldn't be stuffing all of your money in your mattress. There are always ways to protect and grow your wealth even in the direst of circumstances.
One such wealth-growing opportunity is Boeing Co. (NYSE: BA). Boeing has several contracts with the U.S. military; for example, it is largely responsible for the THAAD missile system set up in South Korea and Guam to defend against a potential North Korean attack.
The demand for Boeing's work is shown in its stock price.
When Bill first recommended Boeing, it was trading at $61.92.
Today, the defense contractor is trading at $261.90.
That's a 314% increase.
An increase in global instability will mean an increase in revenue for Boeing - and a boon for its investors. But Boeing's value is well known. Although it's the perfect foundational play to help your money grow amid geopolitical turmoil, it's unlikely to see explosive, life-changing growth in the near future.
Fortunately, Bill has spotted just such an opportunity that he's sharing with select readers...
An anomaly in the commodities market is about to reappear - one that, when it first surfaced, created $1.25 billion in new wealth virtually overnight.
Now the opportunity is set to return - and this time with a potential cash windfall capable of reaching a $13 billion - more than ten times its worth when it first appeared.
So, now is the time for investors to position themselves for profits. Click here to find out how to do just that...
Follow Money Morning on Twitter @moneymorning, Facebook, and LinkedIn.
Related Articles: