If you're looking for a 2018 market crash prediction, it means you're already trying to prepare for the worst-case scenario in the stock market. And that's a smart idea...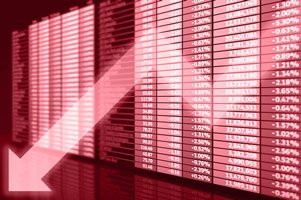 Now, no one can make a stock market crash prediction with any accuracy. At least, not without a lot of luck.
But with stocks soaring to record highs, there are some market crash warning signs to pay attention to. Just yesterday (Oct. 18), the Dow Jones spiked to a record close of 23,157.15. But overnight, Dow futures collapsed as much as 100 points, while the CBOE Market Volatility Index jumped 12% this morning.
Those aren't market-crash numbers, but they show how quickly the stock market can turn, even as it hits new record highs.
And there are two major reasons to be cautious despite soaring highs. Here are our two warning signs, plus what you can do to protect your money right now...
2 Reasons for a 2018 Stock Market Crash Prediction
First, the U.S. Federal Reserve is raising interest rates.
One of the reasons the stock market has been climbing since 2009 is the Fed's lower interest rate policy.
In 2007, the Fed interest rate stood at more than 5%. But by 2008, the Fed had slashed rates all the way to 0.25%, its lowest rate ever.
Urgent: Feds use obscure loophole to threaten retirees. If you have a 401(k), IRA, or any type of retirement account, this could cause you to miss out on $68,870 or more. Learn more...
The idea was to make it cheap and easy for businesses to borrow money. And if they could borrow money cheaply, they could use the money to grow and help raise the economy out of the recession.
The plan worked, in part. Businesses were more than happy to take the cheap loans, but they used the cash to buy stocks
Between 2008 and 2016, publicly traded companies repurchased $2.1 trillion worth of their own stocks, and they borrowed $1.9 trillion while doing it. The stock buybacks helped boost share prices, and it's unlikely they could have done it without the cheap borrowing costs.
Now the Fed is committed to raising interest rates again. Rates rose over 1% this year for the first time since 2008, and they could rise above 2% next year, according to the Fed's "dot plot." That means the era of cheap borrowing is over, and companies won't be able to use the easy loans to repurchase stock. That could weaken stock market growth.
Just-Released: Tips and Tricks to Maximize Your Retirement at Any Age
Second, the stock-buying frenzy has boosted valuations to historic highs.
One of the best measures of stock market valuation is the Cyclically Adjusted Price Earnings (CAPE) ratio, created by economist Robert Shiller. Also known as the Shiller PE ratio, the measure shows how expensive stocks are compared to the company's earnings over a 10-year period.
The Shiller PE ratio is currently at 31.21, 86.2% above its historic average, and even higher than it was before the 2008 stock market crash. The ratio peaked at 27.3 in 2007.
The only other times the Shiller PE ratio has risen higher than it is today was in 1929 and 1999. Both times, the stock market crashed shortly after.
Now, these signs don't mean a stock market crash in 2018 is coming. As we said, no one can predict a stock market crash with accuracy. But they are signs that the record highs that stocks are reaching shouldn't lull you into complacency.
It's always a smart idea to have a plan to protect your money, and we have a simple, proven strategy to do it, right here...
How to Protect Your Money from a 2018 Stock Market Crash