The Dow opened November at its all-time high of 23,511.59, extending the record-breaking year of 19% growth. But the soaring highs have some investors asking, "Will the stock market crash in 2018?"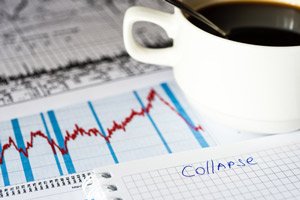 The Dow is up more than 254% since March 2009, making this the second-longest bull market in history. While this bull market run has been great for investors, it could come to an end sooner rather than later.
"Make no mistake, there's going to be a stock market crash," according to Money Morning Capital Wave Strategist Shah Gilani.
But Gilani says that's no reason to panic.
"That doesn't mean you shouldn't be in the market. You absolutely should be," Gilani said. "In fact, being fully invested makes sense."
Urgent: Feds use obscure loophole to threaten retirees. If you have a 401(k), IRA, or any type of retirement account, this could cause you to miss out on $68,870 or more. Learn More…
While Gilani's prediction sounds dire, it's actually quite normal. The stock market rises, and then it falls. After an eight-year bull market run, it's simply inevitable that we'll see a market correction, or even a market crash, at some point.
That's why we're going to show you the stock market crash warning signs we're seeing, so you can be fully informed on what's going on. Plus, we'll show you how to protect your money without ever leaving the stock market…
Our 2018 Stock Market Crash Warning Signs
Now, we aren't making a stock market crash prediction. Gilani simply observes that the market is cyclical. There will be booms and busts.
And as this boom extends, we want our readers to be completely informed about any 2018 market crash warning signs, especially those the media aren't telling you about…
First, the current stock market valuation is at a historically high level.
The Cyclically Adjusted Price Earnings (CAPE) ratio is known as one of the best measures of stock market valuation.
The ratio is currently at 31.30, which is 86.3% above its historical average. While trading 86% above its historical average, the CAPE ratio shows us even more cause for concern. The only times it has risen higher than its current 31.30 level was in 1929 and 1999, right before two stock market crashes.
That doesn't mean the next stock market crash is on its way, but it is reason for smart investors to consider how to protect their money from a stock market crash.
Second, the U.S. Federal Reserve is raising interest rates.
The Fed has hiked rates four times since December 2015, and market observers are expecting another hike in December 2017. A period of historically low interest rates helped boost stock prices, and now that the Fed is committed to higher interest rates, that boost may come to an end.
You see, when the financial crisis hit back in 2008, the Fed took drastic action to help boost the economy out of a recession. It slashed interest rates all the way down to 0.25% in 2008, down from over 5% in 2007.
The idea was to make borrowing money cheap. If corporations could borrow cheaply, then they could keep expanding even as the economy slowed, eventually stimulating the economy back into growing.
IRS-Proof Your Life: The more you earn, the more the IRS takes. But these 100% legal tax exemptions could save you millions over the long term… Learn More
However, corporations took advantage of the cheap borrowing costs to repurchase shares of their own stock, boosting stock prices.
Between 2009 and 2016, publicly traded companies borrowed $1.9 trillion, and they used the money to help buy $2.1 trillion of their own stock shares.
That's helped stocks rise to record heights over the last eight years.
But as the Fed raises rates and borrowing costs rise, share buybacks will be less likely. That could dampen stock market growth.
And with stocks at record highs and record-high valuations, a catalyst that starts a sell-off could end with the next stock market crash.
But savvy investors can stay in the stock market while protecting themselves from a market crash in 2018. Here's how to do it – and even profit…
Crash-Proof Investments for 2018