Investors are pouring into cryptocurrencies at a record pace, as the price of Bitcoin has soared from $10,500 on Dec. 1 to its record high, over $17,000, yesterday (Thursday). On Thursday alone, the Bitcoin price spiked more than 21%.
While Bitcoin has been the fastest way to grow your wealth in 2017, investing in Bitcoin is not for everyone. It remains extremely speculative and only for those investors willing to accept significant risk.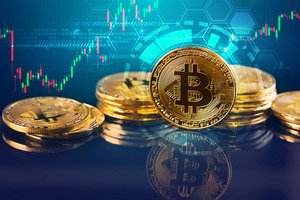 But for retail investors, we've found two of the best "Bitcoin stocks" to buy today that offer huge upside, with just a fraction of the risk.
Money Morning Chief Investment Strategist Keith Fitz-Gerald says there are several great ways to play Bitcoin in your existing brokerage account.
This strategy is based on the California Gold Rush of 1849. People flocked to the area to seek their fortune, but few actually became rich. However, the people selling the newbie miners their picks and shovels made the real money.
The same holds true for any speculative market. Find the companies making and selling the tools - the merchants - and you can ride the wave without risking drowning in it.
Fitz-Gerald's thesis is that the economic foundation driving any "gold rush" is where you want to place your money when it comes to truly legendary and sustainable wealth.
For that, he recommends two great "Bitcoin stocks" to buy...
Bitcoin Stocks to Buy, No. 1: CME Group Inc.
CME Group Inc. (Nasdaq: CME) is one of the world's leading derivatives and futures exchange operators. Known as "The Merc," it is now the largest futures exchange in the world, following the merger between the Chicago Mercantile Exchange and the Chicago Board of Trade in 2006. It handles trading in stock indexes, Treasury bonds, energy, precious metals, agricultural products, and regular currencies, such as the euro.
The value of all trading exceeds $1 quadrillion a year. And it's 50 times greater than the current national debt. Clearly, this company can handle big money transactions.
Learn How to Turn $500 into $1 Million: This Sunday school teacher's "retirement career" made him a millionaire. This book will teach you how you can do it too. Claim your FREE copy...
"CME will begin offering Bitcoin futures contracts starting in mid-December based on the CME CF Bitcoin Reference Rate (BRR)," Fitz-Gerald said. "That's significant, because the BRR aggregates information in U.S. dollars per bitcoin, as drawn from the world's major Bitcoin spot exchanges."
By making Bitcoin instantly accessible to a much wider range of traders, the hope is that Bitcoin prices continue to rally and draw in even more investors to participate.
But whether prices soar, stay where they are, or fall, it does not matter. CME makes money as long as people trade.
And the next "Bitcoin stock" on our list has been one of Keith's top picks for years...