Investors wondering how to invest in the Boring Company won't be able to just yet, but that doesn't mean there isn't a way to profit from Elon Musk's disruptive vision...
Elon Musk's enthusiasm for his new company is contagious, but there are no plans for a Boring Co. IPO anytime soon.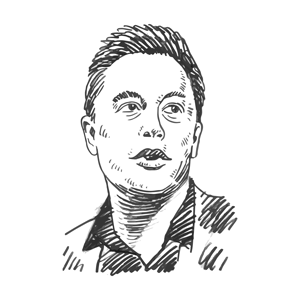 But we still want to show you a way to profit from the way Musk is disrupting entire industries, even without investing in the Boring Co.
But first, here's what's attracting investors to the Boring Co....
The Boring Co. May Revolutionize Travel
What's so special about a company that's only been in existence for 12 months? One word - "Hyperloop."
Musk's Hyperloop project is something that he and his new company promises will revolutionize transportation.
The Hyperloop is a tube that will allow a specially designed vehicle to travel at record-breaking speed via an airless vacuum tube. Passengers could theoretically travel up to 760 mph through a Hyperloop. That's more than double the top speeds of 268 mph achieved by maglev trains, which are currently the fastest trains in the world.
Breaking: California's impending marijuana legalization could deliver unprecedented windfall profits - get in on the ground floor for the best shot at life-altering gains. Learn how here...
Musk first floated the idea of a Hyperloop in 2012 when he revealed to a "PandoMonthly" audience that this technology was his hope for a new form of transportation.
Musk then set out to achieve his goal by creating a competition to create a prototype for the Hyperloop vehicle.
In September 2016, Musk's SpaceX company built the first Hyperloop test track in California's desert, and it is currently holding competitions for vehicles on that track. The first Hyperloop "pod" competition was in January 2017, and the second was in August 2017. There is an additional competition planned for the third quarter of 2018.
As SpaceX was completing the Hyperloop test track in 2016, Musk was also firming up his plans to start the Boring Co. This company's main function will be to dig the tunnels between the cities for the Hyperloop system.
The only experiences that Musk's new company has in boring tunnels so far are the ones that it's dug for the research center in California. Musk, however, is known for taking innovative concepts, such as private space travel, and quickly making them a reality.
And the Boring Co. is already working on tunnels, a sign the company could be commercially viable sooner than later.
On July 20, Musk announced on Twitter that the Boring Co. had verbal approval to connect Washington, D.C., and New York via a bored tunnel.
The company also received a test permit in August for a boring tunnel underneath Los Angeles.
According to a report from ArtsTechnica.com, Maryland officials have also approved the boring of a 10.1-mile tunnel, which composes the state-owned portion of the Baltimore-Washington Parkway.
Both the Los Angeles and Baltimore projects are now underway.
Despite these encouraging approvals, there are still plenty of hurdles to surpass before we see a working Hyperloop in the United States. For example, Musk needs to navigate the legalities related to digging underneath other people's property when he's actually ready to connect the cities.
Because of this, and the need to finish a functioning Hyperloop, it's unlikely that we'll see a Boring IPO anytime in the foreseeable future.
In fact, Musk has said that he doesn't plan to take his SpaceX company, which is much more seasoned, public until it is ready to fly a mission to Mars. This could be three years out, or even longer.
But even if you can't buy shares of the Boring Co., there is a way to profit from Elon Musk's forward-thinking vision now...
Invest in an Energy Source That Could Make Oil Obsolete
[mmpazkzone name="in-story" network="9794" site="307044" id="137008" type="4"]
Shareholders of Elon Musk's main concern, Tesla Inc. (Nasdaq: TSLA), have achieved gains of 14,000% since its IPO. But its growth is not stopping there.
And that's because Tesla isn't just a car company...
Money Morning Chief Investment Strategist Keith Fitz-Gerald has been telling investors for years that Tesla is much more than a car company.
On May 5, Keith told readers that Musk is going to use his inventive spirit to revolutionize much more than just the automobile industry. Instead of being a "car company," Tesla may very well end up being the world's next great energy company.
Just look at Musk's response to the crisis in Puerto Rico after Hurricane Maria. It wasn't to ship them a bunch of Tesla Model 3's. Musk and Tesla offered to rebuild Puerto Rico's power grid using Tesla solar cells and home batteries. The island accepted, and the first project, at the Hospital del Nino, went live within just 30 days.
This is just one example of Tesla using its battery technology supplement to replace the power grid. The company also won a contract in South Africa to install a 100-megawatt facility, which has the capacity to power 30,000 homes.
Musk has a vision of creating a series of "microgrids," which is a complete energy system that includes solar panels, batteries, a generator, and an electric car. According to Bloomberg, these battery-backed microgrids are expected to attract $22.3 billion in investments over the next decade. Navigant expects that the power generated from these grids will reach 14.9 gigawatts by 2026, compared to just 238 megawatts today.
TSLA stock is trading at $331.10 per share, with gains of 54.94% so far in 2017. The company is expected to produce $3.44 billion in sales this quarter alone. Among analysts, the one-year price targets for TSLA reach as high as $500, which would produce another 58.66% gains over today's stock price.
How to Cash In on California's Cannabis Explosion
An event of historic proportions is about to unfold in California's marijuana markets, and the amount of wealth expected to flow into this industry is record-breaking.
On Jan. 1, California will completely legalize cannabis for medical and recreational use - promising to spark a $20.2 BILLION industry in The Golden State alone.
The windfalls to be made here could be unprecedented - but only if you learn how to position yourself to profit.
Money Morning just conducted an interview with one of America's leading pot stock experts, who has already shown his followers massive gains from the previous legalization announcements.
If you're serious about learning how to make millions from the marijuana markets, it's imperative you go here now.
Follow Money Morning on Twitter @moneymorning, Facebook, and LinkedIn.