With the cryptocurrency market as hot as it is, pundits have recommended all sorts of ways to indirectly play Bitcoin and other cryptos. Just this week, analysts at HSBC Holdings Plc. (NYSE: HSBC) identified a handful of "Bitcoin stocks" that let investors do just that.
But its Bitcoin stocks list completely misses the point. And that's why we'll be showing you two better cryptocurrency stocks to buy in just a bit...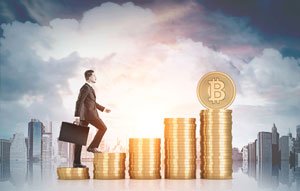 For its list, HSBC simply screened for stocks in the MSCI's All Country World Index whose business descriptions had any of the following terms: "mobile payment," "electronic money," "Internet finance," and "mobile commerce."
The resulting basket of one dozen stocks gained 119.9% over the past five years, while the MSCI ACWI gained about 51%.
That's pretty good, but Money Morning Chief Investment Strategist Keith Fitz-Gerald's two picks are even better. Their five-year gains were 201.6% and 1,516.2%, respectively. And they are solid, U.S.-based companies...
Betting on the Future with Blockchain
As you're probably aware, Bitcoin is but one end product for a technology called blockchain.
This is a distributed method of recording transactions and storing data that is not subject to the whims of a central authority, whether it be a corporation, government, or even an exchange. It's secure, and it cuts out the middleman altogether, allowing people to exchange goods and services for payment anonymously.
Learn How to Turn $500 into $1 Million: This Sunday school teacher's "retirement career" made him a millionaire. This book will teach you how you can do it too. Claim your FREE copy...
The uses are endless, from currencies to the recording of real estate transactions and copyrights. And it creates the basis for a peer-to-peer economy that will take the "sharing economy" of the likes of Uber and Airbnb to new heights.
Think of blockchain today as the Internet was in the early 1990s - an economic revolution in its infancy. Investing in such a generational technology will lead to massive wealth buildup for those who know what to do and jump aboard early.
The Two Best "Bitcoin Stocks" in 2018