The legal marijuana train is running at full steam, and there's not much the attorney general can do about it.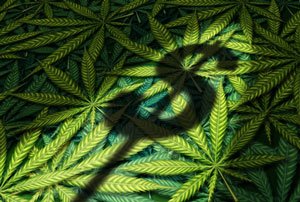 Jeff Sessions agitated cannabis investors, enthusiasts, and medical patients in January, when he announced that the Justice Department was removing Obama-era guidelines that limited federal prosecutors from pursuing marijuana charges in states that had legalized weed for medical or recreational use.
Despite what you might hear elsewhere, Sessions will not bring the budding marijuana industry in the United States to a screeching halt.
Chris Walsh, editorial vice president at Marijuana Business Daily, told Money Morning Director of Technology & Venture Capital Research Michael Robinson that Sessions' announcement was "like watching a train roll down the tracks, and sticking your foot out to try and stop it."
Just two weeks after Sessions' announcement, a private equity firm backed by billionaire Peter Thiel announced $100 million in new funding for cannabis-related ventures. It would appear that this train is, in fact, unstoppable.
And no wonder. According to a Gallup poll in October, 64% of Americans are in favor of marijuana legalization. Vermont just became the ninth state to cross that threshold, and the first to do it through the state legislature.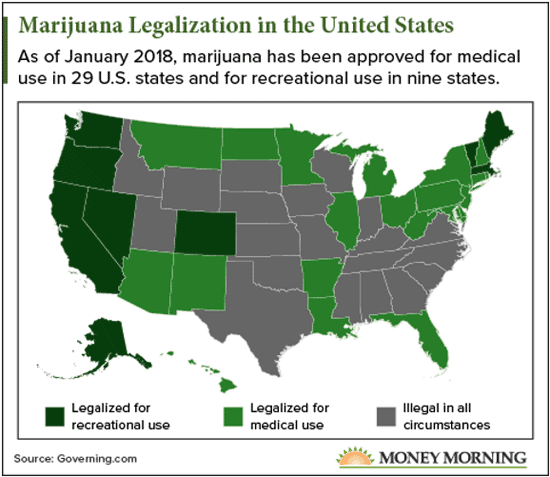 Even if the Justice Department does indeed crack down on marijuana in states where it's legal, James Higdon of Politico reported in January that he may just trigger Congress to legalize weed across the country, even while it retains a Republican majority.
Whether that happens or not, our neighbors to the north in Canada are set to pass legislation to become the second country in the world to fully legalize marijuana. The new laws are expected to gradually phase in various forms of the substance in an effort to undermine criminal enterprises and prevent sales to children.
The trend toward legalization, in other words, is not slowing down. And that means major growth in the industry. A 2016 report by ArcView Market Research projects annual sales of legal marijuana in North America to grow from $6.7 billion in 2016 to $22.6 billion by 2021.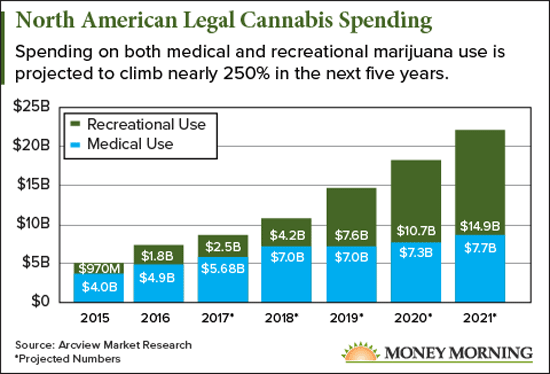 As with any growth industry, legal marijuana offers investors multiple entry points to cash in.
You can pick up shares of marijuana producers, including makers of all kinds of marijuana-based products, or you can grab a piece of any of the various companies that offer products and services to the marijuana industry.
Here's a look at five of our favorite companies to buy into now for the biggest marijuana profits.
Marijuana Entry Point No. 1: Branded Cannabis Products
As Michael points out, legal weed doesn't have much brand recognition. There's no Coca-Cola, Apple, or even Mitsubishi of marijuana.
But one of the leading candidates he likes now is Cannabis Sativa Inc. (OTCMKTS: CBDS). This Nevada-based company makes a variety of cannabis products, including balms, sprays, mints, and edibles. It even has its own patented strain of pot.
The First Step on Your Road to Millions Starts Here: All you need is a computer or smartphone and just 10 minutes of "work" to potentially put $1 million in your bank account faster than you ever dreamed. Read more…
In 2015, CBDS opened its first branded dispensary in Oregon. Under the name "Hi Brands," the company models its retail locations after Apple's.
"The Hi brand aims to help consumers find reliable, trustworthy products in the fast-growing but highly fragmented cannabis industry," said former CEO and presidential candidate Gary Johnson.
The company also owns iBudtender, the "Yelp of recreational marijuana." This smartphone app directs users to nearby dispensaries and cafés and provides users with information on all kinds of cannabis products.
iBudtender is "getting rave reviews from users and industry players alike," Michael says.
The social media play puts CBDS in an ideal position to jump across state lines as recreational marijuana is legalized in new jurisdictions.
Cannabis Sativa is a speculative play, not a foundational stock, so invest accordingly. But with a wide range of products and a chain of retail stores on the way, Cannabis Sativa is in a strong position to become a national brand – one that will reward early investors well.
Marijuana Entry Point No. 2: Cloud Software Services
Join the conversation. Click here to jump to comments…
About the Author
Stephen Mack has been writing about economics and finance since 2011. He contributed material for the best-selling books Aftershock and The Aftershock Investor. He lives in Baltimore, Maryland.