WTI oil prices started this year at $45 a barrel but have since rebounded to over $65, a 44% surge. They're still projected to shoot up to $75 per barrel by the end of August.
To help you profit from the rally, we've picked the best oil and energy stocks to buy now.
We'll show you our two top oil stocks in just a second, but first, here's why oil prices are surging right now and will keep rising through the rest of the year…
Rising Oil Prices Are Fueling the Best Oil Stocks
The upward movement in our top oil and energy stocks comes from three different catalysts.
First, there has been a commitment by the Organization of the Petroleum Exporting Countries (OPEC) to reduce the production of crude oil among its members. This is significant because it is the largest oil cartel in the world, and reducing the supply could significantly raise prices. OPEC would like to see Brent crude hit $90 by the end of 2019, over 20% higher than today's price.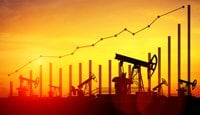 Second, the United States is experiencing a surplus of domestic supply, and it lacks the transportation systems and pipelines required to bring crude to refineries. The cost of logistics in the summer driving months should ramp up prices in the United States' highly segmented, break-even industry.
Third, U.S. sanctions on Venezuela and Iran continue to cut into the global supply of oil.
The United States was importing half a million barrels of heavy crude daily from Venezuela to process diesel fuel. Now, the U.S. has to replace that supply, which is a challenge at a time when global shipping regulations make this more difficult and costly. Tightening supply, combined with limited refining capacity, is leading to higher demand for crude.
When oil prices go up, so do oil and energy stocks. This is particularly the case with transport companies and producers that bring crude oil to the refineries. Reserves become much more valuable on a company's balance sheet as the price of oil rises. And higher crude oil prices allow midstream companies to charge more for the storage and transportation of crude oil.
We've selected the best oil and energy stocks to profit from these trends using our proprietary Money Morning Stock VQScore™ system. It analyzes every stock, assigning a score that indicates the probability that the share price will shoot up. The "Buy Zone" is a stock that registers with a score of 4 or better.
Both of our top oil and energy stocks to buy now have landed firmly in the "Buy Zone."
The first one comes in at 4.75, with almost 25% upside potential over the next year.
Best Oil and Energy Stocks to Buy Now, No. 2
Known by the big yellow "shell" symbol, Royal Dutch Shell Plc. (NYSE: RDS.A) is the second largest oil and gas company in the world by market cap, at $282.4 billion.
But, unlike rivals BP Plc. (NYSE: BP), Chevron Corp. (NYSE: CVX), and Exxon Mobil Corp. (NYSE: XOM), Royal Dutch Shell is known for its diversification in alternative energy and leads in driving the transition to cleaner energy sources.
See Now: Our founder just released his No. 1 pick for 2019. Don't miss this. See the urgent briefing here…
Royal Dutch is projected to take in over $77 billion per year in 2019 and 2020.
The industry average price/earnings ratio is 18.67, and RDS.A trades at just 11.35, meaning the stock has a lot of room to run higher. The average competitor also trades at 3.45 times book value, while RDS.A trades at 1.31 times book value.
The company's VQScore also now sits at 4.75. This puts it firmly in the "Buy Zone," which means it has breakout potential.
Shares of RDS.A trade at $64.30, but now that oil prices are predicted to go higher over the coming months, this stock could reach $80 per share by the close of the third quarter. This would be an upside of 24% in just five months or less.
But Royal Dutch is also a great stock to hold onto, with a fantastic 4.39% dividend yield.
This is an excellent trade, but our top oil and energy stock has twice the upside…
Best Oil and Energy Stocks to Buy Now, No. 1
[mmpazkzone name="in-story" network="9794" site="307044" id="137008" type="4"]
Continental Resources Inc. (NYSE: CLR) is our top pick.
This is an Oklahoma-based firm that focuses on exploring, developing, and producing crude oil and natural gas properties across the United States. It sells its natural gas and crude oil to refining and marketing companies for distribution.
More than half (55%) of the company's production comes from the North Dakota section of the Bakken as of the fourth quarter of 2018.
As of the end of 2018, it had 1.5 billion barrels of crude oil equivalent reserves, which was an increase of 14% over the prior year. As oil prices move up, so will the total reserves and value of those reserves across all production fields.
The company has limited its exposure to debt and maintains an otherwise strong balance sheet. This is vital because it showed that it could weather the lower oil prices toward the end of 2018.
The VQScore on this stock is squarely in the "Buy Zone" now that oil prices are rising once again.
This one sits at a perfect 4.75.
And you can pick up shares of CLR at an excellent price.
Continental Resources currently trades at $50 per share after some price drops in March. But now with bullish talk surrounding oil prices, CLR could shoot up to $75 per share.
This would give today's investor a 53% upside.
The Ultimate Way to Potentially Secure Big, Consistent Gains in Today's Market
This man's track record of over 217 double- and triple-digit winners in just five years proves that by using this simple investing method, you're likely to see huge upside potential - even in today's shaky market environment. That's because this methodology gives him a chance to find only well-positioned stocks that are poised to go up everywhere – at any time. Learn how to use this method for yourself now.