As tensions with Iran have grown over the past month, investors are looking for the best defense stocks to buy. And not only is our top defense stock poised to lead the industry, but it's also ready to break out, thanks to one big catalyst.
In June, Iran announced its military had shot down a U.S. drone and claimed its nation was "ready for war." The country has rejected accusations from the United States that it violated terms of a 2015 nuclear agreement, and it could once again be facing UN sanctions.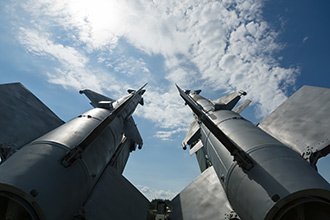 This is a critical time on the world stage, but it's also caught the attention of Wall Street and defense stock investors. When geopolitical uncertainty rears its ugly head, defense stocks tend to soar. And given the U.S. commitment to a strong defense, some of these investments can even be considered resistant to recessions.
While there are several defense stocks to choose from, the Money Morning Stock VQScore™ system has pinpointed the top contender.
Our favorite of the top defense stocks to buy today has a 4.45 VQScore, meaning it's about to see a big jump in price very soon.
One of the Best Defense Stocks to Buy Right Now
As tensions mount, Raytheon Co. (NYSE: RTN) is our pick for one of the best defense stocks to own. It is a Massachusetts-based company and is currently the third largest defense contractor by revenue.
It's set to become the second largest once a merger with United Technologies Corp. (NYSE: UTX) is finalized. This announcement resulted in a share price drop due to concerns about shareholder risk, synergies, and industry competition.
The Pentagon is currently reviewing the risks related to this proposed merger. If it goes through, it will propel RTN share prices even higher.
But regardless of the outcome of this merger deal, this stock is currently trading at bargain prices and has phenomenal upside potential.
You Have to See This to Believe It: Claim your stake in this 1,000X market phenomenon with just $50. Watch now...
Raytheon now trades at 15.3 times its anticipated profits for 2019 of $11.60 per share. This figure is a significant discount compared to industry peers like Lockheed Martin Corp. (NYSE: LMT), Safran (OTCMKTS: SAFRY), and Honeywell International Inc. (NYSE: HON).
The company's balance sheet is strong, with only $2 billion in debt. It has a debt-to-capital ratio of just 29.4%, which is low compared to the defense industry average of 68%.
Raytheon pays investors a 2.13% dividend, outpacing the 1.9% of its rivals. It also beats the industry averages in net profit margins, operating profit margins, and gross profit margins.
Standard financial metrics aside, this is one of the top defense stocks to own right now because it appears to be poised for a share price breakout, signaled by its high VQScore.
This company is about to gain some major headway in securing Pentagon funding for its unique technology.
The Biggest Catalyst for This Top Defense Stock
[mmpazkzone name="in-story" network="9794" site="307044" id="137008" type="4"]
We've pointed out before that the United States is behind China and several other world leaders on next-generation missile technology.
Congress and the Pentagon have increased focus on the development of technology that will surpass that of China, Russia, and other geopolitical rivals.
And Raytheon has become the leader in the drive to produce hypersonic missiles. At the Paris Air Show in June, it announced a partnership with defense firm Northrop Grumman Corp. (NYSE: NOC) on a secret project to build hypersonic missiles using 3D technology to create the engines.
The two companies have been collaborating for four years with the Defense Advanced Research Project Agency (DARPA) and the U.S. Air Force on another program called the Hypersonic Air-breathing Weapon Concept (HAWC).
These are jet-propelled hypersonic missiles built for the Air Force, and DARPA is also hoping to offer these to the Navy. This is new technology that the teams expect to deploy within the next few years.
Hypersonic missile technology has become a priority in this year's military budget. Even though some politicians have pushed for a reduction in overall defense funding, those with experience on defense and appropriations committees understand the importance of America having the most advanced military and defense technology possible.
With Raytheon as a leader in this new technology, it will cement its place as one of the top defense firms to watch for the foreseeable future.
The Outlook for Raytheon
Both the short- and long-term outlook appear positive for Raytheon.
In the short term, rising Middle East tensions could be a windfall for major defense contractors. This is particularly true since some investors will be moving out of other stocks and looking for safer places to put their money.
In the long term, an approved merger with UTX Technologies would create a diversified revenue machine. There won't likely be any cuts to U.S. military spending in the coming years, so more funding is going to head in the direction of this major defense firm.
Raytheon's VQScore is currently a perfect 4.45, which signals that the company could have a strong 12 months ahead.
Shares are currently trading at $173. We believe that this stock could easily reach $230 per share or higher by the end of 2019. This would give today's investor an upside of 33%.
Anyone Can Become an Angel Investor with as Little as $50
Angel investing used to be off limits to the average American... but Robert Herjavec said it best during this live broadcast: "The walls have finally come down. You no longer have to be rich, famous, or powerful to become an angel investor!"
Congress has now made it possible for you to take advantage of these life-changing deals.
By becoming an angel investor, you can be right there - one of the first to invest in the next Steve Jobs, the next Bill Gates, or the next Elon Musk.
And because you're there at the beginning, the upside is infinitely greater.
For so long, regular folks have been locked out... but not anymore. Click here for details...