Despite all of the political chaos coming out of Washington and multiple threats of nuclear war from North Korea, the worst is yet to come.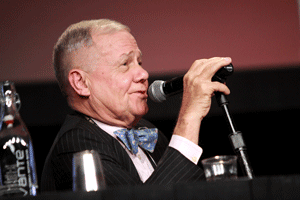 That is, according to legendary investor Jim Rogers.
In fact, Rogers expects the "worst crash of our lifetime" to occur sooner than we think.
"I would expect it to start this year or the next… and it's going to be the worst in your lifetime and my lifetime," Jim Rogers told MSN back in July.
Here's how the financial guru suggests traders protect themselves now – before it's too late…
Avoid Millennials… Seriously
Perhaps Rogers' most sage advice for investors during a stock market crash is to avoid being around twenty-somethings.
"I have been around a long time and when things go bad, 26-year-olds don't have enough experience," said Rogers to Kitco on Monday (Sep. 25).
The Ultimate Retirement Action Plan: This Could Mean the Difference Between "Adequate" Savings and the Retirement of Your Dreams. Click Here Now…
"When things are going right, we all need a 26-year-old. There's nothing better than a 26-year-old in a great bull market, especially in a bubble, because they're fearless," said Rogers.
Apparently, this warning stems from life experience.
"When I was 26, I thought I was the smartest guy in the room – young guys and women make fortunes in times like this."
"But I know that when things go bad, 26-year-olds just don't have any experience," he added.
Invest in Overlooked and Hated Markets
Rogers' second piece of advice is something we've told you about before.
"The Singapore-based investor said he likes overlooked and hated markets including agriculture, Russian, and Chinese stocks," reported Kitco.
Earlier this year, Money Morning Chief Investment Strategist Keith Fitz-Gerald sat down with Rogers during the FreedomFest summit and discussed why the renowned investor was so optimistic about a once-controversial Russian market.
"They've changed their attitude and realized they have to play by the international rules that everybody else does," said Rogers. "They're trying to attract capital, investment, and brains!"
A key strategy of Rogers' is to invest where everyone else isn't. And that's precisely why he and Keith are bullish on Russia now and in times of economic uncertainty.
"Russia is maybe not the most hated market in the world, but it is certainly one of [the most hated]," said Rogers. "Nobody likes Russia except for Russia."
Look to Buy Gold – but Not Yet