Video
Why Gold Prices Will Head Higher in 2017
If you're looking for the
best gold investments of 2017
, you've come to the right place. Here at
Money Morning
, we're always recommending gold stocks that are poised for big long-term gains.
Gold prices are entering a rally, which makes now the best time to invest in the gold sector. The metal is up 10.1% to $1,268 so far this year, and Money Morning Resource Specialist Peter Krauth expects the price of gold to rise another 10.4% to $1,400 by the end of 2017.
Yes, a return of only 10.4% is modest. That's why you should consider buying gold mining stocks rather than physical gold. Maintaining and storing gold bullion can be more of a hassle than you realize, while the only thing you have to do with gold mining stocks is sit back and watch their share prices climb.
Today, we're going to explain the two factors that will fuel the gold price rally to $1,400 this year. Then, we'll tell you about the two best gold mining stocks to buy, which could soar as much as 81.9% and 41.8% by next April.
Here's why gold prices are going up in 2017…
2 Catalysts for the Price of Gold in 2017
The first factor behind rising gold prices this year will be market volatility.
Gold's attractiveness mainly comes from its safe-haven qualities. A safe haven is an investment that either maintains or increases in value when the market becomes volatile. When a major index like the Dow Jones or S&P 500 declines, investors buy more gold and gold stocks.
Must See: How to Invest in Gold and Silver This Year – Free Guide
While the U.S. markets are in an extended bull market, the current bull market is very long by historical standards. In fact, it recently marked its eighth anniversary on March 9. When bull markets become extended, wise investors make sure to buy safe havens like gold to hedge against any looming pullbacks.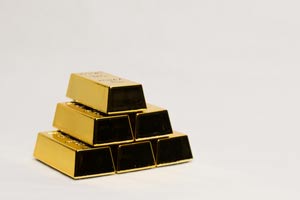 Volatility may also stem from the U.S. Federal Reserve, which plans to raise rates on a much more regular basis this year. It raised rates in December 2016 and most recently on March 15, 2017. That was also when the Fed indicated that several more rate hikes are planned this year as well as in 2018.
Since March 15, the Dow Jones and S&P 500 have fallen 1.7% and 1.6%, respectively. Meanwhile, gold prices are up 5.6% over the same period. This shows the bullish effect that market downturns have on the gold price.
The second factor behind this year's gold price gains will be the rising annual inflation rate, which already stands at a five-year high of 2.7%.
One of the Fed's main tasks is to monitor the inflation rate. Inflation is an asset killer because it reduces the purchasing power of the U.S. dollar. Consumers reduce spending during inflationary times, which hurts businesses and therefore fundamentally hurts the economy.
High inflation makes gold more attractive to investors. That's because they can use it as a hedge against any economic danger.
Taken together, market volatility and rising inflation spell good news for gold investments in 2017. That's why we're recommending two gold stocks poised for 81.9% and 41.8% returns over the next 12 months.
Here are the two best gold stocks to buy this year…
Two of the Best Gold Investments of 2017