It's becoming one of the biggest battles in high tech today: In one corner is the world's largest software company, and in the other is a global entertainment and electronics giant.
Of course, I'm talking about the growing rivalry between the Xbox One from Microsoft Corp. (Nasdaq: MSFT) and PlayStation 4 from Sony Corp. (NYSE ADR: SN).
Last week, Microsoft said it sold 2 million Xbox One consoles in this year's first quarter. That brings total worldwide sales to about 5 million units in roughly three short months.
However, Sony now appears to have the sales lead. Over roughly the same period, it sold nearly 7 million of its PlayStation 4s.
Gamers and industry analysts alike are parsing all sorts of stats – like total sales to stores vs. actual players – to say one platform or the other is truly ahead.
But we've found a way to make money no matter which entrant ultimately becomes the top seller. And it's about as close to a "sure thing" as you'll find in tech investing.
In fact, shares of the mid-cap tech firm we're going to tell you about today could easily double from here – and for one simple reason.
This company supplies components that are critical to both gaming systems.
Gaming the System
Honestly, the term "gaming" may be something of a misnomer. This is actually a very serious industry.
Roughly two-thirds of all U.S. households play video games, according to data from the Entertainment Software Association trade group.
And tech researcher Gartner estimated the global video game market jumped from $79 billion in 2012 to $93 billion in 2013 – a surge of 18%. Gartner is forecasting sales will reach $111 billion by the end of 2015, which works out to a four-year sales gain of 40%.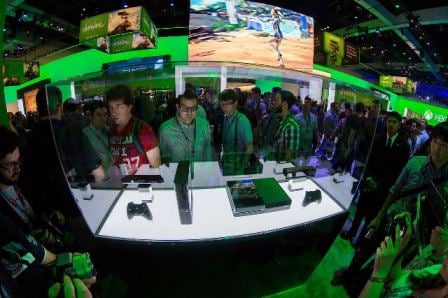 In January, research firm DFC Intelligence said the gaming sector was doing even better than it expected, thanks to an increasing "crossover" between gaming systems and PCs.
DFC analyst Jeremy Miller has said that "core gamers seem to be willing to spend more money than ever." And while Asia remains a big contributor to the market, DFC found that core PC gameplay in Western markets did increase, in fact, last year – and will fuel big gains in 2014.
Said Miller: "We actually think the launch of the new console systems will help lift the PC game business because there is large overlap between console and PC gamers."
Clearly, the success of Xbox and PlayStation is important for both the industry and for tech investors. But finding a firm that supplies both gives you strong odds of a victory.
And we found a firm that does just that.
Join the conversation. Click here to jump to comments…
About the Author
Michael A. Robinson is one of the top financial analysts working today. His book "Overdrawn: The Bailout of American Savings" was a prescient look at the anatomy of the nation's S&L crisis, long before the word "bailout" became part of our daily lexicon. He's a Pulitzer Prize-nominated writer and reporter, lauded by the Columbia Journalism Review for his aggressive style. His 30-year track record as a leading tech analyst has garnered him rave reviews, too. Today he is the editor of the monthly tech investing newsletter Nova-X Report as well as Radical Technology Profits, where he covers truly radical technologies – ones that have the power to sweep across the globe and change the very fabric of our lives – and profit opportunities they give rise to. He also explores "what's next" in the tech investing world at Strategic Tech Investor.