Good Morning! Stock market futures today (Monday) forecast a 17-point decline for the U.S. stock markets. It's a busy week as the Federal Reserve releases its minutes from its December FOMC meeting on Wednesday and the Bureau of Labor Statistics releases the December employment report on Friday.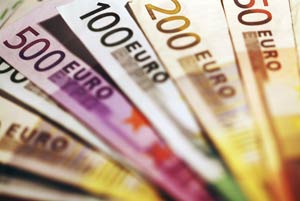 What to Watch Today: Investors will react to the continued decline in oil prices and an update on new auto sales. Last week, crude oil prices hit their lowest levels since May 2009 as prices continue to retreat from June 2014 highs. Oversupply concerns and refusal from Saudi Arabia to cut production continue to weigh down prices. This morning, automakers will announce the statistics of their December sales. Analysts predict 16.9 million units were sold in 2014. Today, keep an eye on General Motors Co. (NYSE: GM) and Ford Motor Co. (NYSE: F) as both companies continue to boost sales.
Here's what else you should know about the stock market today - including your "Money Morning Tip of the Day" - to make it a profitable Monday:
European Blues: The Euro fell to a nine-year low today against the dollar, hitting $1.1861. The news comes as the European Central Bank and Mario Draghi are under increased pressure to engage in additional rounds of bond purchases and kick-start the world's largest economic bloc. The decline comes at the same time that German Chancellor Angela Merkel came under fire for recent comments that she could prepare for Greece's exit from the Euro in the event that the nation's far-left, anti-austerity party win a snap election.
Biotech Gains: Shares of Cempra Inc. (Nasdaq: CEMP) were up nearly 15% in pre-market hours on news that the company could soon receive approval for its antibiotic treatment, solithromycin. The company reports that an oral version of the treatment hit its goals in a late-stage trial. The stock is now at a 52-week high.
Regulatory Rush: The Consumer Financial Protection Bureau is looking to write rules for the payday loan industry, as advocacy groups have raised concerns about ongoing debt traps and unsustainable borrowing cycles. These loans are typically less than $500, but they carry immense interest rates and rollover fees. Payday loans are a $46 billion industry, and have been regulated state by state.

[epom key="ddec3ef33420ef7c9964a4695c349764" redirect="" sourceid="" imported="false"]

Merger Mania: Shares of airline companies have been some of the biggest beneficiaries of falling energy prices. But American Airlines Group Inc. (Nasdaq: AAL) was up this morning on another important factor in the company's operations. This morning, its pilots' union will put forward a plan to vote on a five-year contract that would boost salaries by 26%. The deal is part of the company's efforts to reach agreements with several labor unions as it completes its merger with US Airways Group Inc. (NYSE: LCC).
Oil Prices Today: Oil prices slipped again to multiyear lows this morning as oversupply concerns continue to rattle the markets. February 2015 futures for WTI oil decreased by nearly 2.8% to hit $51.21 per barrel. Meanwhile, Brent crude dropped more than 3% to hit $54.70 per barrel. The ongoing decline will likely have a significant impact on energy shares during today's trading session. Oil prices are now at their lowest level since May 2009.
Economic Calendar: Today's economic calendar features a speech by San Francisco Federal Reserve Bank President John Williams, an update on motor vehicle sales, and the TD Ameritrade IMX.
Full U.S. Economic Calendar Jan. 5, 2015
TD Ameritrade IMX at 12:30 a.m.
San Francisco Federal Reserve Bank President John Williams speaks at 8 a.m.
Gallup US Consumer Spending Measure at 8:30 a.m.
4-Week Bill Announcement at 11 a.m.
3-Month Bill Auction at 11:30 a.m.
6-Month Bill Auction at 11:30 a.m.
About the Author
Garrett Baldwin is a globally recognized research economist, financial writer, consultant, and political risk analyst with decades of trading experience and degrees in economics, cybersecurity, and business from Johns Hopkins, Purdue, Indiana University, and Northwestern.