Even as oil prices inch upward over time, a dynamic of their current levels will boost them even higher.
That may take some time, but I can recommend some stocks that will generate returns in the meantime, until the oil price rise spurs some capital gains in the majors and E&P companies.
The consequence of lower prices is called the "reserve crunch." And it means that oil prices will inevitably increase.
Oil Majors Stop Topping Up Reserves
Faced with significantly lower oil prices, the majors are less eager to replenish their oil reserves.
In fact, Royal Dutch Shell Plc. (NYSE ADR: RDS-A) recently reported that it had replaced just 25% of its 2014 production. That's just 300 million barrels of new reserves to replace 1.2 billion barrels of production.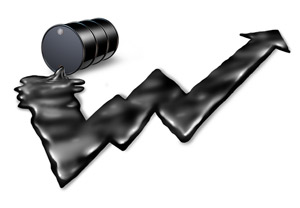 Now you know why I call it a "crunch." It's yet another sign of shrinking future production.
Other operators, large and small, have begun to issue similar statements.
Now in today's environment of surpluses, it's hardly surprising that oil companies are dialing back their forward production. After all, there's very little reason to continue producing excessive amounts of crude if it's merely going to depress the price.
But this is the kind of crunch that promises to have a big impact on both crude oil prices and stock valuations....
Oil Prices: The Impact of Falling Reserves
Of course, the impact of the crunch on oil prices is obvious and easy to understand. Any uptick in demand will result in a disproportionate rise in prices for oil futures contracts - especially as rates of replenishment fall.
As for its impact on stock valuations, it's actually the "booked reserves" - oil in the ground and readily extractable - that influences what investors will pay for a stock.
Companies do not drill for new oil simply to add to the product flow for the refining of oil products. They also drill to add to their booked reserves, boosting their share price in the process.
Typically, the more reserves a company has, the more it can command in the stock market. Conversely, falling reserves usually depress the price.
Now you might think that in times of excess supply, the reserves on a company's books may be less of an advantage. But that's just not the case this time.
Here's why: Demand is not dropping. That's especially true during this time of year.
Once again, it's useful to remember that today's low prices were caused by too much supply, not too little demand. It's the demand side of this equation that will keep oil prices from falling much further.
In fact, this is the period when we begin to see a run up of prices in advance of the primary driving season.
For instance, take a look what is happening with gasoline prices...
Join the conversation. Click here to jump to comments…
About the Author
Dr. Kent Moors is an internationally recognized expert in oil and natural gas policy, risk assessment, and emerging market economic development. He serves as an advisor to many U.S. governors and foreign governments. Kent details his latest global travels in his free Oil & Energy Investor e-letter. He makes specific investment recommendations in his newsletter, the Energy Advantage. For more active investors, he issues shorter-term trades in his Energy Inner Circle.