A couple of weeks ago, I started talking about how the road to wealth is paved by tech.
I told you there is still hope for you to build a fortune – and to be prepared for retirement – because of the massive profits tech investing can bring you, particularly with life science and high-tech stocks.
And to get you started, I shared "The Million-Dollar Tech Portfolio." [Scroll to the end of this article to find out how to get a copy, if you haven't already.]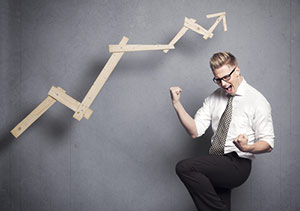 The five recommendations in that portfolio aren't the only great tech investments out there, of course. And that's why I put together "Your Tech Wealth Blueprint" – the five-part strategy that I use to find these companies before their shares begin to soar. [Get a copy of this, too, at the end of this story.]
I hope you've had a chance to read through that blueprint, because today I'm going to use it to show you how a certain fast-growing small-cap healthcare firm meets and/or exceeds all five of my "Tech Wealth Secrets."
And it's a big one.
In fact, I believe it will double in value in less than three years.
Let's check it out…
A Truly Healthy Sector
You'd be hard-pressed to find a more profitable tech-related investing field over the last two years than the life sciences – specifically healthcare and biopharmaceuticals.
Firms in those sectors have enjoyed an excellent run despite concerns that Obamacare's emphasis on cost controls would reduce profit margins.
Just look at the returns enjoyed by iShares Dow Jones US Healthcare (NYSE: IYH), an exchange-traded fund (ETF) that's a proxy for the whole industry. Over the past two years, IYH is up some 65.9%, nearly double the Standard & Poor's 500 Index's 36.4% return over the period.
The healthcare industry is profiting from trends such as a wave of mergers designed to improve efficiencies and a steady stream of new drugs approved by the U.S. Food and Drug Administration.
However, the United States' aging population remains the biggest driver behind the healthcare industry's forward motion. And that's a trend that can't be affected by the ups and downs of the economy or the whims of federal regulators.
And a trend that can't be stopped is the kind of trend we like.
Baby boomers, those born between 1946 and 1964, are the nation's largest population group, with an estimated 76.5 million members.
And as these baby boomers age, they will consume more and more medical resources. And that's been showing up in the proportion of consumer spending devoted to medical costs for at least the past few years.
New figures compiled by the U.S. Commerce Department show that health expenditures last year rose to a record high – 20.6% of total consumer spending.
Since 1990, that proportion has climbed some 37%. And that spending will only continue rising as boomers get older.
And this is where our profit play comes in…
Join the conversation. Click here to jump to comments…
About the Author
Michael A. Robinson is one of the top financial analysts working today. His book "Overdrawn: The Bailout of American Savings" was a prescient look at the anatomy of the nation's S&L crisis, long before the word "bailout" became part of our daily lexicon. He's a Pulitzer Prize-nominated writer and reporter, lauded by the Columbia Journalism Review for his aggressive style. His 30-year track record as a leading tech analyst has garnered him rave reviews, too. Today he is the editor of the monthly tech investing newsletter Nova-X Report as well as Radical Technology Profits, where he covers truly radical technologies – ones that have the power to sweep across the globe and change the very fabric of our lives – and profit opportunities they give rise to. He also explores "what's next" in the tech investing world at Strategic Tech Investor.