Chesapeake Energy Corp.'s (NYSE: CHK) stock price rose 4.6% overnight - thanks to Carl Icahn. The spike came after the billionaire investor announced last night he increased his stake in the company to 73 million shares - up from 66.4 million in December.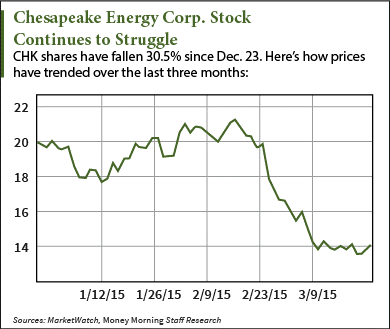 On March 11, Carl Icahn's three holdings - High River LP, Icahn Partners LP, and Icahn Partners Master Fund LP - collectively bought 6.6 million CHK shares for $14.15 each. Bloomberg reported that the purchase brings Icahn's stake in the company from 9.9% to 11%. That's just short of Southeastern Asset Management Inc.'s 11.1% stake, Chesapeake's largest holding.
That means Icahn bought CHK when it was trading at lows not seen since 2004. The CHK stock price has fallen almost as much as oil prices in the last year. The Oklahoma City-based company is down 39.5% since last March amid quarter-over-quarter earnings losses.
But even with these struggling share prices, Icahn loves energy companies.
"I believe a great amount of profit in the next few years will be made by those who hold positions in energy companies," he told Forbes yesterday. "However, I also believe that oil prices will continue to decline in the near term."
Energy companies likely contributed to Icahn's revenue dip last year. Icahn Enterprises LP (Nasdaq: IEP) reported full-year 2014 revenue of $19.2 billion - a 7.2% decrease from $20.7 billion in 2013.
Icahn has held a position of leverage with Chesapeake for several years now. In May 2012, he paid $785.3 million for 50 million CHK shares. That was 7.56% of the company's outstanding shares at the time. A year before that, Icahn persuaded CEO Aubrey McClendon to sell Chesapeake's stake in the Fayetteville Shale for about $5 billion.
The CHK stock price rose as high as $29.50 a share in June 2014 before falling oil slammed the company.